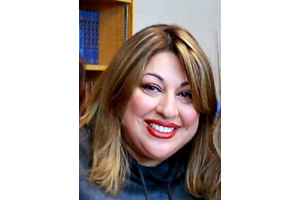 By REGINA TEPLITSKY It looked festive: Challah kits and flowers on tables! Forty women who belong to an organization known as Limmud FSU (former Soviet Union) Labs gathered on Sunday, March 27th at the Chabad Lubavitch Jewish Learning Centre hall to pray for peace.
As a former campaign director for the Jewish Federation of Winnipeg, also a former executive director of Camp Massad, I have continued to plan and organize events for the Jewish community here, with a special focus on Jewish Russian-speaking newcomers from Israel and Russia. In February of 2021 I initiated a new project called "Limmud FSU Labs Winnipeg".
Limmud FSU Labs is a joint project of and the . The goal is to create a meaningful and ongoing platform for varying forms of Jewish expression among different communities of young Russian-speaking Jews around the world, in order to promote a sense of national, collective and personal identity with the Jewish people and with the State of Israel.

Since its inception, Limmud FSU Labs – Winnipeg has organized 15 meaningful events, retreats and lectures that have strengthened Jewish life and engaged Russian-speaking Jewish community members in programs that empower community networks and encourage Jewish learning.
The idea to gather for Hafrashat Challah came from Limmud FSU Labs Winnipeg activists, who wanted to create an uplifting event and pray together for peace in Ukraine. The Russian-speaking Jewish community is taking action in supporting a Ukrainian humanitarian crisis relief initiative. The Jewish Russian-speaking community has strong connections to the Ukrainian community.
We also had seven Ukrainian women attending the Hafrashat Challah program. The goal was to immerse them in Jewish culture through a hands-on experience and to provide them with a great network of supporting Jewish women. It was great to see Jewish Federation of Winnipeg and Rady JCC representation at the event as well.
Rabbanit Chanah Heidingsfeld from Chabad instructed the Hafrashat Challah in special "brachot," also demonstrating various challah shaping techniques.
Passing the time as the dough was rising, Chanah shared with the program participants inspiring stories about the phenomenal work that Chabad has been doing in Ukraine during the war to save lives. The tears and expressions of pain on the faces of many of the women in the room made clear that there were plenty of requests for peace to make and that they were taking advantage of this special time and opportunity.
After the ingredients had been mixed and the mitzvah of "hafrashas challah" – separating the challah, was performed, the group joined Rabbanit Chanah in repeating blessings and prayers. It was a spectacular climax to this amazing gathering.
The crowd left happily, many staggering under the heavy weight of their bowls of challot, all ready to be baked.
On April 24th, I also organized a fundraising trivia game called IQ Battle Winnipeg to collect funds to promote peace and support the Ukraine Emergency Relief Fund of the Jewish Federation of Winnipeg.