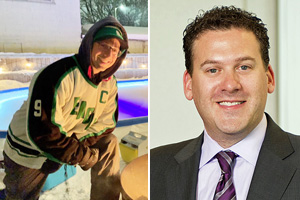 By MYRON LOVE After a year's delay due to the ongoing Covid situation, the 21st Maccabiah Games are back on track. The Maccabiah, aka "The Jewish Olympics", is the world's largest Jewish athletic competition.
The (usually) quarterly event highlights the centrality of the State of Israel in the life of the Jewish people. The games, which were first held in 1932 and 1935 in what was then Palestine and – resumed in 1950 after Israeli independence, is organized by Maccabi World Union. The most recent competition in 2017 featured 10,000 athletes representing 80 countries, making it the third largest event in the world, behind only the Summer Olympics and the World University Games.
Maccabi Canada sent a delegation of 600, one of the largest delegations from any Diaspora country. Canadian athletes won 72 medals at the Games, including 15 Golds.
Now, my impression of the Maccabiah Games has been that it is a regular sporting event geared to Jewish young people – much like the Olympics. I have been wrong, however. The Games, reports Sam Lazareck, has a Masters category – for amateur athletes over 40 – and Winnipeggers Lazareck and his close friend Michael Stoller are looking forward to participating in this summer's Maccabiah – scheduled for July 12-26 with opening ceremonies scheduled to take place, as usual, at Teddy Kollek Stadium in Jerusalem. Lazareck and Stoller will be members of the Canadian Men's hockey team, in the Masters category.
Both Lazareck, a psychiatrist, and Stoller, a portfolio manager (StollerWealth), have been playing hockey for years. For Stoller though, his first sport as a competitor was racquetball. It was racquetball in which he competed as a junior (under 18) on the Manitoba men's team at the Canada Winter Games in Prince Edward Island in 1991.
Lazareck started playing hockey as a 10-year-old. He was on the St. John-Ravenscourt team in high school, played at university and has been part of various men's leagues around the city. Lazareck also coaches his hockey-playing sons, Dylan, 12, and Ben, 10, at SJR. His daughter, Julia, 14, is a synchronized swimmer.
Stoller coached his younger daughter, Madelyn, who is now 13, at SJR when she was younger in hockey there. This past season (2021-2022), she played for the U15 AA female Rangers. (He notes that his older daughter, 16-year-old Reina, takes dancing classes at the Shelley Shearer School of Dance.)
Both Stoller and Lazareck play forward.
"I love the speed of the game," Lazareck says. "It is exhilarating. And there is a lot of opportunity for creativity and improvisation."
It was Lazareck who first saw the Facebook posting calling for prospective players for the Canadian Men's Maccabiah Masters hockey team. He later recruited long time friend Stoller to try out with him.
"We had to fly out to Toronto last July for the tryouts," Lazareck reports. "Our team practices have all been in either Toronto, Montreal or Ottawa. All the other players are from Toronto, Ottawa and Montreal.
"The practices – all optional – have been fun."
"Israel is an amazing place" says Stoller, whose wife Miriam hopes that she will be able to join him in Israel. (Their daughters, he notes, will be at BB Camp in July.)
For Sam Lazareck, this will he his second time in Israel in three years. In 2019, he says, he and his wife, Chloe, joined his parents (Karyn and Mel), Sam's siblings, and all their children for a multi-generational family visit.
"I didn't expect to be back this soon," observes Sam, who will be accompanied by Chloe and younger son Ben. (The other kids will be at camp.)
Prior to the Maccabiah Games, Lazareck notes, he is involved in putting together a fundraising hockey tournament. "The Goals for G.R.O.W. Tournament" – scheduled for June 4 at the Iceplex – aims at raising money for the G.R.O.W. in Winnipeg Program – which was founded by his mother Karyn 20 years ago, (originally under the auspices of the Rady JCC).
The program provides the opportunity for mentally and physically challenged individuals to learn and practice life skills and social skills in a safe environment. The transitional day program for young adults (21 and older) prepares them for independent living – with the focus on life management and healthy living – and the development of social, recreational and pre-vocational skills.
The Goals for G.R.O.W. tournament was last held in 2019.
(Readers who may want to participate in the upcoming tournament or make a contribution can email info@growourway.ca or phone 204 505-3799.)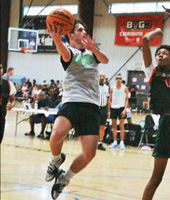 For Israeli-born teenager Ariel Tsaiger, representing Canada at the Maccabiah Games will be a homecoming of sorts
Tsaiger says he is really looking forward to being a participant in this summer's Games. "I have some friends who have gone to the Maccabiah before and they really loved it," says the Israeli-born junior basketball player, whose parents, Dmitri and Lana, moved to Winnipeg when he was three.
The rising local star has been playing basketball since he was five. The 15-year-old Henry J. Izzat High School student plays point guard for the Manitoba-based Northstar Preparatory Institute (NPI) team, which competes in tournaments and circuits around North America. He is also a participant in Triumph, Winnipeg's premier youth basketball program.
"What I like most about basketball," he says, "is that, unlike most other sports, you can't afford to lose focus. You have to be fully engaged at all times."
In addition to participating in this sumemr's Maccabiah, Tsaiger is also looking forward to seeing some of the many relatives he still has in Israel.
His dream , he says, is to be able to play college basketball – hopefully on a full scholarshop.