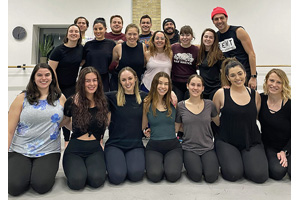 By BERNIE BELLAN Hadera Short has been dancing since the age of three. Now 29, she tells The Jewish Post & News that she "started doing Israeli dance when I was six. I  joined Chai when I was 16."
In 2014, at the age of 21, Hadera says, she "was accepted into the Jerusalem Academy of Music for a one-year intensive program, where," she adds, she "studied ballet, contemporary and Gaga styles of dance."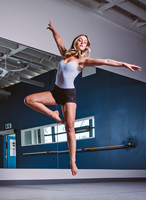 Upon returning to Winnipeg, Hadera rejoined Chai, becoming its dance director in 2016. In 2017, after eight years preforming with Chai, she retired from the group.
After a two-year hiatus from dance, however, Hadera says she realized how much she missed performing in front of a live audience. As a result, she had the idea of forming her own dance company.
Hadera actually began choreographing in her mother's living room. After sharing the idea of starting a new dance company with other dancers and discussing the concept of forming a new Israeli dance group, Hadera realized the potential success that this group could hold and Kadima Dance Company was born. Kadima, meaning "forward" in Hebrew, had its first rehearsal at Kazka Dance Collective studio on December 1, 2019.
Asked why she wanted to start her own Israeli dance company, Hadera explains that "I started Kadima because I wanted to create a new space for adult dancers who are passionate about Israeli dance and wanted the freedom to express themselves creatively. I encourage the dancers to select their own music to choreograph to, or come to me with potential performance ideas and opportunities. I want to show off everyone's full potential as dancers, performers and choreographers. One of my primary goals for Kadima is encouraging a balance between professionalism, creativity and fun. Our rehearsals and our relationships outside of the studio are a reflection of just that."
At the present time, she adds, "We are rehearsing three times a week for our first big show for the Jewish community: Yom Ha'atzmaut at the Rady JCC on May 5th. We are opening and closing the show and couldn't be more excited! There will be 15 performers for this show, dancing four numbers total. We have been raising money for our first custom-made costumes, hand sewn by Michaela Kaplan. We are debuting them at the Yom Ha'atzmaut show."
Kadima is open to dancers 18 and above. Currently, Hadera says, "We have 14 female and five male dancers. We practice once a week at Kazka Dance Collective, but two-three times a week when preparing for a show."
If you have a passion for Israeli dance and are interested in auditioning for Kadima, please contact Hadera at kadimadance@gmail.com or through their Instagram @kadimadance.