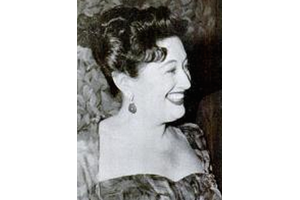 By BERNIE BELLAN I was recently contacted by Michel Aziza, who has spearheaded the drive to help Yazidi refugees known as "Operation Ezra". Michel told me about a totally unexpected donation of $150,000 to Operation Ezra that was received from something called the Dorothy Strelsin foundation.
I was intrigued by this surprise gift to Operation Ezra. It turns out that the gift to Operation Ezra was just one of seven gifts made to local organizations by the Dorothy Strelsin Foundation.
Here is what I learned, after talking to an individual who had helped to guide the gift-giving process for a foundation about which no one here had heard until cheques started arriving recently.
Dorothy Strelsin, born Dorothy Dennis in 1913,  was a one-time Broadway showgirl who had married a wealthy industrialist by the name of Alfred Strelsin.
According to information we were able to glean from the internet, Dorothy Strelsin had been an ardent supporter of the arts. Apparently, upon her death, a foundation was started in her name. The foundation has been under the direction of a good friend of Dorothy Strelsin's, who has asked us not to divulge her name.
It turns out that the Dorothy Strelsin Foundation has grown considerably in the 20 years since its creation and, in that time, it has made donations to over 100 different organizations. From what we were told by an individual who has a close connection to the manager of the foundation, and who played a key role in suggesting Winnipeg organizations that were worthy of financial assistance, the person who has been managing the foundation wishes to bring it to a close. As a result, there has been a recent outpouring of gifts to a great many different organizations, including seven which have strong Winnipeg connections.
The six other local organizations, in addition to Operation Ezra, which received donations from the Dorothy Strelsin Foundation, include:
• The Assiniboine Park Conservancy's Polar Bear Rescue & Care Team
• Harvest Manitoba (formerly Manitoba Harvest)
• Gaining Resources Our Way (G.R.O.W.) – a non-denominational program started by Karyn Lazareck in 2002 to help promote greater independence and self-reliance for young adults with special needs
• Siloam Mission
• BB Camp – to set up a fund to provide scholarships for Indigenous children in the Kenora area to be able to attend BB Camp's day camp on Town Island
• The Rady JCC – for special needs programs
The funds allocated by the Dorothy Strelsin Foundation for each of the above organizations have already been distributed. As the individual who played a direct role in determining where funds from the Dorothy Strelsin Foundation would go in Manitoba told me, "it has been a humbling and rewarding experience", first determining where those funds would go, and then seeing the impact that giving those funds has already had.
We have not heard from any of the organizations that received gifts from the Dorothy Strelsin Foundation, other than Operation Ezra. Here is what Michel Aziza of Operation Ezra wrote to me:
The generous and unexpected donation from the Dorothy Strelsin Foundation comes at a critical time for the Operation Ezra project as it continues to look for ways to help and assist many of the Yazidi families brought to Canada by the Government in 2017 and 2018.
While all the families privately sponsored by Operation Ezra through the generous contributions of our community are doing very well and have gained full independence, the 40 + families brought in by the government continue to face many financial and emotional challenges. As a result of this , Operation Ezra shifted its focus several years ago to helping these families. Many of the privately sponsored Operation Ezra families have become active volunteers for Operation Ezra in the resettlement and integration of these other struggling families. 
The funds received from the Dorothy Strelsin Foundation will be applied to three main projects which include; The establishment of a small  cemetery for the entire Yazidi community in Winnipeg; The expansion of the very successful farming project run in partnership with the Shelmerdine Garden centre; and an extensive and sustainable Food Assistance program for families who are still struggling financially . 
A small committee has been established to discuss ideas for sustainable food assistance and this committee will oversee the management of the donated funds as well.
This most generous donation will have a significant impact on the Yazidi community. A Yazidi cemetery, the first and only one of its kind in Canada, has been on the Yazidi community wish list for several years. Its establishment will be key to a solid foundation for the long term sustainability of the community in Winnipeg. The farming project typically engages over 30 regular volunteers working the fields and providing fresh and healthy produce to a total of 52 families (approximately 400 individuals). The donated funds will allow Operation Ezra not only to expand the project to possibly other types of farming involving additional volunteers, it will also allow for the purchase of equipment and tools to help the Yazidi volunteers continue with this very successful project. The Yazidi community is paying it forward as well by donating approximately 10,000 lbs. of produce to local charities each year as a way of helping others. 
All those involved with Operation Ezra are extremely grateful to the Dorothy Strelsin Foundation and its board of trustees for making it possible to continue to help build a resilient Yazidi Community in Winnipeg. 
Post script: The unexpected donation to Operation Ezra is reminiscent of another large and unexpected donation ($725,000) that was made two years ago – to the Simkin Centre Foundation, by something called the Myer and Corrine Geller Trust. As I wrote around the time of that donation, I surmised that Myer Geller's mother had been a resident of the Sharon Home.
The donation to Operation Ezra is also reminiscent of the $900,000 donation that was made by an anonymous "angel" in 2015 that went toward the purchase of the Gwen Secter Centre from the National Council of Jewish Women. (By the way, the NCJW had said that it wanted to sell the Gwen Secter Centre so that it could do something for addiction treatment here. I'm still waiting to hear what's happened with that $900,000.)
I've also kept my word not to reveal the name of the angel who stepped up to save the Gwen Secter Centre, although I did discover who that person was.
There's nothing like a surprise gift of hundreds of thousands of dollars to put a smile on someone's face, is there?