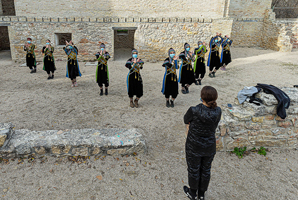 Jewish Foundation to be honoured during concert for the tremendous support it's given to Jewish organizations during the pandemic
By BERNIE BELLAN  The Chai Folk Ensemble is now in its 58th year of existence. After a more than two year absence from performing live in front of an audience, Chai is set to make its long awaited return to the stage when it will be performing a gala concert at the Royal Manitoba Theatre Centre on June 16.
We spoke with Chai artistic (and vocal) director David Vamos recently to catch up with what's been happening with Chai during the most prolonged hiatus that the group has ever taken.
David said that, while the pandemic had taken a toll on almost all artists, especially dance groups, Chai has weathered the storm. One of the reasons, he explained, is the continuity in its leadership. Reeva Nepon has continued as Chai's administrative director, Jesse Popeseki as music director, while Rachel Cooper, who took over the role of dance director in 2018, also remains in that role.
"Not only is she dance director," David said, "she does original work for the group."
David Vamos himself has had a very long run with Chai. Currently a music teacher at Gray Academy (where he's been for 10 years now, he said), David actually joined Chai in 2002 as a singer. He became vocal director in 2006, assistant artistic director in 2012, music director in 2014, and finally artistic director in 2015.
I mentioned to David that I was going to be running a story in our upcoming issue (which was the March 30 issue) about the Zylberman family, and that I learned from Marta and Mauricio Zylberman that all three of their kids – Ariel, Leandro, and Melina, had been members of Chai. I said that was indicative of the longstanding heritage role that Chai has played within our community.
I asked David when was the last time Chai actually put on a live performance in front of an audience?
"Our last one," he answered, "was in the fall of 2019, following our tour of Ukraine and Israel – with Rusalka. We did a homecoming concert that fall. We haven't done a large scale performance since. We were fortunate to perform at the Simkin Centre right before lockdown in 2020."
David noted, however, that "we recorded an album that spring – in 2020, which was pretty incredible. We finished it the Sunday right before the whole province shut down. Now, after two years, we are finally ready to release it and perform (the music from that album at) the Chai Gala."
I asked whether "the troupe has been rehearsing throughout the pandemic?"
While dancers have been rehearsing, David explained, singers only started back the first week in April, due to the easy transmissibility of Covid when singing. As well, "the band didn't really get together other than doing some virtual work," he added.
Yet, as David put it, "the dancers have shown an incredible amount of tenacity. They have been rehearsing – performing at all sorts of different venues and under different guidelines. It's been an unbelievable story of adjusting the past two years – being out of our studio for a while, and then the Berney (Theatre)," combined "with different distancing (rules) and different masks."
Currently, David said, "we have 14 dancers, seven singers and six people in the band."
Of the dancers, 12 are women and two are men, David said. "Almost all of them came to us during the pandemic," he added. "A lot of them are from professional backgrounds who were just looking for an opportunity to rehearse and perform again. We're really fortunate. I know a lot of other groups that were really hard hit, but we've stayed at a really respectable number" (of dancers).
Most of Chai's dancers are either high school or university students, David noted, adding "a lot have come from Gray Academy."
As for the singers, David said that "all our choral members are coming back – which is amazing."
Turning to what audience members can expect at the June 16 concert, David said "it will be a dual purpose event. We'll be releasing our new album that night." The performance, he added "will be a completed work, from beginning to end."
"At the same time," David observed, "we will be honouring the Jewish Foundation for its contributions to the Winnipeg Jewish community – and specifically how it was able to keep so many of our agencies afloat over the last two years."
One of the projects that Chai was able to undertake during the pandemic – thanks to the Jewish Foundation, "was to film three professional music videos," David said. One of the videos shot was at the St. Norbert ruins.
I asked David, "Will you be gearing up for Folklorama after the concert or is there anything else you have planned in between? "It's seven weeks in between," he noted. "We're just going to be turning around and prepping for Folklorama."
As far as joining Chai goes, David says that Chai holds auditions throughout the year and anyone interested in joining, whether as a dancer, musician, or singer, is asked to check out their website: chai.ca.