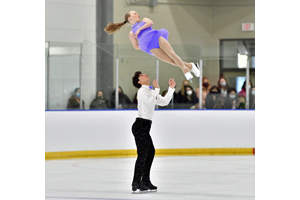 By MYRON LOVE Yohnatan Elizarov may well be on the threshold of a dream career. Fresh from winning his first Canadian national pairs figure skating competition – with partner Ava Kemp – in Calgary – in the novice division, the Israeli-born, Winnipeg-raised 18-year-old figure skater says that he would love to have the opportunity to skate with The Ice Capades or Disney On Ice – or emulate Garrett Gosselin, one of the choreographers he has worked with, and appear in a skating show on cruise ships.
But while those may be potential career options, he adds that at this early stage he doesn't want to get ahead of himself.
Elizarov, who lives with his parents. Elena and German, and younger brothers, Sean, 11, and Jamie, six, has been skating almost since the family arrived in Winnipeg from Haifa when he was five years old. He notes that his mother was passionate about skating – having skated in her native Russia when she was a kid. Her family moved to Israel when she was 14 – bringing an end to her skating dreams.
(There was only one ice rink in Israel at that time.)
"My mom wanted me to learn to skate," Elizarov recalls, "and I quickly came to enjoy it."
For the first while, the skating lessons were just about skating. Elena Elizarov notes that most boys – after they learn to skate – gravitate to hockey. One of the coaches in the CanSkate program, howeve,r approached her about enrolling Yohnatan in figure skating instead.
You could say that the kid took to the art like a duck to water. Four years ago, he qualified for the first time for a national competition in his age group – the first Manitoban to have done so in quite some time.
To qualify for the Nationals, he points out, skaters have to first excel at provincial sectional competition and then at a Skate Canada Challenge where they need to place in the top 18 in Novice/Junior/Senior level to qualify for the Nationals. Skate Canada Challenge locations usually change every year (although the competition hasn't been held in Manitoba in recent years). Yohnatan competed in Skate Canada Challenge competitions in Montreal, Edmonton and, most recently, in Regina. In the most recent national competition, held earlier this year in Ottawa, Elizarov finished ninth out of a field of 18 in the Junior Men discipline.
Last summer, the young skater opted to try pairs skating. He says that he had been considering the idea for a while. Before connecting with Ava Kemp, Elizarov had tried partnering with another girl, but she had a different coach and trained in Virden, which made practices together rather difficult. In Ava Kemp, Elizarov has a partner who lives in the same part of the city and now shares the same coach.
The challenge, Elena Elizarov adds, is to find the right partner in terms of relative size, location and skills level.
"I was at first hesitant about working with another person in my space," Elizarov admits. "I am more comfortable with that now."
He notes that he and his partner balance each other emotionally as well. "I alleviate the stress of competing by calming myself whereas Ava gets more excited," he explains. "We communicate very well."
Elizarov reports that he puts in about 20 hours a week in training – which includes about 15 hours of on-ice practice. (That is in addition to his university classes in computer science.) "Upper body strength is very important in pairs for the male skater," he says. "My upper body strength is now three to four times stronger than when I was skating solo."
In addition to training here at home, Yohnatan and Ava will be spending the summer training at the Canadian Ice Academy in Mississauga. As Elena points out, in Manitoba there is not a lot of competition for pairs skaters.
"If you want to be able to compete with the best, you have to train with the best," she says, 'and the best pairs skaters are in Ontario and Quebec."
As fans of figure skating are no doubt aware, what skaters do on ice becomes a major production. Not only does the coach prepare the skaters for the actual physical skating, but he or she also chooses the choreographer, music and costumes.
Elizarov notes that in his single skating career, he was partial to Michael Buble's "Feeling Good". His new singles short program is "Movement" by the musician, Hozier. His and Ava's new pairs short program will be choreographed by Asher Hill and the music is "Anything You can do" from the musical "Annie Get your Gun". Their pairs free program was choreographed last year by Garrett Gosselin to "Never Enough" from "The Greatest Showman".
Elizarov reports that his favourite moves are the lift and the twist. In the latter, he throws his partner into the air as high as he can, where she does a compete double twist before he catches her. In the lift, he holds her over his head while he is skating and she is stretched out in various positions.
"Both the moves are cool," he says.
As to the judging, he points out that judges have a system in which they award or subtract points based on such skills as the distance between the skaters, how high the male skater throws the female, difficulty of the elements, and how effortless and easy the dance appears.
Having won the novice division in pairs, the Winnipeg skating pair are hoping to be selected to join SkateCanada's NextGen team with the potential for international competitions.
Having found success in pairs skating, Elizarov says that he is considering cutting back on his singles efforts and focusing more on pairs. "I want to see where it goes," he says. "I am thinking maybe I will skate for a few more years, then transition into coaching."
In fact, he is already doing some coaching of younger skaters – one of whom is his little brother, Jamie.
Or maybe he will get that call from Stars On Ice.