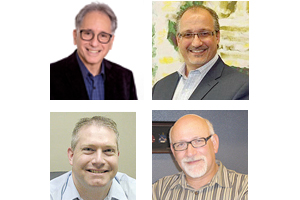 By MYRON LOVE
These are trying times that we are living through.  And certainly, our communal religious institutions – having been prevented from convening services for these past few months – have faced their share of challenges. But, as rabbis and synagogue spokespeople have pointed out in a series of interviews, there have also been new opportunities that have presented themselves that may never have occurred without the challenges.
"We have been trying to reach out to our community in different ways," says Rabbi Allan Finkel, Temple Shalom's spiritual leader.  "For example, people can tune in to our live stream free of charge. We are streaming services three or four times a week and are attracting many more people than would be coming for services.  People – some of whom may have disabilities or be reluctant to go out in wintry weather – can join in from the comfort of their homes.
"We are finding that we are attracting many people who are former members of our congregation or who are unaffiliated."
He adds that his online "Introduction to Judaism" class has more students than his previous in-person classes. Among those signing on are a couple from Moose Jaw who aren't Jewish but who are interested in learning about our religion.
Finkel points out how well the rabbis who are members of the Winnipeg Council of Rabbis are working together.
He also notes that he has initiated – for the first time – discussions with the other Reform Congregations in western Canada toward some joint programming.  The idea came out of a Chanukah program online that brought together cantors from Reform congregations across the country.  ("It was an incredible musical production," he says.)
"The restrictions arising from Covid have encouraged us to think out of the box," he says of the discussions with his colleagues in western Canada.  "It opens up many new possibilities that we not have recognized before."
He also expresses his appreciation to the Jewish Foundation of Manitoba, the Jewish Federation of Winnipeg and the federal government for providing grants which have helped make up to some degree the shortfall in funding due to Covid restrictions.
"While we miss coming together and meeting up with each other, we have to count our blessings," Finkel observes.
"The really sad part is that no one is coming into our building," notes Ian Staniloff, executive director of Congregation Shaarey Zedek, our community's leading synagogue.  "Still, we are coping as well as we can and membership has been very supportive."
The Shaarey Zedek had a head start on our community's other shuls in developing an online presence.  Services have been simultaneously streamed for people at home for several years now.
"Our presence online is outstanding," Staniloff reports.  "We continue to offer Shabbat services as well as weekday services and educational programming online."
And although the Covid lockdown has meant that there are no life cycle events for the catering department to prepare, Staniloff notes that the kitchen staff has been preparing take-out meals for any and all occasions or no occasion.  "We organized a pre-Christmas Chinese supper, as an example," Staniloff points out.  "We filled 270 orders. We had cars lining up to pick up their orders.
"We have a Shabbat supper coming up. We are expecting as many as 70 families to be participating. For anybody who wants to order from our kitchen, you just have to give us a little notice.
"We are looking forward though to the day when we can get back to normal."
Congregation Etz Chayim, our community's second largest synagogue, is also providing some takeout catering for yom tovim and Shabbat, as well as  offering online services and classes. Our next class is scheduled to begin near the end of January," reports Jonathan  Buchwald, Etz Chayim's executive director.
He notes while it has been "tough" these past ten months, the membership has been supportive.  "People are paying their dues and still making donations," he says.
He adds that a group of member volunteers has been put together to reach out and help more vulnerable members of the congregation in buying groceries, for example, or picking up medication or making friendly phone calls.
South Winnipeg's two Orthodox congregations – while they cannot provide Shabbat services electronically –  are also reaching out online as much as they can. The Lubavitch Centre continues to offer catering out of its kitchen as well as classes via Zoom.
"We have continued to operate our daycare and school throughout," says Rabbi Avroham Altein.
The Adas Yeshurun Herzlia is offering classes online as well as weekday services.  "It's not the same on Zoom  as praying together in person," says Rabbi Yossi Benarroch.  "We don't say kaddish or repeat the kidushe.  But we are still praying together."
For Chanukah, Benarroch and the congregational leaders arranged a Zoom Chanukah party featuring the rabbi with his family in Israel.  "We had maybe 130-140 people participating.  It was 8:00 P.M. Israel time, noon in Winnipeg.  My family lit the Chanukah candles and one of my daughters led a workshop on how to bake a Moroccan donut. (The Benarroch  family is originally from Morocco.)  Then, we had Zoom breakout sessions including some kids activities.
"We are planning to do something similar for Tu B'Shvat.
"It has been difficult, but our members understand."
Because of Covid restrictions, the Chevra Mishnayes Congregation in Garden City is trying something different for its AGM at the end of the month.  "We are going to have our AGM online this year," notes congregation president Marshall Kneller.
While the congregation cancelled all services after the latest lockdown was imposed,  Kneller suggest that if the lockdown continues for much longer, the membership may want o reconsider the possibility of having services online.
There are three small Orthodox shuls in the North End: the Chavurat Tefila, Talmud Torah/Beth Jacob  and  House of Ashkenazi.  With few members, no office staff and lacking online capability, the congregants who attend the shuls can only hope that the lockdown doesn't continue too much longer.