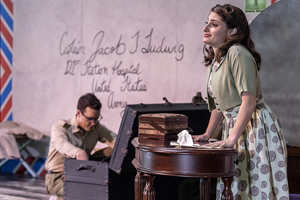 Review by BERNIE BELLAN When I learned that the Winnipeg Jewish Theatre was going to be producing its first production in front of a live audience since February 2020, I wondered how it might come off, given that performing under a canopy on a field isn't quite the same as say, putting on a show at Rainbow Stage.
But, to say that WJT Artistic Director Ari Weinbeg, along with his production crew, has pulled off a major success, would be an understatement. The choice of "Dear Jack Dear Louise" turned out to be a perfect one given the setting of the play. Sitting under a canopy while hearing one of the actors describe, at times, what it's like having to treat wounded soldiers in field hospitals set up in tents during World War II could not have been more evocative.
But, lest you think this play is about the war, let me assure you that, while the war plays a pivotal role in the storyline, this is really a story about how two individuals developed a serious romance through letter writing – a lost art if ever there was one.
The two characters in the play, Jack Ludwig and Louise Rabiner, are based on the actual parents of the playwright, Ken Ludwig, who might be best known as having written the book for the musical "Crazy for You".
As I noted in my August 18 interview with Ari Weinberg, "This is the story of Ludwig's parents. All four of his grandparents met at a barbeque during the Second World War. One set had a single son, the other had a single daughter. The son was off being a doctor in the army and the daughter was off aspiring to be in musicals in New York City.
"So the grandparents thought: 'We should get them to start writing to each other. So Jack picked up a pen and wrote to Louise and she responded, and they kept in touch throughout the war. They were supposed to meet, but various obstacles kept popping up, so they wrote letters to each other for four years and met at the end of the war – and got married, and had Ken and his brother.
"When they both passed away, he inherited the letters that they had written to each other, and he thought: 'There's a play here', so it's sort of an homage to his parents."
But "Dear Jack Dear Louise" is more than just two actors reading letters. While their thoughts are certainly on display through excerpts from their letters – and there must have been hundreds of them over what turned out to be an almost four-year period during which Jack and Louise never actually met in person, Ludwig adds just the right amount of additional dialogue to complement the often snappy excerpts from the letters.
The play moves so quickly that it's hard to imagine that there must have been long gaps in between the letters going back and forth. To listen to the clever interplay between the characters, you'd think that they're responding and reading each other's letters within minutes of just having received them.
While Jack Ludwig, as played by Justin Stadnyk, is a serious and earnest young doctor who's been drafted into what turns out to be a very long period of service in the U.S. army, Louise Rabiner, as played by Becky Frohlinger, is a whimsical ball of constant movement who paces the stage with the kind of energy that she must have channeled into her career as a dancer and aspiring Broadway performer.
And, although the letters were written in the 1940s, audience members can well relate to the physical frustrations that Jack and Louise harbour as, despite many aborted plans to meet one another, for one reason or another, their plans are always dashed.
In a continuing joke that's repeated quite often, Louise keeps referring to Jack's commanding officer, a Colonel Ramsay, with different names, all of them pejoratives beginning with the word "Ram". Louise is so clever in her writing and Jack is so dedicated to his role as an army doctor that it's quite easy to see how these two fell for each other.
While both Jack and Louise are Jewish – and their Jewish backgrounds do enter into the storyline, this is a play that would have universal appeal. Still, I'm sure non-Jewish audience goers will get as much of a kick about Jack warning Louise about his 11 different aunts and how each of them will find different reasons to belittle Louise in ways with which anyone who's grown up in a Jewish home can well identify. For anyone who's seen a Neil Simon play or movie, the dialogue will resonate wonderfully.
(And, I'm not going to give away anything about Jack's sister, Betty. When you hear what she does to Louise at one point you're going to plotz.)
I can't say enough about how wonderful Justin and Becky are in their roles. And, despite the imperfect conditions in which they had to perform, what with being under a canopy outdoors, the sound quality was excellent.
One piece of advice if you're planning to attend though – and tickets are going rapidly, I'd advise: You might want to bring a cushion to sit on. Those foldable chairs are not all that forgiving to one's backside.
"Dear Jack Dear Louise" is on until August 5. Tickets available at WJT.ca or by calling 204-477-7478.