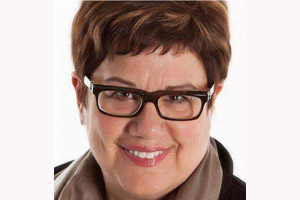 By MYRON LOVE Kayla Gordon may have taken her last curtain call as the artistic director of Winnipeg Studio Theatre – which she founded 15 years ago – but that doesn't mean that she is leaving the Winnipeg theatrical scene any time soon.
"This is a big step for me," says Gordon who also served two terms as artistic director of the Winnipeg Jewish Theatre. "I simply believe that it is time for new blood. I will still be involved in theatre but without the full-time responsibility of running a professional theatre company. I plan to continue working with our StudioWorks Academy program under the direction of her colleague Brenda Gorlick, helping to develop emerging talent in our city.I still plan to be available on an independent contract basis directing theatre productions and special events or fundraising activities in the community."
Gordon has been involved in theatre since she was 12 years old. "I have always loved theatre," she notes. "As a kid, I was always telling stories and putting together plays and shows with friends." Putting people in a room together to bring those stories to life is what fuelled her for over 40 years.
She studied acting through the Manitoba Theatre Workshop, currently Prairie Theatre Exchange's acting school and graduated from the University of Winnipeg's theatre program with a master's degree in theatre and education. As a teacher, she taught high school drama teacher for twelve years at West Kildonan Collegiate, during which time she founded the Manitoba Drama Educators' Association and the annual Manitoba Drama Youth Festival. She also taught acting and musical theatre at the University of Winnipeg for eighteen years as well as teaching at the University of Manitoba, PTE and Manitoba Theatre for Young People.
As an actor over a period of 20 years, she regularly appeared in Rainbow Stage productions as well as MTC and other local stages.
Over time, however, she found herself becoming more interested in working behind the scenes as a director. She was to become the Winnipeg Jewish Theatre's second artistic director succeeding WJT founder Bev Aronovitch.
Following her time at WJT, Gordon observes that regional theatres were not hiring many young female theatre director in the city at the time. "I concluded that if I wanted to work as a producer and director, I would have to create my own projects, and so I started Winnipeg Studio Theatre" (WST).
"As with other smaller local theatres such as Dry Cold Productions, Sarasvati, and Shakespeare in the Ruins, at WST, we focus on smaller productions – in our case, cutting edge plays and musicals – that the mainstage theatres aren't producing."
The WST's first few stage productions, Hair, Altar Boyz, The 25th Annual Putnam County Spelling Bee and Hersteria, she notes, were performed at the Fringe Festival. Subsequent WST shows – mostly performed at the Warehouse – have included such productions as Avenue Q, Godspell, Pippin, School of Rock, My Mother's Lesbian, Jewish, Wiccan Wedding and, most recently in 2019, Reefer Madness.
Gordon is equally proud of the growing number of young emerging artists who have had roles in WST productions and have been part of the StudioWorks training wing. Many who have been able to make a go of it professionally and appeared in Broadway productions include Alexandra Frohlinger (Soul Doctor/Broadway), Samantha Hill (Phantom of the Opera/Broadway), Jaz Sealey (Aladdin/Broadway), Andrea Macasaet (Six/Broadway), and Nyk Bielak (Book of Mormon/Broadway).
Throughout the Covid pandemic Gordon notes, StudioWorks classes continued via Zoom and new opportunities opened up as WST was able to get the rights to Be More Chill, also co-producing an original musical online with a theatre group in Riverside, California.
Stepping down from her responsibilities with WST will also allow Gordon to devote more time to her other passion – photography – she recently co-authored a coffee table book – "The Murals of Winnipeg" with photographer Keith Levit (the story can be found on www.jewishpostandnews.ca) – a fundraiser for Take Pride Winnipeg, with 80 pages of photos, and which sold out in two weeks.
Then there are also the four grandchildren with which she can spend more time
The position of WST artistic director is now open to applicants; Gordon points out. Readers who are interested in applying or who know someone else who is interested can email studiotheatre@shaw.ca for more information.