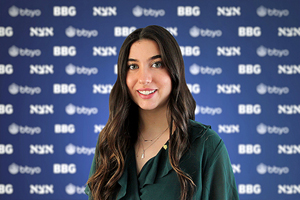 By BERNIE BELLAN History was made at the recent BBYO International Convention, which was a combination of in-person and virtual gatherings held over a four-day period, from February 11-15, when Winnipegger Emma Zentner was elected International N'siah (President) of BBYO.
Zentner, a 17-year-old student at Gray Academy, will be serving on a 12-person board, consisting of six boys and six girls.
The landmark election of Emma to one of two top posts in an organization that now has representation in 54 different countries (there is also a male counterpart in AZA, the young men's division of BBYO, known as a "Gadol"), is an achievement that should not be minimized.
In a conversation I had with her following announcement of her election as n'siah of BBYO, Emma told me that her election marks only the sixth time in its history that a Canadian has been elected to that position.
In a press release announcing Emma's election as N'siah, it was noted that "BBYO's network of Jewish teens, alumni, parents, volunteers and philanthropists serves as the Jewish community's most valuable platform for delivering to the post Bar/Bat Mitzvah audience fun, meaningful and affordable experiences. With year-round activities in hundreds of local communities and inspiring world-wide travel experiences, BBYO's broad program menu enables teens to explore areas of leadership, service, civic engagement, Israel education and Jewish values."
In speaking with Emma, I asked her to describe the path she had taken in being elected to the top post of an organization that is represented in so many different countries and that currently has over 80,000 members.
Emma is the daughter of Gustavo and Fanny Zentner, both of whom emigrated to Winnipeg from their native Argentina over 20 years ago. Her father has a long history of involvement in the Jewish community, having served on the Jewish Federation board for many years, as well as many other community organizations.
Emma's first involvement with BBYO came when she was in Grade 9, she told me, when she first joined the organization. Each year since she has held increasingly important positions, beginning with her election as vice-president of her chapter, Chaverim, in Grade 10, continuing as president of her chapter in Grade 11, culminating with her election as regional president this current school year.
Red River Region currently encompasses Manitoba and Nunavut, Emma explained – which might seem like somewhat of an oddity, but when you take a look at the map, it does make some sense geographically. (Nunavut lies directly north and west of Manitoba.)
There are currently six BBYO chapters in Manitoba, Emma noted – three girls' and three boys'. The girls' chapters are: Bat Sheva, Gabriels, and the aforementioned Chaverim. The boys' chapters are: Chadda, Alaphim, and Dynasty. (Dynasty is the name for a chapter that used to have another name, Emma explained, but the name was changed in keeping with the move to erase names that are offensive to certain groups.)
Given the current pandemic situation, however, I was curious to know how BBYO has been able to sustain interest in its activities what with all the restrictions on personal contact.
Emma noted that there had been a total shutdown of all BBYO activities for a six-month period beginning in March of last year and continuing through this past September.
"With the Rady (JCC) closing (last April), it was very difficult to mount any type of programs," Emma said. "We were always operating out of the Rady," she added.
And, even though there was a resumption of activities – this time all online, beginning in October, Emma acknowledged that there was some difficulty in reawakening interest among some older members at that point.
However, she noted that applications for new members have just been opened once again – and there has been a tremendous interest shown among students here to join BBYO, with over 50 new applications having been received in a very short time.
At the same time, there have been a number of activities held here that have also drawn a very positive response from members – despite the lack of personal contact.
"We had a virtual games night in October that had 100 people participating," Emma said – all on Zoom.
Then, in November and December, members here were part of a 'Global Shabbat' program, with Rabbi Matthew Leibl helping to conduct services online, Emma added.
As well, each chapter applied for grants to mount different types of programs. "One girls' chapter did a Havdallah program," Emma said, while another chapter held a "pajama night".
"The guys got together (virtually) to watch an NBA game – which was hugely popular," Emma added.
And, as was already noted at the beginning of this article, just this past February, BBYO held a very successful international convention, with 31 teens from Red River Region participating.
Something else that I found quite interesting, which Emma told me, is that while BBYO here encompasses kids with a wide variety of backgrounds – which is reflective of the diversity of the Winnipeg Jewish community these days, "half of the members on the regional board are Argentinean" by background – as is the regional director of BBYO, Ian Baruch (pronounced "Yan", according to Emma).
What intrigued me as much as anything though, was how a girl from Winnipeg, of all places, could have been elected to the top position of as big an organization as BBYO. After all, we all know how disdainfully Winnipeg is thought of in so many other parts of the world. How could someone from "Winterpeg" have beaten out all other candidates to be elected International BBYO president? I wondered.
"It was a ten-step process, beginning in December," Emma explained. "There were two other girls competing for the position."
After a winnowing-out process, however, Emma was elected by delegates who had been chosen from their regions.
Her actual role as "n'siah", however, doesn't begin until June. By then, if the current pace of vaccinations continues, there is a good chance that Emma will be able to take on her new role by physically visiting other chapters outside of Winnipeg. If not, then she will carry on her role virtually.
Since her duties as n'siah are bound to occupy so much of her time, however, Emma says that, rather than attending university next September, which she would otherwise have chosen to do, she will be taking a "gap year" to attend to her duties.
I asked her though, whether she had formulated any plans for what would follow her year as president?
"I'm planning on going to the University of Winnipeg," Emma answered. Ultimately, her goal is to get into Medicine, she said.
I said to her that, given that the Faculty of Medicine now places a much higher emphasis on applicants' backgrounds other than simply their academic achievements, having served as president of an 80,000 member organization is likely going to have a huge impression on members of the Medicine selection committee – but let's worry about that when the time comes.
In the meantime we can all bask in the glow of Emma Zenter's having attained quite a remarkable achievement – the first Manitoban to be so recognized.