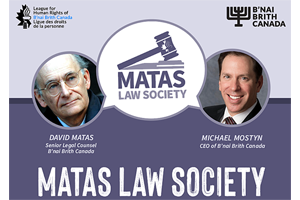 By MYRON LOVE On Monday, February 22, B'nai Brith Canada introduced its new legal network – the Matas Law Society – to the world with a virtual program – a "fireside chat" – featuring B'nai Birth CEO Michael Mostyn and the eponymous David Matas himself – B'nai Brith Canada's long time senior legal counsel and one of the world's best known fighters for human rights.
Matas reported that the event – which attracted almost 500 viewers – provided an overview of the work of B'nai Brith and its Winnipeg-based League for Human Rights which is involved in highlighting war crimes, hate speech, Holocaust denial, anti-Zionism and antisemitism, as well as more general human rights issues.
"We also explained what the Matas Law Society is striving to accomplish," Matas said. "We received a lot of positive feedback."
In an earlier interview with The Jewish Post & News, Michael Mostyn noted that the Matas Law Society has been in the planning for about a year. "We have had a lot of discussion with Jewish lawyers across Canada about the need for a Jewish law group to fight against anti-semitism and for human rights," he said. "There was one such group in Toronto but it disbanded in the 1970s. It was felt at the time that there was no longer a need for such a group.
"But with antisemitism rising, using the law is one way to combat it. We've been regularly hearing from legal professionals asking how they can help contribute to fighting antisemitism and standing up for human rights."
Mostyn added that David Matas is the ideal individual to spearhead such a legal network. "David personifies what the Matas Law Society is about," Mostyn noted. "We are honoured that he agreed to lead this initiative. His inspiring passion for the law and tireless work in fighting for human rights embodies the spirit of what we hope to achieve with this new law society."
Matas himself pointed out that antisemitism has been around for a long time and is not going to go away. "Before World War II, antisemitism was acceptable everywhere," he said. "The Holocaust drove it underground and made it disreputable for a time. But as the Holocaust recedes farther into the past, antisemitism is becoming ever more difficult to suppress."
Mostyn reported that the new Law Society is being very well received thus far. "We have had over 120 individuals sign on even though we have not done much advertising yet," he said. "That number includes students from almost every law school in Canada."
He added that there have even been some American students who have shown interest.
"We have had quite a buzz," he continued. "And we expect that interest to only grow as we continue to build our program.
"We are seeking accreditation for our educational efforts from law societies across the country."
Membership in the Matas Law society, he pointed out, offers a whole host of exclusive opportunities that are highly valuable no matter what stage of your legal career you are at. These includ:e Continuing Legal Education (CLE) programming; access to unique networking opportunities with some of this country's most prominent lawyers and activists; B'nai Brith lodge membership; and, for those inclined, an opportunity to improve the state of human rights in Canada by getting involved with some of the major cases with which B'nai Brith is constantly involved on the national stage. The League for Human Rights regularly intervenes before the courts in highly publicized cases.
Among the cases in which B'nai Birth has been involved are: the issue of the labeling of Israeli wines from Judea and Samaria – which is now before the Federal Court of Appeal; a case at the Ontario Court of Appeal involving the provincial government's Student Choice Initiative policy, which permits Ontario postsecondary students to opt out of paying incidental fees for non-essential services at their schools (which may include fees towards student unions that support the BDS movement); and a landmark case before the Supreme Court of Canada as to whether the use of humour can be used as a potential defense for the promotion of discrimination. The latter case concerns Mike Ward, a Quebec-based comedian who was sued for extensively mocking a nine-year-old disabled boy during his shows.
Mostyn noted that all levels of involvement in the Matas Law Society are welcome and everything helps — from simply signing up to actively defending the community in court, there is something for everyone. Membership costs $250 per year and is open to all Jewish lawyers, paralegals, and law students. Students currently enrolled in a law program are eligible to join for free.