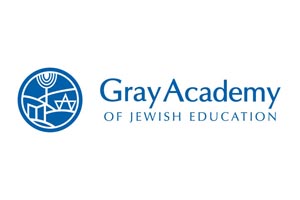 By BERNIE BELLAN Every February, Gray Academy opens up priority re-enrollment for current families for the next school year.  In 2019, the percentage of parents who re-enrolled at this point in the year was 62%. In 2020, it was 70.61%.
This year, as of February 10, the percentage topped 90% – almost 30% higher than the same period just two years ago.
That was one of the facts I was able to learn during a phone conversation I had with Gray Academy Head of School Lori Binder on February 10. Also participating in the conversation were Director of Admissions Judi Price-Rosen and Director of Marketing and Communications Andrea Ritter.
My interest in speaking with Lori at this particular time was actually prompted by a remark that one of our subscribers had made to me during the course of a totally unrelated conversation when that subscriber suggestd that Gray Academy had attracted a large number of non-Jewish students this current school year.
I was somewhat surprised to hear that, so I contacted Lori Binder for a response to what that subscriber had told me.
Lori said that, in fact, there was nothing exceptional about the number of non-Jewish students who are enrolled this current year.
"On average, between two and four percent of our students come from families with no Jewish background ," Lori said.
Doing the math, it would mean that, of a current student body of 484 students, somewhere between 10-20 students do not have a Jewish parent.
I remarked that when I was a student at Talmud Torah in the 1960s I do not recall there ever being a non-Jewish student in the school. Lori said, however, that the school has seen a slight increase in non-Jewish students enrolling over the past decades.
I asked whether there was anything in particular that might have led to an increase in the number of non-Jewish parents wanting to send their children to a Jewish school in recent years?
Lori suggested that there are probably a number of factors, including "word of mouth from Jewish families" to their non-Jewish friends about their positive experiences at Gray Academy. Judi Price-Rosen also noted there is positive word of mouth from non-Jewish families to other non-Jewish families making the same observation.
Yet, notwithstanding that a student may not be Jewish, no student is exempted from Judaic studies. "All students have Hebrew and Judaic studies" as part of their curriculum, Lori noted. "All students take part in milestone events, such as Chaggigat HaSiddur and Chaggigat HaTorah."
Other factors that have no doubt contributed to the attraction that Gray Academy holds for some non-Jewish families, Lori added, include the "small class sizes", the "high educational standards", and the "values" that the school holds.
While already 90.3% of current parents have re-enrolled their children for next fall, the application process for new students has opened, as of February 8 and, while it may be more difficult to gain admission to the school, that should not preclude any parent from applying.
As I noted in an earlier article in this paper, while the total 2020-2021 enrolment at Gray Academy was down somewhat from the prior year (from 494 to 484), that is almost entirely a result of the pandemic.
With a minimum distance of two metres required to be maintained between students in all classes, some grades were capped once enrolments reached the maximum allowable number of students, thus preventing some parents from being able to send their children to Gray Academy.
Of course, without knowing what the situation will be vis-à-vis social distancing requirements in the fall, it is impossible to know whether Gray Academy will be able for certain to accommodate larger class sizes, but the probability is that will be the case.
One other fact that has certainly impressed a great many parents, Andrea Ritter noted, is that "we've had our kids at school every single day."
Unlike so many other schools where actual cases of COVID or possible cases forced either total closures of schools or closures of portions of schools, aside from one instance in January, when one cohort missed one day of school, all classes that were being held in Gray Academy have continued without disruption. (Of course, when the province ordered students in Grades 7 and up to take their classes online for two weeks following winter break in January, Gray Academy was no exception.)
I wondered whether prospective new families are still offered the opportunity to visit the school during class hours to actually get a sense of how the school operates.
While that would have been the case in previous years, Lori explained, of course, with the current COVID restrictions in place those in-person visits are simply not allowed.
As well, new parents would normally have been able to meet teachers – and other parents, one on one.
Still, prospective "parents are introduced to other parents (online), and kids meet other kids", she noted, so, as much as it's possible, both parents and students are given a solid taste of what Gray Academy life is like before a student actually attends.
What we have for new parents is a "virtual open house", Lori explained.
If you're reading this and you may know of non-Jewish parents who have children enrolled in Gray Academy, I would very much like to speak to them, to get a sense of how their children are enjoying their experience there.
Overall, the significant rise in re-enrollment, as well as new applications for the 2021-2022 academic year demonstrate that Gray Academy is sought after by both current and prospective parents.