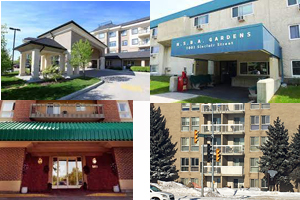 Three have had open and fair admission policies throughout their histories, but now there are questions about how Shalom Gardens accepts new applicants
By BERNIE BELLAN There have been several periods in the history of Winnipeg's Jewish community that saw bursts of construction activity of different sorts.
Perhaps the most notable period was the post-war era following World War II when, in no particular order, the community saw the building within a ten-year period of: the Shaarey Zedek, Rosh Pina, Adas Yeshurun (and Herzlia Academy), and Talmud Torah synagogues, along with the YMHA on Hargrave, Talmud Torah and I.L. Peretz schools, Joseph Wolinsky Collegiate, and Ramah Hebrew School.
The population of the Jewish community was growing rapidly in the 1950s and 1960s and the infrastructure that was built then was intended to serve a community that had shifted primarily from the old north end to newer communities in West Kildonan, Garden City, and River Heights.
As our community aged, however, there was another spurt of activity beginning with the construction of HSBA Gardens on Sinclair in 1970. This time, the focus was on seniors' housing. There was a total of four buildings constructed from 1970 to 1991: HSBA Gardens, built in 1971 (50 suites); Beit Am (adjoining the Bnay Abraham Synagogue), built in the 1980s (65 suites); Shalom Gardens (next to Temple Shalom), built in 1987 (47 suites); and the Rosh Pina Housing Co-op, built in 1991 (62 suites).
Although one of the prime motivating factors in building the three north end buildings was to provide low-cost housing for Jewish seniors, over time the number of Jewish occupants of any of the three north end buildings dwindled.
As Myron Love noted in an article he wrote for this paper in 2013 upon the occasion of Temple Shalom's 25th anniversary, "The purpose of three synagogue-related seniors apartments – the Beit Am was built adjacent to and connected with the former Bnay Abraham Synagogue and the Rosh Pina Co-op just across the road from the current Congregation Etz Chayim (which used to be the Rosh Pina) – was to provide affordable apartments for Jewish seniors who were looking to downsize and, it was hoped, to help boost attendance for Shabbat and daily minyan services at the synagogues.
"As things turned out however, with more members of the community choosing to move south – lured in part by newer assisted independent living complexes such as the Shaftesbury, the Portsmouth and the Boulton, the number of Jewish residents of the three apartment blocks is far outnumbered by non-Jewish seniors. The number of Jewish residents currently living at the 40-suite (all bachelor suites) HSBA Gardens, for example, may have dwindled to as few as one."
And, while the construction of HSBA Gardens preceded the actual construction of the Beth Israel Synagogue on Sinclair Street, both the Beit Am and Rosh Pina Housing Co-op were built on vacant lots next to their respective synagogues.
The opening of the Rosh PIna Housing Co-op in 1991 followed the opening of Shalom Gardens in the south end in 1987. The rules governing housing co-ops in Manitoba are fairly clear:
"Co-op members purchase equity shares in the co-op and collectively become owners of the building and property."
Members of co-ops have certain other responsibilities, as outlined in information available on a Manitoba Government website:
"1. You purchase a membership to live in a home owned by the co-op.
"2. As a member, you share in the financial and decision-making responsibility for the operation of the co-op, including who lives there.
"3. You pay a share of the costs to maintain the co-op.
"4. You build equity if you live in an equity co-op. You do not build equity if you live in a non-profit co-op."
I spoke with Len Podheiser, who was one of the key figures involved in building the Rosh Pina Housing Co-op, and asked him how that project was financed. Len said that the financing "came 100% from CMHC (Canada Mortgage and Housing Corporation."
"It was built at no cost to the synagogue," Len added. There were some advantages to having an apartment block next to the synagogue, he explained, such as being able to share snow clearing and landscaping costs.
Something else that Len noted was that Saul Simkin, who was one of the leading members of the Rosh Pina at the time, owned a brick factory in Denver, and he donated the interlocking bricks that make up the co-op's façade.
Although, according to the co-op's current manager, there are still some Jewish residents there, it's a far cry from 1991, when the Rosh Pina Housing Co-op first opened and, according to Len Podheiser, "it was all Jewish."
Each of the three north end buildings is now managed by professional building management companies. Anyone who would like to live in one of those buildings can simply contact the manager of each of the buildings and, if there is an opening and they meet the criteria for living in a particular residence, they will either be accepted or they will be put on a wait list until there is an opening.
As it turns out, however, the situation with Shalom Gardens insofar as being accepted as a member of that co-op is apparently quite different.
The story behind Shalom Gardens is a particularly fascinating one.
As Myron Love noted in that 2013 article which was written upon the occasion of Temple Shalom's 25th anniversary, the construction of Shalom Gardens was what, in fact, led to Temple Shalom being able to move into what had previously been a Baptist Church on the corner of Grant and Wilton in Winnipeg's south end.
"In June, 1987, the 80 members/member families of Temple Shalom, Winnipeg's only Reform Congregation, literally took a leap of faith when they approved a proposal to buy a new building and property at the corner of Grant and Wilton," Myron wrote.
" 'We started with $30,000,' recalls Lorne Sharfe, one of the driving forces behind the purchase of the new building. 'We had to come up with $460,000 by September. Just the down payment was $10,000.'
"A committee led by Sharfe, Allan Sourkes and the late Phil Schachter beat the bushes for the remaining funds. The TD Bank was prepared to loan the congregation $350,000. The fundraising committee also acquired grants from the provincial government and the Jewish Foundation of Manitoba. Along with some funds contributed by members and proceeds from the sale of their existing building, they were able to come up with enough money to buy the property.
"The final piece though was the construction of Shalom Gardens Housing Co-op Ltd., a low income seniors co-op adjoining the new Temple.
"Sharfe spoke about the challenges of raising funds for the congregation's new building and how the idea for the housing co-op came about. 'We had a parking lot on the corner beside our building, he recalled. 'We were considering different options for developing the lot and generating income for the Temple.'
"The idea for the housing co-op originated with architect and Temple member Harry Haid. The benefits of building the apartment complex were a lump sum initial rental payment of $175, 000 (which went to paying down the TD mortgage) and the opportunity to further enhance the Temple – with an expanded entrance, new carpeting, wall paneling and lighting, the installation of an elevator and air conditioning, construction of an office, cloakroom, handicap access washroom, additional storage and an elevated parking structure at the rear of the building."
In a recent conversation that I had with Lorne Sharfe, he told me that, in fact, he had put up a personal guarantee for the $460,000 that was required to buy the church on Grant and Wilton. Unlike the three north end projects, therefore, the building of Shalom Gardens was an absolute prerequisite for the Temple Shalom congregation to undertake; otherwise there wouldn't have been a new home for the congregation.
And, although Shalom Gardens has always been open to residents of any faith or nationality, at the very beginning it had a heavy Jewish component, just as all the three north end residences had initially.
What got me interested in the four residences that were all built either by Jewish congregations or, as was the case with HBSA Gardens – the Hebrew Sick Benefit Association, was something that I discovered about how Shalom Gardens treats applicants for membership in that co-op.
While Shalom Gardens does have a part-time manager, unlike the Rosh Pina Housing Co-op, which is managed day-to-day by a professional apartment management firm, the members of Shalom Gardens actually play an active role in the day-to-day management of their building and it is one individual member of that co-op who seems to have the power to decide who will move into the co-op, whether or not a particular applicant may have applied ahead of another applicant.
Here is how I became involved in trying to sort out a troubling situation in which an individual was first told there was a vacancy at Shalom Gardens by the manager of Shalom Gardens, but when she immediately sent in her application, it was subsequently returned to her with the news that the unit had already been rented and that she would have to go on a wait list.
As I've noted before, I've been delivering kosher Meals on Wheels every Friday for the Gwen Secter Centre. On January 21st one of my clients mentioned that she would like to move elsewhere and she wondered whether I could recommend a nice place.
I immediately suggested Shalom Gardens, as I'm very familiar with that residence and think very highly of it. My customer told me she would follow up my suggestion and contact Shalom Gardens.
Two weeks after having mentioned Shalom Gardens to this client, on February 4th she told me that she was quite upset with what had subsequently happened to her.
She told me that when she called Shalom Gardens she was told there was a vacant unit there and that, if she sent in her application with a deposit, she would be able to have that unit.
But, shortly after having sent in her application, the client told me she received a letter from the manager of the membership committee of Shalom Gardens, in which she was now informed that the unit in question had been given to someone else. She wondered what had happened in the interim period?
I told her that I would attempt to ascertain exactly what happened, i.e. Why was she told there was a vacant unit which she could have, and then told that it was not available?
I did speak to another resident of Shalom Gardens and asked that person whether they had an idea what might have happened? This person suggested that the chair of the membership committee is able to decide who moves into Shalom Gardens on her own and evidently she had not wanted to see the vacant unit rented out to my Meals on Wheels client.
I have attempted to contact the manager of the membership committee to find out why she rejected my customer's application, but I was told that she's in Vancouver now and I was unable to reach her. I have also attempted to contact the manager of Shalom Gardens who, I presume, is the person to whom my customer spoke when she inquired about any vacancies at Shalom Gardens to ask her what happened, but she did not return my calls.
While I can well understand that Shalom Gardens was not built with the specific purpose of providing housing for Jewish seniors – unlike the three north end buildings, I am somewhat dismayed at the sequence of events that led my Meals on Wheels client first to get her hopes up, then to have them dashed. While the members of Shalom Gardens themselves have ultimate responsibility for managing their co-op, it seems evident that one individual who vets applications for membership wields inordinate power in deciding who will be accepted as a member. It was suggested to me that this individual has favoured friends of hers when it comes to moving into what is a very highly sought after seniors residence in the south end, and that individuals such as my Meals on Wheels client have been bumped as a result.
Unfortunately, it seems, there is no recourse for this individual, except to have me put in print what happened to her, which might lead to a much closer scrutiny on the part of Shalom Gardens co-op members how the chair of the membership committee handles applications for membership in that co-op.
Really, what ought to happen is that applications for membership at Shalom Gardens should be handled by someone who has no particular interest in favouring anyone over anyone else.