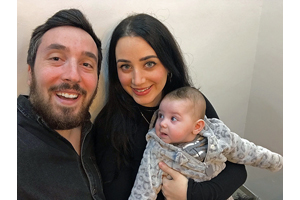 By BERNIE BELLAN In 2019 former Gray Academy educator Avi Posen, along with his wife, the former Illana Minuk, made aliyah to Israel, where Avi began working for an organization know as "Open Dor Media" and Illana began a four year medical program at the Technion in Haifa. (You can read about Avi's work with Open Dor Media at http://jewishpostandnews.ca/15-news/the-cms/537-how-former-gray-academy-instructor-avi-posen-came-to-take-a-central-role-in-offering-online-education-for-jewish-schools.)
On March 6, Avi will be one of the presenters during Limmud, which will once again be held completely online
Recently we sent Avi a series of questions about his upcoming presentation. Following are the questions and Avi's answers:
JP&N: Are you still working for "Open Dor Media"?
Avi: Absolutely!
JP&N:  If so, are you still involved with "Unpacked for Educators"?
Avi: More than ever! My main role within our organization is working on our Unpacked for Educators website which includes the building of curriculum and educational resources as well as liaising with our educator community around the world. This year I'm facilitating our partner school program in partnership with Prizmah: Center for Jewish Day Schools in which we have 70 partner schools from 11 countries from across the religious and political spectrum. I run monthly webinars for the educators, we offer coaching sessions and help them incorporate our content into their teaching.
JP&N: I wrote a fairly detailed story about what you were doing back in August 2020. At the time everything was online. Now that in person learning has resumed, has that made any difference to how you engage with students?
Avi: Back when everything was online, educators were looking for resources and media that they could use in their virtual classrooms. We're grateful that they found us and since returning to the classroom, the number of educators and educational institutions using our content has only grown. Good education is good education and our videos, articles, podcasts and wide array of educational resources about Israel, Jewish history and Jewish identity fill a need in the Jewish educational community whether virtually or in person. In the last couple of years we have pumped out a plethora of new content: podcasts, video series about the Israeli-Palestinian conflict, antisemitism, the Shoah, the Power of Judaism and more. Last year, we ran our 2nd year of Israel Pursuit, the Israeli history and culture version of the International Bible Quiz in which we had over 12,000 students register from 13 countries. We held a live finals event with Jewish and Israeli celebrities asking questions on Zoom with 10 regional finalists from around the world – and a Canadian won first place!
JP&N: Your presentation is billed as "engaging the next generation of Jews through media". I assume by media you're referring to online media. I doubt that anyone under 30 ever reads a print publication. Which forms of media do you find most effective in reaching the younger generation?e.g., Tik tok, Instagram, etc.?
Avi: Exactly, in fact 85% of teenagers are on YouTube, 72% on Instagram and 69% on TikTok, according to a study from 2021, so the best way to educate them is to reach them where they are in their own language. In the last year we've expanded to all of the different social media platforms in a big way.
JP&N: When you give your presentation what kinds of media will you be using? Will you employ videos?
Avi:
I will definitely be showing 1 or 2 of our videos.
JP&N: With everything that's gone on with Covid, how interested do you think young people are with Israel? I myself have no idea. Maybe they're more interested…I just don't know. I'd be interested to get your take.
Avi: I think the events of May 2021 really lit the Jewish world on fire – the social media firestorm, the rise in antisemitism – in some ways it pushed some Jews away from engaging in their identity but I've found that in an incredible way, it worked to really ignite the younger generation to connect to their identity, their people and homeland like I haven't seen for a long time.
JP&N: Anything else you want to say?
Avi:  Looking forward to being a part of Limmud Winnipeg!