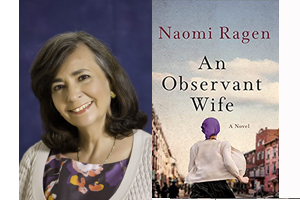 By BERNIE BELLAN The following information is taken from Naomi Ragen's website: "Naomi Ragen is an American-born novelist, playwright and journalist who has lived in Jerusalem since 1971. She has published eleven internationally best-selling novels, and is the author of a hit play, 'Women's Minyan', that has been performed more than 500 times in Israel's National Theatre as well as in the United States and Argentine.
"Naomi has written for the Jerusalem Post and other publications in Israel and abroad, as well as to her blog list, about Israel and Jewish issues."
The Wikipedia article about Naomi Ragen notes that "A recurring theme in her fictional works is injustice against women in the Haredi Jewish community."
(The Wikipedia article also mentions that Naomi has been sued a number of times for plagiarism.)
Recently I contacted Naomi via email, which is how she had indicated to me she preferred to communicate.
Following is a series of questions I posed to Naomi, with the answer she gave tomy questions:
JP&N: Hi Naomi,
I see you're going to be talking about your latest novel ("An Observant Wife") in your Limmud presentation. I've only read one of your books previously: "The Devil in Jerusalem", which was the subject of a book club discussion several years ago in a club which I had started at our Jewish Community Centre.
I was floored by that book. I realize it was extremely controversial, so I'd like to ask you one question about that book:
What has been the long-term reaction to your writing such a scathing exposé about a Haredi rabbi?
Naomi Ragen: Thanks for writing. I hope you get a chance to read the book ("The Observant Wife"), which I think is special for a number of reasons. It's my first and only sequel. And it's probably my last book on haredim, in which I sum up thirty years of knowledge, interaction, and understanding.
I wrote The Devil in Jerusalem as a public service – believe it or not. A very, very difficult book to write, the subject matter was horrendous. Many people have reviewed the book, saying it was difficult to read, but important. I can't tell in the short term if it's made people more wary of wonder rabbis, but more and more we are getting people who are speaking out about rabbinical abuse, so perhaps there's a trend here which I'm happy to be a part of.
JP&N: Now, turning to your most recent book, "An Observant Wife", I just read the lengthy review on bookreporter.com, so here are my questions:
What led you to wanting to write a sequel to "An Unorthodox Match"?
NR: This is the first time in my career that I really didn't want to part with my characters from a previous book, An Unorthodox Match. First of all, when you end a book, you leave your characters to live on in your reader's imaginations. I felt highly protective towards the characters in this book, the newly engaged mixed couple Leah and Yaakov, the young girl Shaindele undergoing such hardships, the children orphaned of their mother Chasya and Mordechai Shalom. I wanted to take their futures home with me and raise them myself.
Also, I think of all my characters Lola/Leah is very close to my own life, and I'd never really explored Chozrim beteshuva in my books, so I was eager to keep exploring her character.
JP&N: From what Pamela Kramer writes about "An Observant Wife" in her review, it seems that a recurrent theme in this book and your others is that the ultra Orthodox are no different in most respects than any other human beings in terms of their needs. What I often wonder though is whether the kind of repression that I associate with ultra Orthodox life masks greater psychological problems among ultra Orthodox Jews than non ultra Orthodox?
NR: From my personal experience, it all depends on the sect. I view modern Orthodox as pretty much the same as secular society when it comes to repression. After all, no one does exactly what they feel like doing because of the consequences. Chassidic sects are something else. In my opinion they are pretty much all cults and yes the repression can be psychologically damaging as it is in any cult.
JP&N: The notion of someone from a non-observant background, such as Leah in this novel, adopting fully the role of an ultra Orthodox wife is something that I've seen over and over again in real life, including in my own family.
Invariably these women become "holier than thou". Do you think there's a common thread that runs through women who come from non-observant backgrounds and become ultra Orthodox?
NR: As you'll see when you get into An Observant Wife, the newly Orthodox are usually looked down upon by those born into the tradition who consider themselves holier than though. The newly religious are always apologizing for the things they don't know. But if you are referring to the need of people who become religious to clash with people living their former lifestyle, I would say that holds true of anyone who becomes a true believer, whether religious or vegetarians, or people who give up gluten. I think whenever you take restrictions upon yourself, you feel the need to justify it and reject everyone else, just to reassure yourself you are doing the right thing, especially when it gets hard.
JP&N: Are you going to be talking only about your new book in your presentation?
NR: Actually, I'll be discussing a whole range of subjects including how difficult it has been to have started the whole genre of books about the ultra Orthodox. I was considered a whistle blower, and still am.