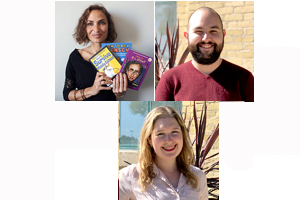 By MYRON LOVE It is a healthy sign when an organization – such as the Jewish Federation of Winnipeg – can continue to attract new and enthusiastic staff members. Such is the case with the Federation's three latest hires – and a diverse trio they are: Abby Flackman, Ian Baruch, and Evelyn Orlovitz.
Evelyn Orlovitz – who signed on as the Federation's new Donor Relations and Program Manager in May – brings with her a wealth of experience working for the Jewish community in her native Uruguay. Orlovitz has been involved with community for almost 20 years. Her resumé includes leadership in Uruguay in the Betar Movement, Hillel, Genesis YWG (programming for younger Jewish adults) and Keren Hayesod Uruguay (equivalent to our community's United Israel Appeal).
She and her husband, Andres Hirsch, landed here two years ago. "We were looking to further our careers," she says. "We learned about Winnipeg through the Federation's Grow Winnipeg campaign.
She notes that Montevideo's Jewish community is about the same size as the community here, with many of the same institutions. (Montevideo is Uruguay's capital city and home to almost all of Uruguay's Jewish population.)
Orlovitz holds a Master's degree in Communication Management from the University of Montevideo. After arriving in Winnipeg, she also took a course in Communication at Red River College.
"I welcomed the chance to work for the Jewish community in Winnipeg and pay this community back for the warm welcome my husband and I have received here," she says.
According to the statement from the Federation announcing her hire as the new Donor Relations and Programs Manager at JFW, "Evelyn has the opportunity to transfer what she learned working for the community in Uruguay. At the JFW, Evelyn will also be working with the Combined Jewish Appeal's Ben Gurion Society, leadership programming, donor relations and CJA marketing and events."This is a perfect fit for me," she says.
Like Orlovitz, Ian Baruch's family (parents Nissim Baruch and Fabiana Pachter) are also originally from South America (Argentina), having arrived in Winnipeg by way of Israel in 2002 with then eight-year-old Ian. For the new Hillel post-secondary engagement co-ordinator – as of August 1 – his new role is a natural evolution in a career of leadership in Jewish youth leadership.
Baruch was educated at Gray Academy and is also a Camp Massad alumnus. It was at Massad where Baruch acquired his original experience in leadership. He notes that he worked at Massad as a staff member in the summers for nine years.
"I gained a lot from my years at Camp Massad," he says. "I was a shy kid when I started. I came out with new confidence and an appreciation for the importance of community."
Following university – where he regularly attended Hillel programs – and a short time in other pursuits – he became the Red River Regional Director for BBYO in Manitoba through the Rady JCC – his previous position before becoming the Hillel Post-Secondary Engagement Coordinator at the Jewish Federation of Winnipeg.
While in-person activities have been limited by Covid restrictions, Baruch reports that the one in-person event that he was able to organize – a program with a Holocaust survivor speaking online from Montreal – attracted 30 students.
Another program he organized linked local university students with contemporaries from Israel and Brooklyn. Over six weeks of weekly conversations, the students were able to compare and contrast their different experiences.
Coming up in March, he reports, will be a weekly online connection with ANU Museum – the new Museum of the Jewish People, located in Tel Aviv, which bills itself as what will be the "largest and most comprehensive Jewish Museum in the world". The program will consist of a professional photographer connected to the museum teaching participating students how to document their lives through photography with their photos being included in a photo exhibit at the museum.
Abby Flackman, the newest member of the Federation's engagement team, finds community work for her also a "perfect fit". Flackman – who joined the Federation staff in October – was born and raised in a modern Orthodox household in the north end of Winnipeg. She spent a number of years at Talmud Torah and Joseph Wolinsky, attended BB camp in the summer, and graduated from the University of Winnipeg Collegiate. Abby traveled to Israel after high school to work in Jerusalem and live on a kibbutz for a year. Her passion for child-led education led her to study the Montessori Method and work as a substitute teacher at Children's House in Winnipeg. After homeschooling her children for years, and administrating her spouse's Osteopathy clinic, she felt that it was time to shift to a career out of the home.
Flackman had trained as a 911 operator but, while waiting for a job opening, she heard of the opportunity at the Federation. "I love the idea of being involved in the Jewish community," she says.
Flackman – who is a member of the Adas Yeshurun Herzlia Congregation along with her family – adds that she appreciates having a job where she can observe all the Jewish holidays.
Her new role includes responsibility for the PJ Our Way program – a followup program for 9-12 year olds – to the popular PJ Library program – as well as the Federation's Israel and Overseas portfolio. Under the latter umbrella are P2G (Partnership Together – a teacher and student exchange program between Gray Academy and the Brock Corydon Hebrew Bilingual program here and Kiryat Shemona's Danciger High School and elementary schools in northern Israel), the March of the Living, Birthright (to some degree) and other missions to Israel.
"We are planning ahead and fundraising for these travel programs and hoping for the best," she says. "These have been challenging times, but the lack of activity has given me more time to better learn what my position involves. We hope come May to be able to hit the ground running."