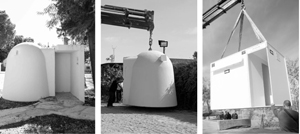 Taylor Polstra is a young woman who spent a couple of years in Israel working for an organization known as International Christiam Embassy Jerusalem. While there, Taylor witnessed firsthand the duress under which Israelis live, never knowing when they might be under siege from rockets fired from Gaza – or, as has been the case in recent days, Lebanon.
Following the most recent war with Hamas, Taylor decided she wanted to do something to help Israelis. She has organized a golf tournament to be held in Winkler on August 28, known as the Covenant Cup Golf Tournament.
Following is information provided by Taylor: My name is Taylor Polstra and I am the founder of the Covenant Cup Golf Tournament.
Our tournament's goal is to raise awareness in the Pembina Valley about the ongoing attacks in Israel and to raise at least $50,000 for a people's bomb shelter. Over 22,000 rockets have been fired into Israel since 2001; however, terrorist groups in Gaza have recently increased the frequency ofattacks, putting the lives of Israelis, both Jewish and Arab, in danger.
Did you know that if the sirens of a rocket attack begin to sound, you have 10-20 seconds to seek shelter? Attacks are sporadic and can occur at any time and from any location. Without bomb shelters, kindergarteners are forced to hide under their desks, civilians at bus stops are stranded in fear, and families can be separated in the blink of an eye.
I witnessed this firsthand while working with the International Christian Embassy Jerusalem (icej.org) during my time in Israel. Anti-Semitism is on the rise, and new rocket attacks are on the way. The ICEJ, in collaboration with Operation Lifeshield (OLS), has continued to provide shelters, hope, and peace of mind to Israelis in various locations such as schools, daycares, senior homes, and other public areas, thanks to international support. These bomb shelters not only save lives, bu tare like a big huge hug during a time of crisis.
A small bell-shaped bomb shelter costs approximately $18,000 USD, while steel shelters start around $27,000 per shelter and can go as high as $42,000 USD for the largest shelters.
Please join us for the first ever Covenant Cup Golf Tournament to show your support and raising awareness in the Pembina Valley. We can bless the people of Israel with corporate sponsors, donated prizes, and golfers.
If you would be interested either in helping to sponsor the golf tournament or participating in it yourself, more information is available at https://covenantgolftournament.com/, or by contacting Taylor Polstra directly at 204-361-5500 or taylorpolstra@gmail.com