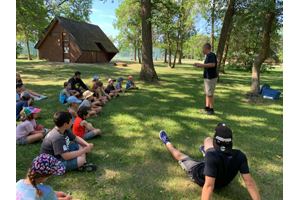 By SIMONE COHEN SCOTT Winnipeg Beach, Manitoba August 2nd, 2021 Winnipeg Beach Day Camp has come a long way. Around 1953 I was a counselor there, and if memory serves me, it had been founded only a year or two earlier.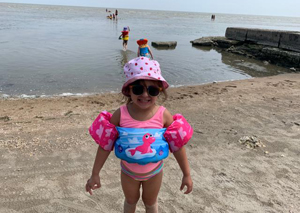 Over the decades, having enrolled my kids, grand-kids, foster kids, and now a surprise grandchild, (no great-grandchildren yet) I have noted an evolution in style and attitude. Add to that the fact that this year appears to be a bumper year in enrolment (probably due to Covid 19's lifting of various restrictions on kids playing together), it seems an appropriate time to focus attention on this staple of 'the Beach', (once but no longer known as 'Jew Beach', due to all other Lake Winnipeg resorts being restricted).
I enrolled my granddaughter Katra, who lives in Vancouver, at the day camp for the full seven weeks. Delivering her each morning I soon noticed the rapid growth in attendance. Parking for drop offs became more challenging. The line-up for temperature checks and hand sanitation every morning grew 'way beyond the roped off area. But once past that bottleneck, the kids, mask free, could dash, unhampered, into their designated spots under various trees. This year Katra is an 'intermediate', re-acquainting with last year's friends, one from as far away as Toronto.
Jacqui Cohen is the Camp Director, and has been for the past two years. Immediately I was impressed with how efficiently she handled her position. She was the first line of greeting, checking in all the children, welcoming the new ones with comments of reassurance, and recognizing returnees with personalized remarks. A terrific people person I thought, as standing in line with Katra I observed her each morning, but as the weeks progressed and I saw the extent of the camp programming she was handling, intertwined with government regulations, both general and virus necessitated, my esteem soared. Sitting down with her the other day, at a picnic table screened from the rest of the camp by a clump of bushes, I got to know her better. For the past two years Jacqui has been at McGill, studying philosophy. Possibly due to the critical thinking and writing skills she gleaned from these courses, she realized that, for her temperament and life goals. she would be better served by becoming a teacher, and so come this fall, she'll be taking Education at the University of Winnipeg. A career in teaching will bring her into line with her mother and grandmother, both teachers. (Jacqui's mother is the 'other' Simone Cohen.) Days upon days filled with children is not daunting to Jacqui; her past experience includes four years of BB Camp at Lake of the Woods.
Whether or not day camps would be allowed this year was an up-in-the-air question until almost the last minute. I myself was apprehensive; how would I manage with a six-year old child if I couldn't leave her somewhere for five hours every week-day? Meanwhile camp organizers were experiencing fluctuating proposed regulations: initially they expected to be able to enrol 25 children, this dropped to 10, then shrunk to none. Despite the uncertainty, management and staff for the camp, including its board, proceeded exactly as if it would be a 'go', and so it was. Their faith paid off: activities are well-planned; counselors are well-trained; systems are innovative and run smoothly.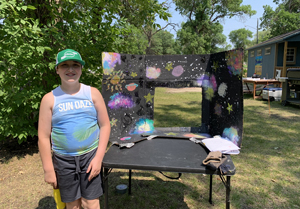 In total, 200 children are enrolled for the summer. Beginning the season with 15 participants, by week four there were 71 in attendance, the highest in years. Publicity outreach before the summer included Facebook, notification to schools, and distribution of brochures. Winnipeg Beach Day Camp is attracting participants from further away than the immediate area. Fifteen percent are from Gimli, many from elsewhere in the Interlake, even a few from Matlock. Registration requests included fundraising, as a new building was necessary this year, and projected additional facilities and equipment are in the works. Most donations were in the neighbourhood of $100, with several larger amounts. Appreciation for the camp translated into generosity. They are only a few thousand short of their goal of $15,000. Sale of lunch boxes, T shirts, and baseball caps, were introduced this year. Plans for next year include in person presentations in the schools, if things are back to normal.
Speaking of fundraising, one of the best known features of the camp that has run for years (I can remember it from the '50s) is the Penny Carnival. The day of that coin is long gone, but the tradition is fixed; the name has stuck. Instead, for the past several years, strips of tickets have been sold. "Attendance this year was amazing,"says Jacqui. "There were always 100 people on the site." (Covid restrictions allowed for 150.) This surge was due mostly to word of mouth – parents of course, but also past campers who summer at the Beach and its environs, and have made it an annual outing. Last year's Covid restrictions prevented the event -the only cancellation ever.
Support from local merchants is strong. Pizza Fridays are a tradition, supplied at a special price by Pizza Place in the town. Between the special price to the camp and the still bargain cost to the campers, the small margin becomes part of the development budget, no doubt for equipment such as the bouncy castle sometimes featured. (Who knew there were such things as bouncy castles?) These last few years Pizza Place has had a vested interest; the owner's 3 grandchildren participate for the full seven weeks. Until Covid 19, each midsummer Interlake Garden Centre invited the children to a 'field trip' at their greenhouses. There, they would be shown various plants and seeds and do a little planting of their own. This year an amended presentation was brought to the campsite, with flowers, pots, and potting soil, tying in with their end of season sale. Beyond participation from the local merchants, for the past five or six years on Ice Cream Day, Eva's Gelato in Winnipeg has provided ice cream for sale at the camp. Generally, though, fundraising strategies are worked out together with the camp's board of directors, which Jacqui commends as forming a "very strong team".
There is a good rapport with the Town, which issues the permit for the camp, as well as with Provincial Parks, technically the locale, which is responsible for many features, for example the camp's toilet facility. (Much of the Interlake region became a Provincial Park in 1969.) The camp, for its part, is very careful when planning extra events so that they not conflict with those
held in the area, such as Boardwalk Days. There is interaction, too, with Gimli, as occasionally the entire camp will locate for the day in the sprinkler spray park there. Other activities and special days include tie dye day, the Gimli Aquatic Park (before Covid), the bike parade (a tradition)…..and…..and…wait for it…Prairie Exotic…when a fellow brings around assorted creatures such as spiders, snakes, even a hedgehog. I'd skip that day but Jacqui assured me that kids who abhor these critters end up with at least respect for them. A new attraction planned for the near future will be paddle boards, funds permitting, and it seems they will.
Just as my talk with Jacqui was winding up, one of the counsellors, together with a camper, sought her out behind the privacy of the bushes. What transpired boosted even further my confidence in the competence of camp personnel. The student suffers from diabetes and that day could not regulate her system with the remedy she had with her. Jacqui immediately reached the mother on the 'phone. The symptoms were described; the mother would bring insulin immediately after lunch. Should she eat her lunch, or any of her snacks? Yes, she could if she wanted. The smoothness with which all this was handled was impressive. Jacqui explained to me that as the camp's intention was to include every child wishing to attend, the pre-opening training sessions readied the personnel for such eventualities. I asked her if she had had to scramble to find last minute counselors as enrollment soared. "No," she replied, "we established a high ratio of staff to participants at the beginning and were always able to maintain that standard."
Good job, people!