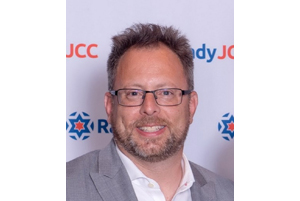 By BERNIE BELLAN It's been 17 months since most Rady JCC members have actually set foot in what had become the centre of Jewish life in Winnipeg. From time to time we've written about how Rady JCC Executive Director Rob Berkowits has been forced to pivot, then pivot again and again, as first, stringent lockdown measures were imposed in March 2020, then eased in June 2020, then reimposed again in the fall, and only recently eased again in July.
We noted in January this year that all Rady JCC employees had been laid off in the fall, save Rob himself, Zac Minuk, Director of Development, Partnerships & Communications, and two members of the finance department, Barry Miller and Victoria Morton. As well, no one in the Early Learning Centres has been laid off.
And, while expenses were drastically reduced as a result, the fact that memberships were frozen took a very heavy toll on the Rady JCC's revenues: By the end of September 2020 it had $700,000 less in revenues than it had anticipated.
While a $700,000 grant from the federal government filled that particular hole, the Rady JCC was still faced with having to pay the Asper Campus monthly fees. On top of that the cancellation of the annual sports dinner for what has now been two consecutive years has only added to the pain of losing membership revenue.
Still, despite the challenges facing the Rady JCC, it did begin to offer programming online, starting with the ever popular Music 'n Mavens series in January, as well as a Jewish Film Festival, and a program produced jointly with the Gwen Secter Centre titled "Familiar Faces".
The summer period is generally a quiet one for the Rady JCC – except for the sounds of hundreds of kids enjoying day camp at the Asper Campus. When we read the farewell message announcing Assistant Executive Tamar Barr's departure, however, we wondered whether the Rady JCC could ever return to being the beehive of activity it had been since the doors to the Asper Campus first opened in 1997. So, we contacted Rob Berkowits to ask him for an update as to what the future holds in store for the Rady JCC. We also wanted to know who, if anyone, could fill the very large shoes that Tamar Barr had filled for so many years.
We began by asking Rob: "When was it Tamar was let go? Was it in October?"
Rob: "She was placed on lay off. She was never 'let go'. All our staff were also laid off."
JP&N: "I asked you this before, but since Tamar was so heavily involved with the cultural component of the Rady JCC, why didn't you try to emulate what other JCCs had done – for instance the Vancouver JCC?"
Rob: "Remind me again what they did in Vancouver."
JP&N: "It was all online. They had a lot of game playing– Bridge, Mah Jong, exercise classes. They also had something called "Dinner and a Movie". They had a monthly concert series, a musical trivia program, yoga, morning stretch. I remember talking to you about that back in January, but you pointed out that the Vancouver JCC was still charging members for memberships without having frozen any."
Rob: "We didn't have a platform to offer that kind of programming in the fall, but in December we brokered a partnership with the Asper Foundation and began offering programs like Music 'n Mavens, the Jewish Film Festival, the Asper Jazz Performance series – and the program you participated in ('Familiar Faces'), which we did together with the Gwen Secter Centre. We also began delivering at that time some online workouts, like yoga.
"All tallied, our virtual programming reached over 10,000 community members. Many people told us that it was our programming that allowed them to continue to feel connected to the Jewish community when so many of us were isolated at home. We offered all of our programming free of charge so no one felt left out."
JP&N: "Gwen Secter has begun filling the void that I would have thought you might have wanted to fill – with their summer concert series. But they're doing that in their parking lot – it's a pretty small venue – can only hold 25 max. Did you ever consider doing something like that – say, a concert series outdoors at the Campus?"
Rob: "Not in the summertime. Traditionally the Rady respects the fact that Winnipeggers go to their cottages in the summer and the reason we offer members the opportunity to freeze their memberships in the summer is there are very few who wish to participate in summer programming.
"We are about to launch a drive-in event which will take place in August. Most of our programming in the summer time is directly related to the day camp program.
"We're going to announce a roll out program for the fall, which will include Tarbut, the Jewish Business Network, weekly programming that will include parent and baby, fun zone, birthday parties. Of course, this will all be based on the guidelines about what we're allowed to have.
"We do believe there will be a virtual element in what we have planned because there are seniors who will not be comfortable in coming in person to the centre. We also want to be respectful of the fact that this virtual age is here to stay and as borders reopen, many snowbirds will head south and the virtual content that we'll be able to produce and deliver will be relevant to them."
JP&N: "Talking about Tarbut – that would involve people sitting in close proximity in the Berney Theatre. I wonder how comfortable people are going to be doing that, especially when we're being told to expect a fourth wave (of Covid) in the fall.
"But, you're talking about programming. Who is designing the programs? This would have been something that would have fallen under Tamar's rubric."
Rob: "Laura Marjovsky's a longtime program manager. We recalled Laura and she agreed to come back. Now she's in the process of recalling other staff that would take on a variety of roles. The department will not be as large and as robust as it was previously, but it will still provide us with our ability to provide arts and cultural programming, as well as programming for seniors, for teens, tweens, families, newcomers, and individuals with various levels of physical and cognitive disabilities."
JP&N: "Speaking bluntly, if Tamar were to say that she was willing to work – even on a limited basis, is that something you would consider?"
Rob: "I think that's something more for Tamar to decide. Tamar made the decision that she wanted to pursue other things."
JP&N: "I did have a conversation with her. I got the impression that Tamar, under the right circumstances, would be interested in coming back in some capacity. But the message you sent to members seemed to be pretty much a final good bye – effectively closing the door to her returning. Are you saying now that it (Tamar Barr returning to the Rady JCC) is something that you would not rule out?"
Rob: "Nothing is out of the question, I guess, but it's not a focal point moving forward. Tamar has moved on permanently from the Rady. We are moving forward into this next era of a sustainable hybrid of virtual and in-person arts and cultural programming without her. We have no plans or intentions to work with her on any of this going forward and thank her for everything she did while she was here."
JP&N: "I don't want to make this the focal point of what I'm going to be writing, but I just got the impression from reading that farewell message to Tamar that it was "good bye Tamar", but Tamar is still relatively young – and, quite frankly, there aren't a lot of jobs out there for cultural programmers. I think that, if Tamar had her 'druthers', she'd rather be back at the Rady JCC."
Rob: "I talked to Tamar about doing something to honour her years of service, and she seemed amicable to do that. But when do you do it so that you can do it justice?"
JP&N: "Switching gears – let's talk about the exercise facility. You're up to 50% capacity now – right? So what's the response been?"
Rob: "The traffic is still slow upstairs, but to be honest I attribute that to it being summertime. Normally we see a significant number of people freeze their memberships for July and August, and we see increased traffic in the facility after the Labour Day long weekend – and we anticipate that'll be the same.
"The traffic hasn't been bad; I don't want to give you that impression. It's just not at a very high level right now."
JP&N: "We were in a similar situation last summer, when attendance was way down – and you were expecting a healthy return of members in the fall – and then we got hit with a second wave in the fall – and that kiboshed everything again. I don't want to be a purveyor of doom and gloom but you must be in such a terrible predicament. How do you plan when you don't know what's around the bend? Also, have you done any polling of members to ask how many are actually planning on coming back?"
Rob: "We're in the process of doing that right now. There are many members whose memberships have lapsed, but we don't think it's an issue of their having left the Rady and they're going somewhere else. Remember, we closed three different times – and reopened three different times. I think we'll get a real sense of where we're at (in terms of membership) after the Labour Day long weekend, but keep in mind the Jewish holidays are early this year."
JP&N: "What about outreach to the community – with the newcomers to the community? Is that just too difficult to plan under these conditions?"
Rob: "We're looking at various partnerships with Jewish Child and Family Service. I've already set up several meetings with Al (Benarroch, Executive Director of JCFS).
For youth, we're going to bring back 'Strictly Tweens', 'Kids at the J', we're going to do BBYO chapter programming again – which has continued on in a virtual manner. We're going to bring back seniors' programming – like Bridge and Mah Jong, the Stay Young Club, Active Living classes. We're going to bring back the lecture lunch series – which is very popular with seniors.
"We'll obviously offer a hybrid combination of in-person and virtual options for all these things. For inclusion, we're going to offer 'Fun and Fitness with Friends'. We'll do another version of the Israel Asper Jazz series, the Israel International Film Festival."
At the end of our conversation Rob told me that he would send me a more complete list of programs that the Rady JCC is planning to roll out for the fall. It turns out that he covered them all during our conversation at one point or another – except for birthday parties and Rosh Hashanah Outdoor Challah Bake (Sept. 2).