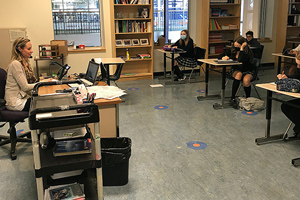 over 675 cases in other Manitoba schools
By BERNIE BELLAN
While Manitobans can rightfully be said to be in a state of shock over how this province has gone from having one of the best records anywhere at keeping COVID at bay to now having one of the worst in Canada, the focus has very much been on the tragic situations in many personal care homes.
Yet, the situation in schools for the most part is one where there has also been a steady number of COVID cases either having been reported or suspected. Since all available evidence to this point, however, is that COVID simply does not affect young people to the same degree that it does the elderly (among whom I can rightfully count myself), I think it's fair to say that not much attention has been paid to what's been happening in schools in this province.
According to the CBC Manitoba website, however, "Manitoba had recorded 675 cases of COVID-19 in schools as of Nov. 17. A total of 513 of those were students and 162 were staff members.
The CBC website goes on to note that "The province has posted dozens of possible exposures at schools across Manitoba on its website – including more than 150 exposures at schools in the Winnipeg health region since Sept. 25."
Since ours is a newspaper serving the Jewish community I thought it appropriate to take a look at what's been happening in the only fully JK-12 Jewish day school in the province: Gray Academy.
Luckily, it is fair to report in the case of that school that "no news is good news."
Since the first lockdown began on March 14 I've had occasion to speak with Gray Academy Head of School and CEO Lori Binder twice before: In our May 27 issue, when we took a detailed look at how Gray Academy had made the successful transition to teaching online through what it called its "Gray Away" online program; and in our Sept. 2 issue, when we took a look at plans that were put in place to welcome back students under the highly restrictive protocols that the province had established for all schools in Manitoba.
Now, with almost three full months having gone by since the start of the new school year, I thought it appropriate to speak with Lori again to get her assessment of how things have gone at Gray Academy thus far. Joining in the phone conversation was Andrea Ritter, Director, Marketing and Communications.
No cases of COVID at Gray Academy thus far
I began by asking whether "there have been any incidents of COVID at the school?"
Lori answered: "Thank G-d no, there have not. We've been healthy every day."
I asked: "Are any of your students now taking their schooling online?"
Lori: "Let me give you a general overview. We are fully open. We are able to have our students with two meters distance all the way up to Grade 12. We made that change when schools moved to orange and that was already in place in the elementary. We were able to spread out more, so that for example, our Mac lab that was used for the film class, we're now using it for other classes and we've moved a grade to another corner of the school.
"We are open five days a week for every one of our students unless they fail our health screening."
Lori went on to explain that if, for any reason, a student is unable to attend classes in person beginning with Grade 5, they are able to "access classes online. They are able to login to 'Google classroom' and they are able to participate." As well, students are beginning to learn to use Google Classroom independently in Grades 3 & 4.
But, she noted, "we don't have a remote choice option – meaning a student is just choosing to be remote – but if they're not in the building and they're still well enough to learn, they can access the classroom from home."
In terms of how many students have actually been absent from school on any given day, Lori said that the average attendance has been "approximately 90% on a daily basis."
Enrolment has remained up
I asked how enrolment this year compares with last year?
"Last year it was 494," Lori answered. "This year it's 484."
She noted, however, that the school's "retention percentage" (meaning "how many students didn't graduate and were eligible to return") is at "93%".
Lori added that, "We only had two families that, before school started, chose to home school."
In terms of how many new students are at Gray Academy this year, Lori said there are 60 new students (who could be in grades as early as Junior Kindergarten). While there were 80 new students in the 2019-20 academic year, the lower figure, Lori explained, is largely explained by the fact that, "of those 60 new students we're seeing more local as we've seen fewer families arrive from outside of Canada."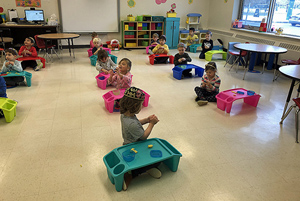 Andrea Ritter noted that "this has been an unusual year when we've had to turn people away when we filled our rooms. We had to maintain that distancing between students in rooms – which meant we had to limit our capacity in certain classrooms. We had to cut off our registration for JK and K for sure."
Lori gave as an example an inquiry the school had from someone wanting to enroll their child in Grade 4. "We had no more room," she explained, " so we had to tell them their child was on a wait list."
I asked whether there was a breakdown of class size by grade. Lori said they had figures for high school and elementary. "Last year our high school (Grades 7-12) was 211 and this year it's 218. Our elementary (JK-Grade 6), last year was 283; this year it went down a little to 266."
All staff returned this year – and have remained
At that point in the conversation I said I wanted to turn attention to the staff of the school. I asked whether everyone had returned?
Lori answered: "Our staff is all here. No one chose not to continue working because of COVID and we've welcomed some new staff. They've been amazing. Our staff are so committed to who we are as a school community, committed to being able to provide our students purpose, a place to be, and a community where they're known and cared for by the teachers.
"If you were to say to us, before we knew what COVID was, that we're going to run a school, and we're going to keep changing, and as a teacher you're going to have to start moving around from class to class – and you're going to have some kids in one classroom and some in another, and you're going to always be on the alert for changes from the province – our staff have been really incredible.
"From my educational lens, what I see is that our kids really want to be in school; they want to be somewhere. They don't want to be in isolation. We're all social beings, teenagers especially – they crave being with others, being in community.
"We're doing things we've never done before. Bernie, if you ever want to come and watch our pick-up and drop-off – it's a science we've created. We've got this orderly fashion how kids get out of their cars so we can limit gatherings and have kids go through doorways one at a time. We're just so grateful for the positivity of our staff and the partnership with our families."
Could Gray Academy remain open if other schools are forced to shut their doors?
I wondered though about something that doesn't get discussed much within general conversation. The province has been releasing data about which geographic areas have been hardest hit by COVID (also which schools) and it has been quite evident that the pandemic has taken a disproportionate toll on socioeconomic groups that are more disadvantaged. Now, with talk of a possible even more drastic shutdown that would encompass schools this time – but with Gray Academy, among other schools, having fared quite well in terms of avoiding any incidents of COVID, I asked whether the possibility that some schools might be allowed to remain open while others would have to close had ever been brought up in discussions with representatives from the Department of Education?
Lori responded that "What I can share, and has not changed ever since the summer, is they've always spoken about what would make schools move into the red pandemic response level. We know that one reason is transmission in a school that is specific to that school. We saw that happen with one of the first schools in the River East School Division (John Pritchard) where a cohort was moved out – and that was specific to that school.
"That same basic message is what we're still hearing: 'There would be a change to a school if there's evidence of transmission within a school….We have to be prepared for anything that might happen., but my belief is there won't be a decision made based on anything other than what's happening in specific schools."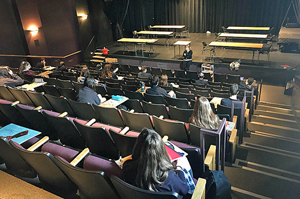 Some classrooms have been able to accommodate fairly large numbers of students
I wondered what the maximum class size is now that each student is required to maintain a distance of 2 metres all around?
"In elementary, believe it or not," Lori responded, "we've taken out furniture; we've removed bookshelves that were screwed to the walls for decades – in order to make more room – it would be around 18 or 19; and in high school, we've been using some of the larger spaces for classrooms – like the Mac lab – where we can get around 20 or 21 students. Right now, because we've always had the availability of the Berney Theatre, there is a group in the foyer and a group utilizing the theatre so that we can really give kids the space."
"That would mean you're having university style lectures in the theatre itself," I suggested.
Further, because there are windows in the foyer the school is able to open the blinds and get some natural light into that space, Lori explained.
Andrea added that students who are taking classes in the theatre have become quite resourceful in adapting to the theatre format. "It's energized the kids. As soon as they went to the Berney (Theatre) they all started coming up with ideas, like 'How can I create a lap desk for myself?' because it's hard to hold your Chromebook on your lap while you're taking notes."
Lori also noted that, until the province ordered the entire city into code red, Shmoozers had been providing hot lunches for kids – brought to them in their rooms. "We're trying to keep our hot lunch program going – at least for this month," she noted, "with food from other kosher catering. We don't have volunteers coming in right now, so we (the staff) are doing that."
Talking about the staff and lunches, I asked whether staff are still eating their lunches in the Kaufman-Silverberg Library?
"Our high school staff are," Lori said, "but we still have our staff room. It's just limited by how many people can be in there at once. There's enough space for 12. There are other places for staff to go."
Morale has remained high – and students have shown amazing resillience
I asked whether there are any assessments of morale that are taken on any sort of systematic basis or is it all based on anecdotal evidence? After all, I suggested to Lori, "you're giving me what would be considered a pretty upbeat report."
Andrea Ritter said she'd like to jump in at that point, "speaking both as a professional and as a mom" of two students at Gray Academy.
"I was home last year with both my kids (when all schools closed from March on). My older one (who's 15 – in Grade 10) was fine; she's very independent, she did her own thing. She didn't mind being online.
"The little one (who's 9 – in Grade 4)," Andrea continued – "it was really hard for her, especially when we weren't having a full day of classes, when we would just meet (online) here and there. She really had a tough time emotionally.
"When we switched to full-on Gray Away in April, and she was with her classmates in a structured environment every day, it made an enormous difference for her.
"But for me, seeing the children here on site, I am amazed how they've taken everything in stride. Sure, every time there's a change, they complain like crazy for a day or two, then they just move along and carry on with their day.
"Some of the high school kids especially have gotten a little bit innovative in providing entertainment for themselves. They can't go anywhere, they're not allowed to leave Campus – and that's one of the ways we're trying to keep control on transmission. (Ed. note: Compare that with kids from Grant Park who had been flocking both to the nearby McDonald's and Grant Park Shopping Centre.)
Andrea continued: "They're creating some new clubs at lunch, they're hanging out in different spaces – but the little ones, in particular, interact when they're outside – in masks, at recess – it doesn't matter – it doesn't make a difference to them. They take it completely in stride. I hear them all day. My window faces the playground. They play like they always have.
"I've certainly seen discussions online from different points of view – how terrible it is to have kids in masks all day. Fortunately for us we have the space. Our kids (up to Grade 4 and up) can be out of masks and have a mask break so long as they're at their desks and when they have to put their masks on for recess (grades 3-6) or for gym (grade 4 and up) – they're just taking it in stride."
Lori chimed in: "Every day that we can have this building open and our children are healthy, it means that our kids are getting what they need to develop mentally, developmentally – and the resiliency – I am also proud of our students' resiliency.… I remember the first day that kids were getting dropped off, who would have thought that three and four-year-olds would be hopping out of the car and walking themselves (with staff) to the early years' wings door? Usually it would have been the parents holding their hands, walking them to the door of their classroom.
"We're here to give kids a place to be and, from a mental health and wellness perspective, that's what contributes to being able to learn.
"So, I'm not saying it's not hard; it is hard and I'd like to see those vaccines come to light sooner rather than later, but as long as we can keep these kids feeling well, we're upbeat."