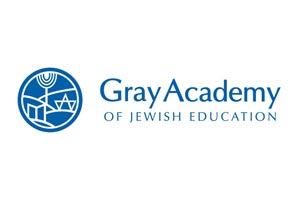 By BERNIE BELLAN With the decision by the provincial government to require online learning in all classrooms for students from K-12 from January 10-14, Gray Academy was well positioned to implement what it began to refer to as "Gray Away" when it was first introduced in May 2020. As well, the school has also taken steps to provide all parents of students in JK-6 with test kits that the parents are being asked to administer every three days beginning January 16.
'"Gray Away" was reintroduced this past week, from kindergarten to Grade 12," Lori Binder, Head of School at Gray Academy, said during a phone interview.
"Our junior kindergarten students have been able to remain on site," Lori added, "since JK falls under early learning child care."
As well, similar to all other schools in the province, Lori noted that "we are supporting children of critical service workers or those students who need supports. We've had about 80 kids in the building even during Gray Away. Most of those kids have been K-6, along with junior kindergarten – and just a sprinkling in the high school."
"All teachers have been on site, so remote learning was taught from the school…Even though we were made aware [remote learning] was a possibility, before vacation was over, staff got together in a Zoom meeting to be prepared for the transition."
As well, Lori added, "prior to break we sent stuff home with kids because Omicron was spreading – so at least we were able to prepare most of our students to have their belongings they needed for learning."
Something else that the school will be able to give students is rapid test kits for all students (including those in JK) up to Grade 6. Lori noted that the province had supplied the school with sufficient quantities (five tests per student) of rapid test kits for all students in K-6 to be tested every three days. With school set to resume in person on January 17, parents are to pick up the test kits on Sunday, January 16.
As well, Lori noted, "We were given a supply of tests from BB Camp" that had been left over following the summer session of that camp. Those tests were given to parents and have been used for students in Junior Kindergarten, so that they, could also be tested every three days. The test kits were also made available for Critical Care Workers whose children were in school the week of January 10-14 for in person learning.
Parents of all students in JK-6 are being asked to administer tests to their children prior to the resumption of in person learning as an additional layer to mitigate the risk of the spread of COVID upon their return. With five rapid tests for each student to take every three days, this will help for the first two weeks back after the long break from in person learning.
As far as test kits for kids in 7-12 are concerned, Lori said the province did not provide schools with kits to send home as high school-aged students are eligible to be vaccinated. At Gray Academy, students aged 12 and up are all fully vaccinated. (Still, in light of the Omicron variant infecting fully vaccinated individuals, I wonder whether the province might now be giving consideration to giving students who may have received two vaccines test kits as welll? Anyone under 18 is not eligible for a booster shot in Canada, although they could be in the U.S.)
I asked Lori when was the last time Gray Academy had been forced to implement remote learning?
"It was May and June of 2021," she answered.
When Gray Academy first introduced "Gray Away" in March 2020, however, it was for all students, including Junior Kindergarten. Since then, there's been the clear realization that "learning remotely is not effective for three and four-year-olds," Lori explained.
As it was when remote learning was first introduced almost two years ago, classes are structured similar to how they would be in person, with breaks structured into schedules. "In elementary it's tweaked just a little bit so that there's more time to move around between classes," Lori added.
I wondered, when school began in the fall, whether Gray Academy was still maintaining the strict protocols that had been in force all last school year, i.e., social distancing, students remaining in cohorts, no movement of students between classrooms (with teachers moving instead from class to class)?
Lori said that Gray Academy had been adhering to stricter rules than were nominally dictated by the province. When school began in the fall, she explained, "schools were in 'Yellow'; we were operating a little closer to 'Orange. For example, our staff were in medical grade masks since September. Our students in elementary have been cohorted and had two metres between their desks.
"In high school this year, because all students were fully vaccinated (which, we noted back in September, made Gray Academy one of only two high schools which required that all students be vaccinated, the other being the University of Winnipeg Collegiate) – in late November it was the first time students began to move around the school again. That was an amazing, refreshing thing for our high school students – being able to move from class to class. For instance, they were actually able to take biology in the biology lab, rather than the biology teacher coming to them."
It was around the same time that "the library reopened for the first time, singing started again – with masks on. That was before Omicron landed in Manitoba."
I wondered whether there had been any cases of COVID in Gray Academy since the pandemic took hold here back in March 2020?
"From March 2020 to December 22, 2021, we had one case," Lori answered.
"Then the school closed on December 22 for winter break; that's when Omicron was sort of bubbling, and Friday, December 24 we started to receive reports of cases among individuals who had been at school. Even though we were on break we wanted to follow the protocols and communicate with our families. We reported to the (appropriate) grade and to the school that there was a positive case. Between December 22 and 10 days following, we reported on 15 cases after school closed which, in light of Omicron, is not surprising."
"There was no indication of spread among those cases. They were sprinkled here and there, mostly in elementary, which again is not surprising, since our high school students and all staff are fully vaccinated."
"Our goal was to keep our school community healthy by informing families of any potential exposure."
I wanted to once again remind readers what the overall consequence was of requiring that all students aged 12 and up be vaccinated prior to the start of the school year in September, so I asked Lori whether there had been any further developments insofar as parents pulling their children from the school because they didn't want to have them vaccinated.
Lori responded that the figures she reported to me back in September had remained the same: A total of only 11 families with 20 children who had been enrolled in Gray Academy last school year had withdrawn their children from the school as a result of the vaccination requirement.
Further, Lori reported that there had been complete compliance among staff with regard to getting vaccinated.
Given the uncertainty about students returning to in school education, I suggested to Lori that the most she and her staff can do is plan five days at a time.
"That's right," she said. "Five days at a time."