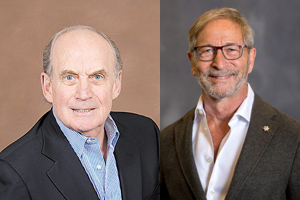 Two well-known members of Winnipeg's Jewish community were among 135 Canadians to be appointed to the Order of Canada last week.
In the release announcing the appointments, it was noted that "The Order of Canada is one of our country's highest civilian honours. Its Companions, Officers and Members take to heart the motto of the Order: DESIDERANTES MELIOREM PATRIAM ("They desire a better country").
"Created in 1967, the Order of Canada recognizes outstanding achievement, dedication to the community and service to the nation. More than 7,000 people from all sectors of society have been invested into the Order. Those who bear the Order's iconic snowflake insignia have changed our nation's measure of success and, through the sum of their accomplishments, have helped us build a better Canada.
"Appointments are made by the governor general on the recommendation of the Advisory Council for the Order of Canada."
Here is what the release had to say about the appointment of Harvey Secter and Bob Silver to the Order of Canada:
Harvey Secter
For his leadership in business, law and academia, and for his philanthropic contributions to local initiatives in Manitoba, notably within the Jewish community.
ROBERT Silver
For his influential leadership as a businessperson, community builder and philanthropist. 
16 others members of Canadian Jewish community apppointed to Order of Canda
(CJN) In addition to Harvey Secter and Robert Silver, 16 other Jewish Canadians were apppointed to the Order of Canada, including philanthropists, scientists, artists, lawyers and academics.
The appointments included survivors Max Eisen of Toronto, Rose Lipszyc of Thornhill, Ont., and Eva Olsson of Bracebridge, Ont., who were all recognized for their dedication to Holocaust education.
Graham David Sher, CEO of Canadian Blood Services; and academics Carol Tator and Frances Henry, of Toronto, who have studied systemic racism, were all named as Officers of the Order of Canada.
Others named as Members include:
• Justice Sandra Chapnik, Toronto, who was recognized for her leadership in the legal field and advancement of women. Chapnik has also served on the boards of Holy Blossom Temple, Baycrest Centre for Geriatric Care and ORT Toronto.
• Robert Eisenberg, Toronto, for his commitment to "the revitalization of Toronto's architectural heritage."
• Rabbi Baruch Frydman-Kohl, Toronto, for his leadership of Beth Tzedec Congregation and his commitment to interfaith dialogue.
• Leo Goldhar, Toronto, who has served as chair of the UJA Federation of Greater Toronto's Tomorrow campaign.
• Morris Goodman, Hampstead, Que., for his leadership in the pharmaceutical industry and his philanthropy.
• Jane Heyman, Vancouver, for her contributions to Vancouver's theatre sector.
• Olga Korper, Toronto, for her contributions to the visual arts through her impassioned promotion and exhibition of Canadian and international contemporary art.
• Barbara Landau, Toronto, for her work as a lawyer and psychologist on dispute resolution and family law reform as well as her interfaith initiatives. She is the co-chair of the Canadian Association of Jews and Muslims.
• Lynn Posluns, Toronto, for her contributions to research on women's cognitive health through the funding of the Women's Brain Health Initiative.
• Cara Tannenbaum, Montreal, for her leadership in geriatrics, women's health and gender research.