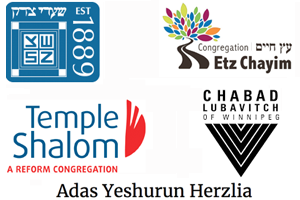 By BERNIE BELLAN With the rapid spread of the Omicron variant it comes as no surprise that many local synagogues have taken a proactive approach to dealing with the pandemic. For the time being, however, the Rady JCC is maintaining its existing schedule, although that may change quickly depending on possible new restrictions that may be issued by the provincial government.
The Shaarey Zedek, Etz Chayim and Temple Shalom congregations have all reverted to on-line services.
Shaarey Zedek
In a bulletin issued by the Shaarey Zedek on December 29, the following information was given:
As COVID-19 Omicron variant rapidly circulates in our province, it is with a heavy heart that we have decided to close the shul once again for the safety of the congregation, clergy, and staff. The closure will affect our operations in the following ways:
Prayer Services — In-person attendance is cancelled as of December 30, 2021. We will pivot back to online services only and offer online Aliyot and honours. We will communicate plans to re-open as soon as permissible.
Life Cycle and Related Events — In-house events will not be allowed in January 2022, however, our Rabbi may be available to attend some life cycle events virtually. We will revisit this approach in the coming weeks. Funerals will continue to be held graveside with clergy attendance, and in the shul when temperatures are below -27°C. Please contact us if you have any questions.
Facility Rentals — New bookings for in-house events in the short-term will not be scheduled, including private meetings, luncheons, parties, and other facility rentals.
Social-Cultural Programs, Events, and Adult Education — For the time being, all offerings will be planned for online participation only.
Gift Shop – The store is currently closed but can be opened for purchases by appointment.
Catering – Our catering team is available for take out orders.
Etz Chayim
In an email received from Etz Chayim Executive Director Jonathan Buchwald on December 30, in response to a question about what steps Etz Chayim may also have taken to deal with the rapid spread of the virus, Jonathan wrote: "For the months of November and December we had resumed in-person services.
"They were by registration only and we were limiting attendance to 50 people. Proof of full vaccination was required to attend.
"In the last few days since Omicron has taken over we have made the unfortunate decision to cancel in-person services for the first two Shabbatot in January (1 and 8), and most likely for the entire month until we see how what will happen with the variant.
"We will continue to hold on-line Shabbat morning and daily morning/evening services as we have throughout the pandemic.
"Our office will remain open through telephone and e-mail but will remain closed to the public for in-person business.
"Our takeout catering service is also available as it has been throughout."
Temple Shalom
In response to a similar question whether Temple Shalom had also canceled in-person services which was posed to Rabbi Allan Finkel of Temple Shalom Congregation, Rabbi Finkel wrote: "Hi Bernie, we were the first to do so, as of last Friday evening. It may interest you to know that the Wpg Council Rabbis set up a WhatsApp group quite some time ago, and we keep each other up to date on our responses to COVID and we share protocols and synagogue implementations with each other as well. As a result, there is a high degree of consistency across the community, more confidence and less guesswork as we address these challenges."
 Adas Yeshurun-Herzlia
In contrast to the three other major Winnipeg congregations, the Adas Yeshurun-Herzlia congregation issued the following information within a bulletin sent to congregation members:
"At this point we will not be closing the synagogue. We will continue to follow the government guidelines. We have done everything to create the safest possible environments. This includes: vaccination mandate, masks at all time, social distancing, shortened service, no after service gathering, hand sanitizers, and a very responsible clientele."
The bulletin further noted that "For all services singing will be held to a minimal amount.
Regarding Torah reading, Aliyot will be given out. The person called to the Torah will have a designated place to stand, which will be distanced from the Torah and reader. They will recite the blessings from the designated spot. Upon completion of their aliyah they will return to their seats."
In response to a query sent to Rabbi Avrohom Altein of the Jewish Learning Centre, Rabbi Altein responded: "We definitely implement careful Covid protective procedures. Attendees to shul are limited and must wash hand on entry, wear masks, sit 2 metres apart and are vaccinated. When someone feels ills they are required to isolate until they confirm with a test that they are negative.
"But at the same time, we are doing our best to continue. We have a day school, a child care program, adult classes for men and women and programs for Israeli immigrants, and daily shul services, and a very active kitchen that provides kosher meals to many, many Winnipeggers. Of course, there are challenges along the way, but just as we need to continue living, so does Jewish life have to continue."
No other Winnipeg congregations were contacted for this report.