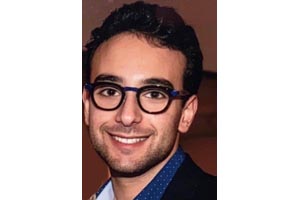 By BERNIE BELLAN When Sam Slutchuk was still a student at Gray Academy – five years ago, he developed a keen interest in working with the Jewish Federation of Winnipeg.
As he told me in a recent phone interview, "I've been connected to the Federation since high school. I began as an intern, then when I started university, I was asked to work for the Federation part-time."
In the five years since he first began an internship with the Federation, Sam, now 22, has taken on increasingly important roles.
"I was first involved in community outreach," Sam says. "Then I started working with Dalia Szpiro" (the Federation's GrowWinnipeg Director, who helps to introduce new families into the community).
Sam also worked with Madeline Lopez Ficher, the Federation's Creative Director, helping to design the Federation's revamped website, "jewishwinnipeg.org", nearly two years ago. Sam was also responsible for managing the "Community Connects" initiative during the early stages of the pandemic, which offered check-in calls to over 4000 Jewish households.
More recently though, Sam has moved into a different role – as a "Development Associate" for the Federation, a role in which he is directly involved in fundraising for the Combined Jewish Appeal.
In addition to working for the Federation, Sam is a student at the University of Manitoba.
How Sam came to be involved in fundraising is itself an interesting story.
"I've always been interested in fundraising," he says. "I enjoy my days spent at the Federation because I am helping raise funds for an organization I care deeply about."
Part of Sam's new role involves educating young people, in this case high school students, about the importance of the Jewish Federation to the Jewish community, and concomitantly, the importance of the Combined Jewish Appeal.
As Sam says, "I'm emotionally connected to the CJA and the Federation."
Now, while many young people have volunteered at one time or another with various beneficiary agencies of the Federation, it's Sam's job to prepare young people for future roles with the Federation and the community at large.
As such, Sam has been tasked with running a program called "Teens and Philanthropy".
A little while ago the Federation sent out a marketing campaign to 500 families of teenagers in the community. The email promoted the TAP program to the teenagers to see whether they might be interested in serving on a committee comprised of 14-17 year-olds that would meet once a month for two hours, and whose members would become educated in the important role that philanthropy plays in the community.
Altogether, nearly 40 students expressed interest in serving on the TAP committee through the CJA. As Sam says, "I am thrilled with the response of our teens and excited to get this project off the ground."
The students come from a variety of different schools, including Gray Academy, Grant Park High School, Garden City Collegiate, and the University of Winnipeg Collegiate.
I asked Sam whether there was one common denominator that he could identify among the students on the committee, other than their ages? He thought about it for a moment, then said that they almost all had been involved with PJ Library at one time or another – which. by the way, shows how successful PJ Library has been at integrating families into the community.
So, what is it that the students will be asked to do when they're on the TAP committee?
Sam explains that the committee will be given $3600 to work with. Over the course of the next few months, the committee will research the beneficiary agencies that receive funding from the Jewish Federation. The members of the committee will be asked to allocate that $3600 in a similar way that the Allocations Committee of the Jewish Federation distributes funds to the various agencies.
As Sam notes in an email he also sent to me following our interview, "The purpose of the creation of TAP is for the younger generation of our community to have a hands-on experience in philanthropy, no better way than with real-time and money. I felt it was crucial to begin recruiting members now; teens are looking to make a difference, need to fulfill volunteer hours, and what better way than to form a committee."
I wondered though, whether the students might have an inherent predisposition to favour agencies with which they might have a greater familiarity, such as Gray Academy or the two sleepover camps, Massad and BB Camp?
Sam says that many of the students might have familiarity with other agencies as well, such as the Simkin Centre, because they have a grandparent there, or perhaps Jewish Child & Family Service, or they will learn of new agencies that may hit close to home.
Regardless, the overall purpose of giving the students the $3600 to allocate is to educate them in the process of decision-making.
"These students will be asked to voice their thoughts and opinions," he notes.
"We need to bring younger people into the process," Sam says, in explaining what the objective of the program is. "We want our future generation of the community to feel they have a voice."
Given the Covid situation, however, the first meeting of the committee, which will take place toward the end of January, will, of necessity, be held online.
Sam says though that the hope is to be able to have meetings in February and March held in person.
"Down the road," he also says, "I would like the students to sit in on focus groups, potentially work as canvassers on Super Sunday," and to be given roles that until now would have been reserved for adults.
Once they've served on the TAP committee this year, each student will be given a letter of reference which should prove valuable down the road both in terms of applying to post-secondary education after high school or in seeking a job.
"We'll be testing the waters at this point," Sam says. But, by asking high school students to familiarize themselves with much of the process that's involved in the work of the Jewish Federation at this relatively early stage of their lives, the hope is that the end result will be to help prepare future leaders of tomorrow for important roles in the community.
"As Sam says, "we need to bring younger people into the process. We wouldn't have a community without the CJA."