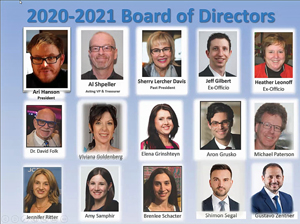 By BERNIE BELLAN Jewish Child & Family Service took on 66 new older adult cases during its 2020 fiscal year (which ended March 31, 2021). That compares with a usual average of 15 new cases a year.
The increase in caseload was a direct result of Covid, reported Al Benarroch, Executive Director of JCFS, during the Annual General Meeting of JCFS on June 24.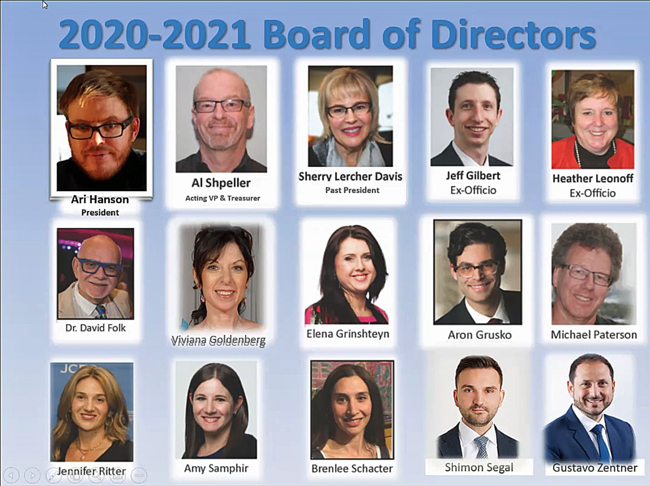 While Covid had a huge impact upon the day to day operations of JCFS – with staff working from home and contacting clients either by phone or over a computer, Al said that JCFS successfully met the challenges imposed by Covid.
Some other notable points made during Al's presentation included:
• the creation of a new "concierge" position in September, filled by Danielle Tabacznik. As we reported back then, Danielle described her role as "reaching out to seniors in the Jewish community who may or may not be isolated and who may not be connected to services. I'll be checking in with them to make sure they're doing okay…to see whether they do need referrals to services. I'll also be asking them whether they're feeling isolated, what programs or services might help them."
• a 40% increase in cases where addictions played a role
• the welcoming of 40 new families to Winnipeg's Jewish community as part of JCFS' settlement program, despite the difficulties Covid presented in terms of immigrating to Canada. (Altogether JCFS has welcomed 200 new families since the program began and continues to assist those families.)
• the launch of a feasibility study of a new addictions centre
• a tremendous response from the community in terms of donations. Al Benarroch said "We had our most successful fund raising year ever".
In his treasurer's report, Al Shpeller noted that JCFS ended the year with an $11,343 surplus. Revenues for the year were $3, 496,076 – up from $3,382,215 in 2019.
Expenses were also up: $3,340,943 in 2020, compared with $3,353,868 in 2019. Of the increased expenses, by far the largest component was in the area of family assistance, which saw an increase of $92,999 from 2019 to 2020.
With respect to the revenue situation, I had reported in our June 23 issue that JCFS will be receiving quite a large increase in allocation from the Jewish Federation as of Sept. 1.
I wrote that JCFS will be receiving an increase of $65,5300 from the Federation over what it had received in 2020.
I also wrote, however, that JCFS will be receiving an additional $256,681 as a result of "designated funds" received from donors who were able to specify where they wanted their donations to the Combined Jewish Appeal to be directed.
In response to that article, Al Benarroch wrote, saying that he wanted to correct some of the information I had reported.
Al wrote: "The monies you indicated (i.e. $256,000) coming from Federation are separate and apart from the Allocations process, which will provide $880,000 for our general operations and another $54,000 for Chaplaincy services."
Of that $256,000, approximately $71,000 would have come to JCFS in the form of designated gifts from donors who has previously been designating that their CJA donations go to JCFS.
Still, that leaves a healthy increase of $185,000 in new designated allocations. Al explained that a good chunk of that $185,000 came from Jewish Federations of North America, which established a one-time program this past year to allot funds to help Jewish human service agencies throughout North America.
According to Al," JFNA received some very large donations from several of their top supporters and foundations to help support Jewish human service agencies across the Federated communities in Canada and the USA. It was a 50% matching program to be applied to any new money received by Federations – up to a certain amount, based upon the size of each federation.
"New money" could be in the form of brand new CJA gifts or increases to previous CJA gifts. Each community was allotted a proportional amount of matching funds for their respective campaigns."
As a result, JCFS received an additional $76,000 from that JFNA matching program, which was matched by donors. In addition, there were several new donations from donors that brought the total received in designated donations to $256,000.