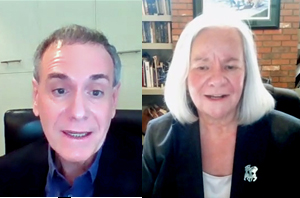 JFM AGM screenshots
By BERNIE BELLAN The Jewish Foundation of Manitoba held its Annual General Meeting online on Wednesday, June 16. This marks the second year now that the Foundation AGM has been held online – and the second year that outgoing Foundation Chair Richard Yaffe has presided over the meeting online.
Last year at this time the Foundation had just begun to roll out the first phase of its emergency allocations, both to Jewish and non-Jewish organizations. The total amount of "Covid relief funding" to the end of 2020 came to $898,000.
The Foundation enjoyed another good year on its investment returns, with a 10.7% return on investments (although the return was not quite as good as the 2019 return on investments, which was an impressive 15.34% before fees, my report last year noted). The total assets of the Foundation grew by over $11 million to $148,075,775.
New contributions to the Foundation totaled $3,384,493, in 2020. The Foundation distributed $5,433,501, of which $4,500,124 was in the form of designated grants and $933,377 was in undesignated grants.
There were a total of 55 new funds established in 2020. A total of $175,450 in scholarships was given to 77 students.
In other news, Richard Yaffe noted that the board had three major accomplishments in 2020:
• the hiring of John Diamond as CEO in February
• the roll out of the Covid relief program, which emphasized, as Yaffe also noted at last year's AGM, "speed, efficiency, and inclusiveness"
• the initiation of a new strategic planning process. Yaffe said that the last strategic planning process, which occurred in 2015, was "no longer current".
Yaffe also explained that the Foundation "had to pivot away from events that have traditionally defined the Foundation", such as the very successful in person luncheons it would normally have held during the course of the year. This year, the annual women's luncheon was held online, for instance.
In one final piece of news, Yaffe announced that, as he has now completed his two-year term as Chair, he will be turning over duties to incoming Chair Bonnie Cham.
Cham has previously served as Chair of Shaarey Zedek Congregation. As well, in her capacity as a medical doctor, Cham has chaired the Doctors Manitoba (previously known as the Manitoba Medical Association) Ethics Committee and the Canadian Medical Association (CMA) ethics committee. In addition, Cham served on the board of Accreditation Canada, which developed into the Health Standards Organization. Cham chaired that organization's Governance and Nominating committee.