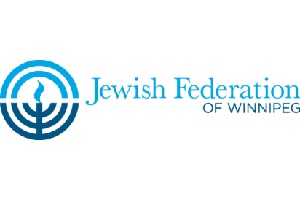 By BERNIE BELLAN The Allocations Committee of the Jewish Federation has submitted its report to the Federation. The committee is recommending a total of $3,523,098 in allocations to the 12 beneficiary agencies of the Federation for the 2021/22 fiscal year, which begins Sept. 1, 2021.
That amount represents an increase of $163,000 in allocations over the previous year, and will be the single largest increase in allocations year over year in the history of the Federation. As we reported in our April 28 issue, the Combined Jewish Appeal did raise a record amount in 2020 – $6,439,994 (which has actually increased to $6,451,061 as of the time of writing), which is the reason the Federation is able to increase its funding of agencies by such a large amount. There were, however, some one-time donations that were earmarked for specific organizations and which were already allocated during the 2020/21 fiscal year.
Nonetheless, as Allocations Committee Chair Marcelo Aprosoff noted in the committee's report, "The Committee was excited to have more money to allocate than ever before…They are conscious of the fact that some donations in this year were singular and will not be repeated. They would like to caution Beneficiaries not to expect or rely on continuing increases in the next few years, even as we remain hopeful about the future."
Here are some highlights from the report:
Every single one of the beneficiary agencies will either receive an increase in allocations over the 2020/21 year or will at least receive the same (except for the Kaufman Silverberg Library, which is not actually a separate beneficiary of the Federation; it is lumped in with Gray Academy). In addition, if you read on you will see that additional funds that have come in the form of designated donations to various agencies will also mean that some agencies will be receiving considerably more in funding from the Federation than they had requested.
In the case of one agency, Jewish Child & Family Service, the amount the Allocations Committee recommended that agency will receive is actually $40 more than JCFS requested – $880,600, which represents an increase of $65,300 over the 2020/21 allocation.
The next highest increased allocation will go to BB Camp: $80,000, which represents a $20,000 increase over the previous year.
Gray Academy also received a $16,000 increase, while the Simkin Centre received a $15,000 increase.
Other notable aspects of the Allocations Committee's report included an increase in allocation to the Jewish Learning Institute from $1,800 to $10,000. No other agency had suffered as dramatic a cutback in allocations in 2020/21 as the Jewish Learning Institute – from $5,642 in 2019/20 to $1,800 in 2020/21.
Other than noting that "The Jewish Learning Institute is reaching many more students virtually than they could in person", there was no explanation given for the large increase in funding for the JLI.
The Committee did make specific reference to some specific challenges that agencies faced as a result of the pandemic:
"Despite almost endless challenges and disappointments, community leadership proved resilient, flexible, creative, adaptable and compassionate.
• Loss of life at the Simkin Centre was heartbreaking.
• Closures at the Rady JCC left huge gaps in social opportunities for every demographic group.
• Fundraisers were cancelled or scaled back, limiting the capacity of some organizations.
• The community has become accustomed to programs online that are free.
• Some individuals don't do well in the virtual world and are even more isolated in a world of isolation."
The table on this page offers readers the chance to compare allocations to agencies over the past seven years. In the meantime, here is a list of the increased allocations each agency will receive (in comparison with what they received last year), as recommended in the Allocations Committee report:
Aleph Bet Child Life Enrichment $3,000
BB Camp $20,000
Camp Massad $10,000
Gray Academy $16,000
Kaufman Silverberg Library* $1,500
Gwen Secter Centre $10,000
Kosher Meals on Wheels $5,000
Irma Penn School $2,400
Jewish Child & Family Service $65,300
Jewish Heritage Centre $2,600
Jewish Learning Institute $8,200
Rady JCC no change
Shalom Residences $4,000
Simkin Centre $15,000
*While Kaufman Silverberg Library's allocation is listed as a separate item, it is part of Gray Academy's allocation
**While Kosher Meals on Wheels is also a separate line item, it is run out of the Gwen Secter Centre and is part of Gwen Secter's allocation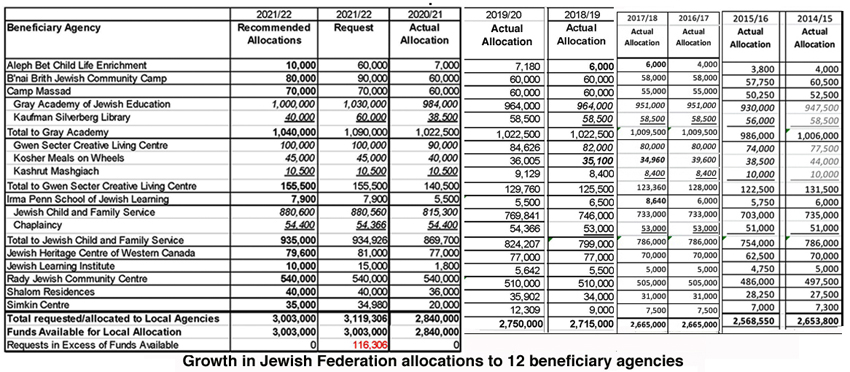 As mentioned, in addition to the allocations from the Jewish Federation given on the table on this page, the Federation will also be allocating funds to certain agencies that have come from donors who have designated that their donations go to those agencies. (Donors who have given at least $18,000 the previous year and donate at least as much in the current year are able to "designate" which agency will receive their donation.)
The total of those designated funds came to $520,098, bringing the total amount to be received by the beneficiary agencies to $3,523,098. Interestingly, of all the agencies, the only ones that will not be receiving at least as much as thay had requested are Aleph Bet Child Life Enrichment ($50,000 less than requested) and the Kaufman Silverberg Library (which will receive $20,000 less than requested).
Here is how much more some agencies will receive than their requested allocations:
Gray Academy $25,250
Gwen Secter Centre $30,091
Jewish Child & Family Service $256,681
Jewish Heritage Centre $66,100
Jewish Learning Institute $5,000
Rady JCC $110,650
On top of the allocations to beneficiary agencies the Jewish Federation will be allocating another $2,918,693 to various programs, including $269,900 to the following:
Birthright Israel
GrowWinnipeg
Hillel Winnipeg
March of the Living
PJ Library & PJ Our Way
Young Adult Division
Other funds
A further $1,052,732 in designated funds will be given, some to the programs just listed.
As well, $525,000 will be sent outside Winnipeg to such organizations as The Centre for Israel & Jewish Affairs.
Finally, the Federation operates a number of initiatives, such as government relations, combating anti-Semitism, 50+ programs, and many more. The total for those initiatives plus operations of the Federation comes to $667,472.