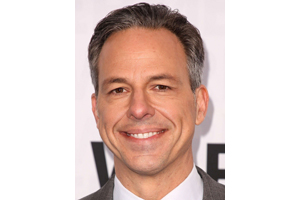 The following is taken from a Jewish Heritage Centre release:
CNN Anchor and Chief Washington Correspondent Jake Tapper to Deliver the 2022 Sol and Florence Kanee Distinguished Lecture
The Jewish Heritage Centre of Western Canada is thrilled to announce that the 2022 Sol and Florence Kanee Distinguished Lecturer will be Jake Tapper.
CNN Anchor and Chief Washington Correspondent, Mr. Tapper is the recipient of three Merriman Smith Memorial Awards from the White House Correspondents' Association for his work. He was also part of a team that was awarded an Edward R. Murrow Award for Video: Breaking News for "Target bin Laden: The Death of Public Enemy #1." Mr. Tapper is also a best-selling author and has published both fiction and non-fiction works that have met with critical acclaim. His book, "Outpost: An Untold Story of American Valor" and his reporting on the veterans and troops were cited when the Congressional Medal of Honor Society awarded him the "Tex" McCrary Award for Excellence in Journalism.
The 2022 Sol and Florence Kanee Distinguished Lecture is slated for May 1, 2022 and will take place at the Canadian Museum for Human Rights in Buhler Hall. Ticketing and sponsorship information to be announced in early 2022.
Post script by Bernie Bellan: How Tapper came to agree to be the Kanee lecturer is an interesting story in itself. According to JHCWC Executive Director Belle Jarniewski, last year she received an email from Tapper, asking whether anyone at the Heritage Centre could help him find out whether he had any relatives in Winnipeg.
Belle says she told Tapper she would refer her request to Lynn Roseman, who was responsible for chronicling all Jewish grave markers in Winnipeg into a database.
It turns out that, according to Wikipedia, Tapper's great-grandfather was someone by the name of David J. Dyson. Dyson was actually mayor of Winnipeg for a very short time – for four days, in 1917, until a recount of the votes determined that he lost by 18 votes. Dyson was a member of the United Church. According to Belle Jarniewski though, although Tapper's mother was the granddaughter of David Dyson, she did convert to Judaism when she married Tapper's father.
While Belle was talking to Tapper about his search for his Winnipeg roots, Belle says, she had the "chutzpah" to ask him whether he might be interested in being the 2022 Kanee lecturer. To her surprise – he readily agreed, provided the timing could work out for him, which it did.
So, once again, Winnipeg will play host to a world famous individual for the Kanee lecture – for the16th time. The 2020 lecture was postponed due to Covid and the 2021 lecture, featuring former Mossad Chief Efraim Halevy, was held online, so this will be the first in-person Kanee lecture in three years.