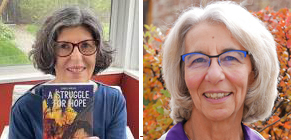 Two of our community's best known writers, Carol Matas and Harriet Zaidman, have both launched new books aimed at younger readers.
Carol's book is titled "A Struggle for Hope". Published by her long-time publisher, Scholastic Books, the book is available on Amazon. Harriet's book is titled "Second Chances. It's published by Red Deer Press.
Here are brief descriptions of both books:"A Struggle for Hope": "Ruth survived the Holocaust and the long journey to Palestine. Now she finds herself once again in a war zone as Israel battles for its existence. Her brother is on the front lines. Ruth and her boyfriend are injured and cannot fight, so they care for children in a hospital. Ruth tells the children stories to distract them and help them make sense of their situation. As she recovers, she too must return to the fight. A trauma forces her back to another time when she told stories: to her fellow prisoners in Auschwitz. We discover what Ruth went through in the camps, the horrors she saw, the friends she made and lost. Through it all Ruth comes to understand that she must find a new way to live, a way that does not give up on hope."
*****
"Second Chances": "Thirteen-year-old Dale Melnyk finds himself stuck in an iron lung, desperately fighting for breath — and wishing he could die. It is the worst outbreak of polio in the history of Winnipeg, and Dale is one of the many young victims being treated in the early 1950s. Second Chances follows Dale's slow and often agonizing struggle to regain his life, first of all to breathe on his own and then to regain the use of his limbs. Will he ever be able to play hockey again, he wonders? Dale comes to realize that he is doing better than a number of the other patients including Charlene, a young Metis girl confined to a wheelchair but always trying to help their fellow patients. When Dale discovers his younger brother Brent is also in the polio ward because their father rejected the school program vaccine, a confrontation with his father becomes inevitable. Brent is not getting better and will be dealing with paralysis indefinitely."When Dale finally emerges from his recovery he must reassess what is most important in life — a life that has been changed forever."
Harriet will be launching her book Saturday evening, Novemeber 20, at 7:00 pm in the atrium of McNally Robinson. Harriet will be joined in conversation by Terry MacLeod, Dr. Anand Kumar, and Darrell Sais.