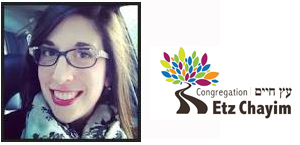 By MYRON LOVE Monica Neiman, Congregation Etz Chayim's new Program and Engagement Director, comes to her new role with impressive credentials.  For the past seven years – up until she landed here in June – she served seven years at her home congregation –Temple De Hirsch Sinai in Seattle, Washington – as Assistant Director of the congregation's religion school.
With about 1600 member families, she notes, Temple De Hirsch Sinai is the largest Reform Congregation for the Pacific Northwest in the United States.  The K-12th Grade religion school has an enrollment of approximately 350 students divided between two campuses.
(Monica notes that Seattle has a Jewish population of about 70,000.)
Her duties included developing the Judaica curriculum and programming for students and families, supervising and creating professional development for the teachers,
coordinating logistics for large school events and programs involving both campuses; organizing the transition to online learning at the start of the COVID-19 Pandemic program; involvement in school budget decisions: teacher hiring and monthly payroll submissions and involvement in student and new family registration.              


So, what led Neiman to leave her family, community and dream job and move halfway across the continent to our fair city? The answer is "love".
In early 2019, Neiman was in the midst of spring break – one quarter away from finishing her first year of graduate school at University of Washington – when she connected through a Jewish Dating App called JSwipe with Javier Gore, a recent immigrant to Winnipeg from Argentina. 
Initially, Neiman recalls, she assumed that Gore was living in Seattle but, in fact, the former University of Winnipeg HR student was only in Seattle to visit a cousin.  Although Neiman was skeptical about the prospect of a long-distance relationship, her new suitor persuaded her to exchange numbers and they started texting. After a week, they arranged to begin meeting via FaceTime and liked what they saw.
In June, 2019, Gore flew to Seattle to meet Monica in person and things progressed from there in a positive direction. In January, Neiman came to Winnipeg to marry Gore in a civil ceremony – a traditional Jewish family wedding is scheduled for next summer – and she began the six-month process of becoming a landed immigrant through spousal sponsorship.
She officially arrived in Canada on August 15 and started in her new position at Etz Chayim on September 20. 
  
"I learned about this opening at Etz Chayim," she says, "from Lori Binder (Gray Academy of Jewish Education Head of School and CEO) who is a very good friend of Tracy Kasner (Etz Chayim's cantor).  With my background, it seemed to be a good fit."
In her new role, Neiman will be organizing and co-ordinating programming that encompasses adults and children and families.  "We are working on bringing back a modified, in-person Chanukah dinner and other Yom Tov celebrations throughout the year," she reports.  "We are also planning some new educational series every couple of months.  In November, for example, we will be starting our next Beit Chayim online education series with a Talmud scholar and, starting during Holocaust Education Week, we will also be offering a three-part series focusing on Jewish art during and after the Holocaust.'
She says of her new home city that she is enjoying the slower pace of life.  "I have told my husband that I feel more relaxed and calmer here," she observes.  "The vibe here reminds of what life used to be like in Seattle when I was growing up.  I appreciate that people in the neighbourhood still say "good morning" to you."
Socially, she notes that she and her husband have many friends among Winnipeg's Argentinian Jewish community.
"We also enjoy outdoor activities," she says of herself and her husband, such as picnics at Assiniboine Park and hikes."
  
She is also looking forward to visiting our city's museums, taking in some Jets games and signing up for art classes.
Monica adds that she and Javier are both foodies and enjoy cooking together and trying out different restaurants.
And, while neither has any family here – her parents and siblings are all in Seattle while his parents are in Argentina and he has a sister in Miami – there is always Zoom and other online means of face to face communications.
Then, of course, there is a wedding to prepare for – by which time it is to be hoped that most Covid restrictions will have been lifted.