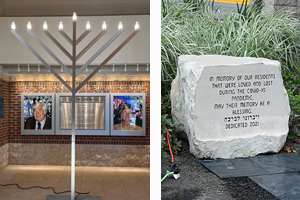 By BERNIE BELLAN It was a little more than one year ago that the Simkin Centre was hit hard by Covid for an almost two-month period.  As I noted in a daily blog that I kept updating on this website, it was on December 14 that I was finally able to report that "as of today, there are no active cases of COVID-19 at the Simkin Centre. After almost two consecutive months with at least one active case every day – either among residents or staff, there is now reason to believe that the worst is over."
But, what happened from October 22 – December 14 was nightmarish in scope.
A total of 40 cases were reported among both staff and residents, with 21 staff hit by Covid, while 29 residents also fell ill. While no staff died as a result of Covid, 11 residents did, beginning with Gwen Nelko on October 22 and ending with Mahmonir Vahdat on December 14.
On October 27 the Simkin Centre front entrance was the scene of a dedication of a memorial to the 11 residents who lost their lives to Covid during that terrible two-month period.
Rabbi Kliel Rose of Etz Chayim Congregation delivered remarks to members of families of the deceased who had gathered that cold October day, along with several employees who were also in attendance.
Marilyn Regiec read out the names of the 11 residents who died:
Gwen Nelko
Esther Shuster
Mary D Turner
Lena Parisien
Sheila Streifler
Luba Zalkind
Irene Fonseth
Annette Rosenberg
Gary Marantz
Hilda Loeppky
Mahmonir Vahdat
The memorial was donated by Larsen's Memorials at no cost.
Project Menorah
Submitted by the Simkin Centre: During the darkest time of the year, when the sun is most hidden, the celebration of Chanukah shines a ray of hope through the shadows, and it is often through simple and unrecognized miracles that we are able to feel the warmth of the light.
This year, The Saul and Claribel Simkin Centre is delighted to announce "Project Menorah". This extraordinary event will showcase five stunning nine-foot menorahs situated in the front of our building, our atrium, and all three courtyards. Residents, family, staff and the community at large will thoroughly enjoy basking in the light that these spectacular menorahs will be emitting.
The inspiration for this special event arose from the remarkable display observed at St. Boniface Hospital. As a Jewish organization we felt passionate and compelled to provide our Residents and community with a magnificent menorah display at our Centre.
Sponsorship for one menorah is $2500.00 and a donor recognition plaque will be placed on each, along with a full charitable donation tax receipt.
Don and Bev Aronovitch have chosen to sponsor a menorah saying, "Bev and I are thrilled to sponsor one of the Simkin Centre's new menorahs. We are very pleased that there will be five that will be situated throughout the facility in order for Residents to see one of them. Chanukah brings hope during one of the darkest times of the year, and the menorahs bring light to the spirit of us all."
If you would like to sponsor a menorah, please contact Aviva Tabac at (204) 589-9027.
May the Festival of Light bring blessings upon you and all of
your loved ones.
Simkin Centre CEO looks back on most harrowing year in history of Sharon Home and Simkin Centre
By BERNIE BELLAN
By now, the nightmarish situation in which the Simkin Centre, like so many other Personal Care Homes across Canada, was plunged in 2020, is receding like a distant memory.
But, for residents of the centre, along with their families, and the staff that was working to protect them, the two months of unremitting anxiety that began with the death of resident Gwen Nelko on October 22, 2020, and which didn't end until almost two months later with the final death of a resident due to Covid, is a period in time that will long not be forgotten.
The Simkin Centre recently released its Annual Report. Not surprisingly, Covid dominates the content of the report.
Here, for instance, are excerpts from the message of Chief Executive Officer Laurie Cerqueti:
"The past year and a half has been dominated by Covid-19. This virus has affected every aspect of our operation. Despite all of the Covid related challenges, we have so much to be proud and thankful for.
"Our impeccable planning, execution and adaptability has served our organization and Residents well throughout our Covid journey. We have come to be seen as leaders in the management of Covid in the long term sector. Representatives from our site sit on a number of the Maples Working Groups that were formed following the tragic failure at the Maples Personal Care Home. Our communication strategies throughout the pandemic have been recognized and will be included as examples of best practices in Long Term Care during Covid in Canada. We are frequently contacted by the media for interviews on different topics related to Covid. One of our proudest moments was the media attention of our recovery parades…
"With the development of the Covid-19 vaccines, a new hope was brought to the Centre starting in January 2020. Curently, over 99% of our Residents and staff have been vaccinated. The vast majority of our staff did not require a vaccine mandate to roll up their sleeve and get the shot. They knew it was the right thing to do…
"I am thankful for our Residents who have shown great resilience during such a difficult time. We remembers, with sadness, and mourn the Residents that were lost due to the pandemic.I believe that the darkest days of the pandemic are now behind us. We look forward to the return of more normal times where we can welcome everyone back to the Centre.
Laurie Cerqueti, BA, BN, MSA, RN
Chief Executive Officer
In his own report, Fiscal Advisory Chair Avrum Senensky made the following observations:
"In all aspects, the fiscal year ending March 31, 2021 was a challenging one for the Simkin Centre. This definitely included fiscal management of the Centre. It is impossible to budget for all of the unknowns that were faced during the pandemic Approximately 1 million dollars was spent on pandemic related supplies and salary costs during the fiscal year.
"The Centre ended the year with a small surplus of $15,578."
In its statement of Operations and Changes in Net Assets, the Centre shows that, while expenses were up one and a half million dollars from 2020 to 2021, revenues were up by almost exactly the same amount. The primary factor in the Simkin Centre's being able to show a small surplus was the huge increase in funding received from the Winnipeg Regional Authority: up from $10,275,850 in 2020 to $11,903,624 in 2021.