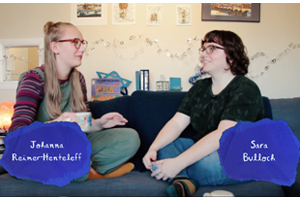 By BERNIE BELLAN In the October 27 issue of the JP&N, within our preview of Tarbut, we had a blurb about a film that will be shown Sunday evening, November 14, at 7:30 pm in the Berney Theatre.
Here is what the blurb said:
"Ma Nishma Manitoba"
Hot off a highly successful premiere at Gimli Film Festival 2021 – this, playful, funny, and evocative documentary by two local Jewish filmmakers explores the history of Jews in Winnipeg –
the complex, diverse, and dynamic experience of the current Jewish community and what exactly it means to be 'Jewish enough'.
Through interviews with a Rabbi, a politician, a musician, a student, and others; combined with joyful graphics, archival footage, and animation; the film explores questions of identity, spirituality, family, inclusivity, creativity, and a range of perspectives on Israel.
Q & A following the film with the filmmakers Sara Bulloch and Johanna Reimer – Henteleff
We had the opportunity to view the film prior to Tarbut. It was interesting seeing a film about what it means to be Jewish in Winnipeg in 2021 presented from the perspectives of various individuals, each of whom had quite a different contribution to make.
I asked the two women filmmakers to give me some information about their backgrounds. Here is what they wrote me:
From Johanna Reimer-Henteleff: "I started making films with my friends in late high school, which ended up being really fun and I wanted to pursue it further! So, I attended OCADU in Toronto and during my time there I mainly focused on video art, installations, and documentary filmmaking. Since I've been back in Winnipeg my main focus has been freelance videography and production assistance. I've also gotten more into animation and illustration work since working on Ma Nishma, which has been super cool to experiment with, and I'm hoping to work on more independent film projects in the future! "
From Sara Bulloch: "I have a Bachelor of Commerce from the University of Manitoba, and a Creative Communications diploma majoring in media production with Red River College. Have also taken several workshops related to film production here and there. Lot of my filmmaking skills are self taught though. I currently work as an editor with Farpoint Films, while also working on independent film projects."
Using some fast paced editing techniques that kept the film from turning into a series of long excerpts from different interviews – which would have bogged the film down (as so many documentaries used to do until such well known filmmakers as Ken Burns and Michael Moore radically changed documentary filmmaking), Ma Nishma Manitoba is quite delightful – but not without its share of controversy.
One of the subjects in the film, Lasha Mowchun, is someone about whom I wrote back in 2016 when I encountered her outside the Negev Gala that year when she part of a group protesting the Jewish National Fund. Having Lasha offer her rather critical views on Israel during this film is something that may offend some members of our community, but I applaud Sara and Joahnna for wanting to show viewers of the film different facets of the community.
What the film also does quite nicely is explore the family histories of the film's subjects, using old photographs and some excellent archival footage. Historian Dan Stone gives a good overview of how Eastern European Jews ended up coming to Winnipeg in droves, while Rabbi Allan Finkel delves into his own family's history, including his mother's experience during the Holocaust. As well, Allan explains how his own departure from Judaism, followed by a more recent reawakening, is something that resonates with many Winnipeg Jews.
Also interviewed in the film is Yude Hentelef. Having representatives of different generations talk about their respective understandings of what it means to be Jewish in Winnipeg certainly lends a proper balance to the film.
I have to admit though that I was rather surprised to see how much time is devoted to interviewing Leah Gazan, who is the NDP Member of Parliament for Winnipeg Centre. I've written about Leah several times myself, but each time I was careful to point out that, although Leah had a Jewish father, her mother was Lacotah-Chinese, and Leah identifies as an Indigenous woman.
In fact, this film would fit in well with the ongoing discussion we've had within the pages of this newspaper about how difficult it is to establish a clear Jewish identity for so many individuals nowadays. A good portion of the film deals with questions about what are the essential characteristics of Jewish identity – especially for young people.
And, of course, what would a film about Jewish identity be without a healthy portion devoted to a discussion of the pivotal role that food plays in so much of Jewish life? Ma Nishma Manitoba certainly does that, yet it's hard to accept that Jewish identity can be preserved if its principal characteristics are certain foods, having a sense of humor, and believing in "tikkun olam".
Still, with its clever use of graphics and lighthearted approach to much of its subject matter, Ma Nishma Manitoba is thoroughly enjoyable – and enlightening.