Ashkenazie Synagogue seeks to repurpose itself into a synagogue/museum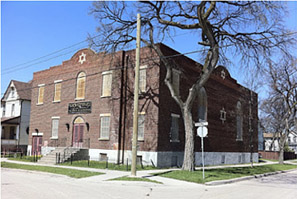 By BERNIE BELLAN The Ashkenazie Synagogue at the corner of Burrows and Charles is Winnipeg's oldest synagogue and the last remaining of 18 synagogues which once dotted Winnipeg's North End. Now, like all the other synagogues that once existed contemporaneously with the House of Ashkenazie, it finds itself in a precarious position.
Unable to sustain a regular minyan and with a membership that is a mere fraction of what it once had, the few remaining members of the Ashkenazie are faced with a difficult choice: Either find a new use for the building or close it as a house of worship.
As a result, a group dedicated to finding a new purpose for this historic building has come up with an imaginative proposal that would see the Ashkenazie retain a core area for services, while reconfiguring the rest of the building into a "living" museum of Winnipeg's Jewish North End.
First, a little history (taken largely from a Free Press article published in 2014 and written by Religion reporter Cheryl Girard): "The Ashkenazy synagogue was founded in 1921 by a group of immigrants from Lithuania. It took over an old Baptist church on the northwest corner of Burrows Avenue and Charles Street.
"A fire destroyed the Orthodox synagogue in April 1945, but it was rebuilt by its members three years later on the same site. The current red brick building is now said to be the oldest synagogue in Winnipeg.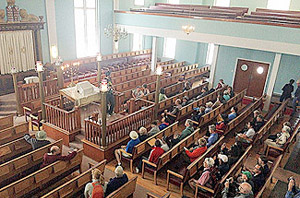 " 'This is the only synagogue that has a separation between the men and women, ' Gary Minuk (who was synagogue president at the time the article was written, and who remains in that position) says. A traditional Orthodox synagogue, it features a balcony that once provided seating for women. Today, there is a simple partition off to one side on the main floor separating women from men during prayers.
"One of the most well-known members was Joseph Wolinsky. A successful businessman, he founded the Joseph Wolinsky Collegiate in 1959 and was associated with many charities, philanthropic and educational institutions around the world.
The Free Press story also noted that during the period between the wars, the synagogue was Winnipeg's "prestige synagogue, graced by the presence of the city's chief rabbi, Israel Kahanovitch."
"The word Ashkenaz means Germany. It refers to Jews who are descendants of the Jewish people of Germany, central Europe and eastern Europe, including Poland and Russia. Ashkenaz also refers to a mode or custom of prayer."
With that glorious history in mind, as noted, a committee has been struck with the intention of saving the Ashkenazie.
Following are excerpts from a proposal that was sent to the Jewish Heritage Centre of Western Canada, which was written by Dr. Gerald (Yossi) Minuk, and which outlines the proposal developed by the steering committee dedicated to preserving the Ashkenazie Synagogue:
 "As outlined at the meeting, the Ashkenazie is the last of 18 synagogues built in Winnipeg's North-End at the turn of the 19th and early 20th century that still offers services at its original site. Unfortunately, the ability to continue those services is no longer tenable and rather than have the building sold or demolished as was the case with the previous 17 synagogues, the idea has been developed to reconfigure the Ashkenazie into a museum that commemorates all the previous synagogues and at the same time, continues to offer services to its regular attendees, museum visitors and staff.
"That the Ashkenazie will be celebrating its 100th year anniversary this coming 2022 is fortuitous in that it offers the ideal time for the synagogue to repurpose and continue to meet the Jewish community's needs but in the proposed iteration, as a 'living' museum that captures and displays Winnipeg's rich and famous Jewish North-End history, for the upcoming century.
"Essentially, our 'vision' entails the following: the main body of the synagogue would remain intact for daily and/or holiday services. However, the flanking pews would be converted into cubicles that contain narratives, photos and 3 dimensional items recovered from previous synagogues in the area, largely drawing upon collections and exhibits previously displayed by the Jewish Heritage Centre. If the memorabilia exceeds the space available, the flanking pews of the upstairs ladies gallery could be utilized for the same purpose.
"Certain cubicles would also feature former North-Enders who went on to national or international acclaim (ex. Monty Hall, David Steinberg, Sydney Halter, etc.) and computer stations that would enable visitors to look up old relatives and friends who were amongst the first immigrants to the North-End. Similar information would be offered for Jewish owned North-End businesses that helped contribute to the area's economy.
"In addition, the Chedar-shaynee (anteroom to the main synagogue) would be repurposed as a small café, gift shop and washrooms. Depending on public feedback, the kosher kitchen and undeveloped downstairs area would be renovated and used for either hosting exhibits/seminars/events/dinners.
"In terms of moving forward, it should be noted that the executive board of the Ashkenazie Synagogue is completely supportive of this initiative (personal communication from its President Gary Minuk) and a steering committee (whose members have been cc'd) has been struck.
"As advised at last week's meeting, proposed next steps would include approaching the Jewish Foundation, Winnipeg Foundation and Thomas Steel Foundation for seed money to hire an engineering firm, and if the building is deemed structurally sound, a museum designer and archivist to develop a formal budget. Thereafter, the Jewish community will be invited via the 'Jewish Post & News' publication to visit a website (tentatively entitled "An ASK About the ASH" ) in order to ascertain the level of community support; information on memorabilia whereabouts; suggestions as to which North-Enders and businesses might be profiled and opportunities for involvement/volunteering.
"Finally, regarding long term support, Heritage Winnipeg and the Jewish Foundation will be approached to supplement museum revenues, donations and private fund raising efforts."
As part of the committee's effort to repurpose the Ashkenazie, Dr. Minuk contacted The Jewish Post & News and asked, not only that we publicize the committee's plan, but also include a link to a questionnaire whose purpose would be to gauge potential support for the plan to convert part of the Ashkenazie into a museum.
The questionnaire asks eight questions altogether, along with a final part that allows for comments of a general nature.
Here is a link to the questionnaire: tinyurl.com/4hpd4hky
Winnipeg Jewish Theatre to open season with world premiere of "Pals"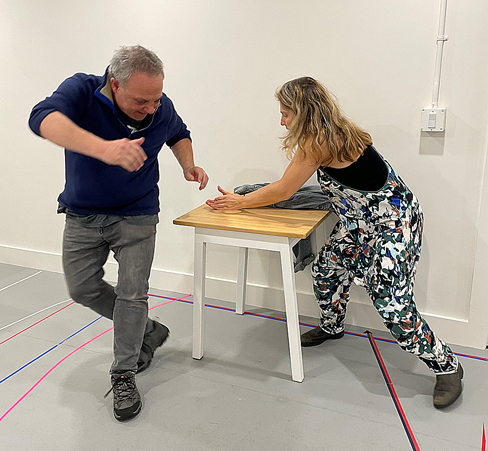 By BERNIE BELLAN The opening show of Winnipeg Jewish Theatre's 2023-24 season promises to be a clever and poignant take on relationships between men and women, when "Pals" makes its world premiere on November 9 in the Berney Theatre, running until November 19.
"Pals" is the third two-person show created by the team of Diane Flacks and Richard Greenblatt. Interestingly, when I spoke with Flacks and Greenblatt while they took a break from rehearsing the play in Toronto, they told me that their previous two two-person plays also had one word titles – with four letters in both: "Sibs" and "Care."
"Pals" is the story of two friends, told over a 25-year time period. Their friendship survives many tribulations, including both characters entering and exiting many other relationships. The play uncovers the underlying tensions that permeate all friendships.
"Pals" opens with the two characters meeting for the first time. I asked Diane and Richard whether the notion of their having sex ever enters into the plot, but Richard was quick to exclaim, "We don't have sex."
Diane also noted that, in the case of her character, she is married to another woman. (Diane is a lesbian in real life.)
The fact that the characters maintain a friendship though becomes a source of friction within their respective relationships. It raises the question: Can you have an intimate, albeit platonic, relationship, with a member of the opposite sex all the while you're in a physical relationship with someone else?
I asked whether the characters in "Pals" are Jewish (which both Diane and Richard are), and the answer was "yes."
Both Diane and Richard have had past associations with the Winnipeg Jewish Theatre. Richard's goes back a very long time – when he directed the critically acclaimed "League of Nathans" in 1995.
Diane Flacks appeared in a one-night performance of a show in 2021 called "25 Questions for a Jewish Mother," which was a part of that year's Tarbut festival. There were no in-person events that year, due to Covid, but "Jewish Mother" was available on Zoom and had a huge audience.
In addition to writing for the stage, Diane Flacks has written for TV, including Working the Engels, Baroness Von Sketch Show, Young Drunk Punk, PR, and The Broad Side.
Richard Greenblatt has performed in theatres across Canada and abroad, as well as in feature films, television and radio. He co-wrote 2 Pianos 4 Hands, which played on five continents and in over 150 cities since it opened in 1996.
Pals is directed by the internationally acclaimed director Jillian Keiley. More information, tickets and 5-show subscriptions can be found at: www.wjt.ca. You can also reach WJT by phone at (204) 477-7478.
To watch a preview video from Pals, click here: https://www.youtube.com/watch?v=z2W0VmHHFbA
Simkin Centre introduces Friday afternoon Shabbat services – open to all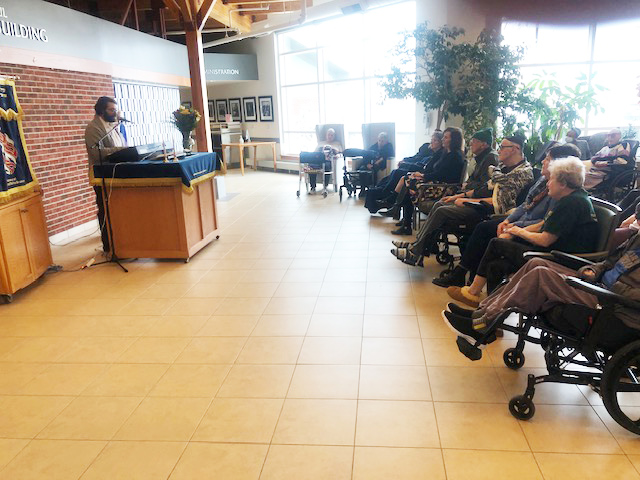 By BERNIE BELLAN (Posted Oct. 31) The Simkin Centre held its first ever Friday afternoon Erev Shabbat service this past Friday (Oct. 27), led by Rabbi Matthew Leibl.
There were more than 30 residents in attendance, along with various other outside guests. The service was approximately 45 minutes long and was filled with stories and songs associated with Friday evening Shabbats – some from Rabbi Leibl's own childhood and some from more recent years.
The Friday afternoon Erev Shabbat services are now to become a regular features at the Simkin Centre and are open to anyone to attend.
To watch a short clip of Rabbi Leibl introducing his first Friday afternoon service click https://youtu.be/hLSrV18K58o
The complete text of MP Marty Morantz's speech at the community vigil for Israel on October 10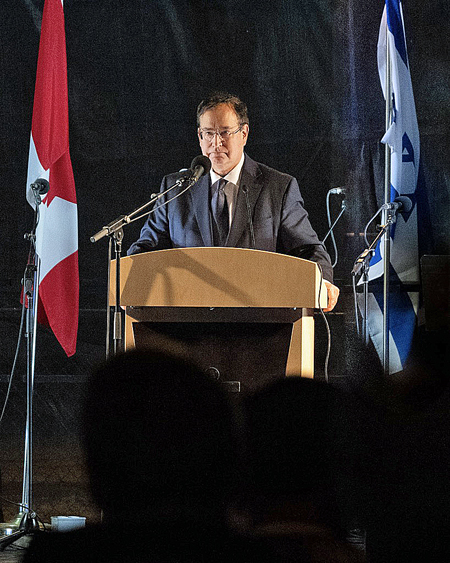 Tonight we are all Israelis!
Conservatives stand with Israel.
Pierre Poilievre stands with Israel.
On Saturday we woke up to unspeakable images.
We must stand shoulder to shoulder with Israel as it defends itself from these criminal and barbarous acts.
On Shabbat, Hamas brutally invaded Israel, invaded homes, killing hundreds, taking hostage hundreds.
More Jews were killed in Saturday's attack than in any single day since the Holocaust.
Some 1500 human beings killed in a single day would be like 6000 Canadians being murdered in a single attack.
They were children, babies, men, women.
They were young people just out listening to music at a dance party.
This was an unprecedented brutal attack.
As we speak Hamas is threatening to execute innocent hostages.
This outrage cannot, must not stand.
Don't let anyone tell you Hamas is the legitimate voice of the Palestinian people. It is not a government.
They are a genocidal murderous and evil death cult and they must be defeated.
But friends, we have seen evil before.
Jews have been persecuted for millennia, but we have survived.
Conservatives unequivocally condemn the invasion of Israel by Hamas terrorists and the sadistic violence that Hamas has carried out against innocent civilians.
Now is the time for moral clarity. There is no moral equivalency between democratic Israel and the butchers of Hamas.
There is no response, no matter how strong, that would be disproportionate to the crimes Hamas has committed.
Israel has the right to defend itself against these attacks and respond against the attackers – as any other country would.
Theodore Herzl, the father of modern Zionism, said, "If you will it, it is no dream."
In 1948 that dream became a reality – a homeland in Israel, the promised land.
Working together Israelis turned a desert into an oasis.
An island of democracy surrounded by a sea of autocracy.
A Jewish state where Jews could live in peace free from fear and persecution.
Let there be no doubt. Israel is the ancient and indigenous homeland of the Jewish people.
We will not let the butchers of Hamas take that dream, long realized, away from us.
Many politicians will stand with Israel when it is easy.
But listen to what they say when it is hard.
They will talk about "both sides."
I'm here to tell you that there is only one side.
The side of morality.
The side of democracy.
The side of Israel.
We see too often politicians at the United Nations unfairly singling out Israel for criticism.
I will always stand against the unfair singling out of the Middle East's only democracy.
Already there are calls for Israel to deescalate.
I ask you.
Would any country deescalate after having its people slaughtered in cold blood?
I wish the people of Israel and its brave soldiers Godspeed on their mission to defend the promised land from pure evil.
As Prime Minister Stephen Harper said:
Through fire and water Canada will stand with you.
Am Yisrael Chai!