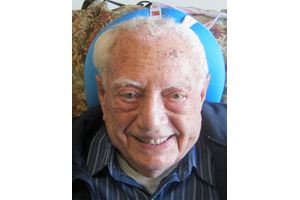 By MYRON LOVE Growing up in Winnipeg, Oscar Antel recalls, Yiddish was the every day language of our community. And, while there are few Yiddish speakers left here now, Antel, who recently celebrated his 99th birthday, has devoted much of his life to honouring the memory of his forebears in working to preserve our ancestral language (for those of us whose origins are in eastern Europe) as a living language.
However, although relatively still hale and hearty though he is – he concedes that he is looking into getting a hearing aid – he has in recent years turned over the reins of leadership in the work of promoting Yiddish to a younger generation including, among others, Lawrie Cherniack, Sharon Love and Rochelle Zucker.
Antel was born in the town of Dombrovitz in Poland in an area which is now part of Ukraine. His father Leible, came to Winnipeg in 1929 while the then six-year-old Oscar, his mother, Vittle, and sister, Shirley, followed the next year.
"I spent a year in Cheder in Poland before we came to Canada," he recalls. "My father reasoned that once we came to Canada, I would never see the inside of a cheder."
The family settled in the heavily Jewish old north end. Leible Antel first worked a s a pedlar, selling fruits and vegetables before going to work as a foreman at Raber Glove.
The Antels naturally enrolled their children in the Yiddish language I.L. Peretz Folk School – at the time the largest Jewish school in the community – where Oscar made lifelong friends. After finishing Peretz School, he continued his schooling at Aberdeen and Isaac Newton Schools.
In 1944, Antel enlisted in the Air Force and was shipped overseas. He was stationed in southern England, where he served as an aircraft mechanic with a mobile unit.
"We lived in tents and changed locations every evening," he recalls. "By day, the German air force would take photos of our positions and the German bombers would come at night. "
He came home again in 1945 to his wife Bella, whom he had married just before going overseas.
Following the war, he pursued a career in accounting. "I wanted to be a chartered accountant," he says, "but the army recommended that I take a bookkeeping course. (The Canadian military paid for veterans to enrol in post-graduate programs after the war.) I worked as a public accountant for ten years. In the mid-1950s, with Bella's support, and having three children at home, I did go back to school and became a CA."
His speciality, he notes, was analyzing financial statements and providing clients with financial advice.
It was in his early 30s that Oscar Antel began to assume his avocation supporting Yiddish language education and culture. He succeeded Alter Cherniack, one of the founders of the Peretz School, as chairman of the Board of Education and then president of the school.
"Over the years, I served in all of the school's different committees at one time or another," Antel says.
After the school was merged with the Talmud Torah under the aegis of the Winnipeg Board of Jewish Education – the two school were later combined at the Talmud Torah location on Matheson, the still-active Peretz School board, which had retained ownership of its last school building, sold the facility (in 1994) and used the funds to create the I.L. Peretz Folk School Endowment Trust (which is administered by the Jewish Foundation of Manitoba). Antel remained an active trustee of the fund until about ten years ago.
"Over the years, we have used the interest generated by our fund to promote a range of Yiddish activities," Antel reports. "In the early days, we helped support Noach Witman's long-running Jewish Radio Hour (which-although Witman has long since left the scene – can still be heard weekly on Sundays from 1:30-2:30 on CKJF 92.7 FM) and still receives support from the fund."
The fund has also funded the popular Mameloshen program (A Festival of Yiddish Entertainment and Culture) from its founding in 2008 up until 2018, along with a Yiddish Teaching Fellowship, which facilitates the teaching of Yiddish at the University of Manitoba.
In addition to his leadership in Yiddish circles, Antel has served our community in leadership roles as: a member of the largely Jewish General Monash branch (he was vice-president at one time) of the Royal Canadian Legion; Chairman of Community Relations and then as Chairman of the Western Division of Canadian Jewish Congress; and as a member of the National Executive of Congress. He was the last Chairman of the Western Division and subsequently one of the founders of the Winnipeg Jewish Community Council (the precursor to the Jewish Federation of Winnipeg) and served on the Board and committees of the Jewish Community Council for many years.
Antel and Bella Antel (who passed away eight years ago)were among the first residents of the Shaftesbury Park Retirement Residence when it first opened He continued his Yiddish cultural activities after moving into the Shaftesbury – reading Yiddish stories after Friday evening services led for the first few years by Rabbi Shmuley Altein.
Antel gave up driving just three years ago. He says he is in relatively good health.
"I find that I am dozing off more often," he says.
"I still get around. I get together regularly with my family in Winnipeg."
Antel is the father of sons, Joel (in Winnipeg) and Jack (in Montreal). His daughter, Shelley, in Vancouver, passed away a few years ago. He says proudly that he has eight grandchildren and ten great-grandchildren.
For his birthday (on March 1) , his family arranged a Skype session. He is hopeful that for his 100th birthday, God willing, most of the family will be able to celebrate with him in person.