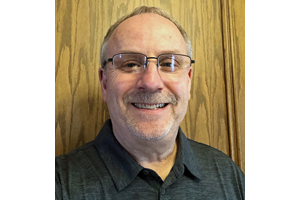 By MYRON LOVE In his practice of psychology, Dr. Alan Slusky cites his late father, Irvin Slusky, as his role model.
"My father was a lawyer," he notes. "He taught me the importance of building relationships with people. For me, that is an essential element of my work."
The current president of the Association of State and Provincial Psychology Boards (ASPPB) adds that he was drawn to a career in psychology for the same reason that his father chose to pursue a legal career – a desire to help people find solutions to their problems.
Alan Slusky – the son of Irv and Lucille – was born and raised in the Garden City area. He and his wife, Andrea, although living south now, also raised their three children in Garden City. Slusky was bar-mitzvahed at the former Rosh Pina and, in his teen years, was active in Kadima and USY.
He received his training in psychology at the University of Manitoba followed by an internship and post-Doctoral Fellowship at Health Sciences Centre. He has been in practice since 1994.
"I am both a clinical and neuropsychologist," he says. "As such," he explains, "I assess and treat patients dealing with anxiety, depression, and trauma. However, I also work with patients who have suffered brain injuries from strokes, for example, or concussions. I help them with lifestyle adjustments and work with them to identify and build on the residual strengths that they still have."
Also from the beginning of his career, Slusky has volunteered his time to strengthening the psychology profession through working with the Psychological Association of Manitoba (PAM), the provincial psychology regulatory body akin to the Manitoba College of Physicians and Surgeons.
One of the major problems that we have in Manitoba from a psychology perspective, he points out, is that our province has the lowest number of psychologists per capita in the country. "We are vastly under-resourced and other provincial psychology organizations are continually lobbying our government to address this issue," he says.
He joined the PAM board in 1996, served as president for a three year term and, in 2008, took on the role of registrar – retiring from that position just two years ago.
He notes that, as registrar, he ran for and was elected to the ASPPB Board of Directors. ASPPB, he reports, is composed of 65 jurisdictional psychology regulatory boards, including all Canadian provinces, American states, and five American territories.
As with his predecessor as PAM registrar, Slusky found himself being elected to the ASPPB Board of Directors in 2017 for a six-year term. He was a member at large for the first three years, after which he became president-elect. He is president for 2022 and finishes his term on the board as past president for his final year, in 2023.
"As president, I am one of two spokespersons for our organization," he says. "Normally, we would have board meetings six times a year in various Canadian and American locations. So, prior to the pandemic restrictions. I was doing a lot of traveling. Of course, as with every other organization, over the past two years we have had to meet via Zoom".
The benefit of meeting in person, he adds, is that at in-person gatherings, so much of the relationship-building takes place in the casual conversations outside of the formal proceedings. Meeting via Zoom has been a challenge but we are happily beginning to get back to normal".
Among the ASPPB's foci are supporting member boards in strengthening training requirements and codes of ethics throughout all member jurisdictions. "Additionally, over the past 18 months we launched PSYPACT, a US compact that facilitates cross-border practice – something that has taken on added significance during the pandemic," Slusky reports. "We are making very good progress in the United States – close to 30 states have signed on. We don't have these types of compacts in Canada, but ASPPB did assist the provinces in their efforts to ensure Canadians received psychological supports during the worst of the pandemic".
"Eliminating boundaries facilitates telehealth sessions for psychologists over a wider area and has been particularly helpful for people trying to cope during the pandemic restrictions."
Slusky notes that his own way of coping has been listening to music. "I have always been a music lover," he says. "I particularly enjoy old LPS." He also plays tennis and floor hockey and enjoys the occasional cigar.
As it happens, his son, Noah, a music teacher, shares his appreciation for music. Daughter Lauren is a computer scientist. Younger son Matthew will be following in his father's footsteps in pursuing a career in psychology.