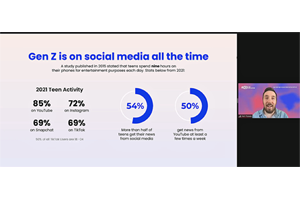 By BERNIE BELLAN Elsewhere on this website you can read our preview of Avi Posen's presentation at this year's Limmud (which was held on Sunday, March 6, via Zoom.)
For readers who may not have read that article, in it Avi gave an overview of the work that he has been doing in Israel for three and a half years, ever since he and his wife Illana made aliyah to Israel in 2019. You can read that article at http://jewishpostandnews.ca/local/1062-avi-posen-to-discuss-engaging-the-next-generation-of-jews-through-media-at-limmud). But what you're about to read is a report on what Avi actully had to say on March 6.
Working for a company called Open Dor Media, Avi has been honing in on some of the methods that would have the greatest impact in reaching a young (mostly teen age) audience throughout the world, including Winnipeg.
Through videos, articles and podcasts, Avi has been helping educators deal with often controversial subjects, such as Israelis' relationships with Palestinians, in ways that are both honest and illuminating.
During Avi's Limmud presentation, he not only explained in some detail what it is that Open Dor Media does, he also offered his Zoom audience some very insightful information about how young people connect to the wider world.
Perhaps it might not come as a total surprise to some of our readers, but when you look at the screenshot accompanying this article, taken during Avi's presentation, and which contains information about how much time young people are spending on their phones – at least nine hours per day, according to a 2015 study, it's hard not to despair for their future development as well-rounded individuals.
(By the way, it should also come as no surprise therefore, that our own Jewish Federation is devoting a considerable effort to trying to engage younger audiences through such totally superficial social media as Instagram. Hey, if you can't persuade people to read something that might take more than 10 seconds of their time, at least you can engage them with pictures and videos – right?)
But, what Avi Posen and his colleagues at Open Dor Media have been doing is offering more than cute pictures of smiling teens, they've been creating media that actually challenge young people to think (and I know, that's not an easy task when you're trying to reach someone who spends nine hours a day on their mobile phone).
In one of the other slides that Avi offered to his Limmud audience, he threw out some of the questions that Open Dor Media pose to young people, including:
"Most North American Jews define themselves as 'cultural Jews'. How do you define yourself Jewishly? Is it your culture, nationality, religion, ethnicity, family, or something else?"… whew, heavy stuff for the TikTok generation – but good on Avi for not dumbing down his message.
In an article I wrote in 2020 about what Avi is doing with Open Dor Media, I specifically noted that I was quite impressed with a couple of videos that I saw which dealt with Israelis and Palestinians. With apologies to Bradley Pollock, Bill Narvey and Myron Love, I think it important to realize that trying to understand the Palestinian perspective on issues does not necessarily make one a self-hating Jew or a "woke" liberal.
I wonder then what those three would say to the idea of discussing the Palestinian right of return in Jewish schools around the world. Here is something that Open Dor Media offers as part of its education materials: An "article that describes why Palestinians have a 'right of return'" and "an article that contends they do not."
After reading the articles (and I wonder how many young people could actually absorb that kind of material when their attention spans are mostly limited to whatever is current on Instagram), students are asked to "Think through the most salient reasons for the 'right of return' and the three most salient reasons against it."
Wow! Now that's definitely not something I would expect to be thrown out for discussion in most Jewish schools.
For that matter, as much as there was an interesting array of speakers at Limmud again, as there always has been, looking over the subjects that were being offered, there wasn't anything the least bit controversial – certainly nothing that would have challenged any of the many sacred cows that are so lovingly held by a certain number of individuals ( and I would suggest that's an increasingly dwindling number) within our established Jewish community.
But, inspired as I am by Avi Posen's presentation – which dared to suggest that young Jews need to be challenged, perhaps next year I'll ask Limmud whether I can mount a multi-pronged presentation which will follow up on the kinds of questions Open Dor Media poses to younger audiences – and which will challenge individuals to think hard about what it really means to be Jewish in this day and age. Is it more than liking Jewish food and having a sense of humour? Who knows?
For anyone interested in viewing any of the many videos Open Dor Media has created over the years on a multitude of subjects, go to their Youtube channel: Jewish unpacked, or take a look at their website: jewishunpacked.com.