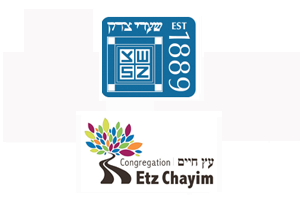 Winnipeg's two largest congregations, Shaarey Zedek, and Etz Chayim, have announced that they are taking similar approaches to reopening, even though the Province of Manitoba has announced that it is removing all Covid restrictions as of March 15.
Following are excerpts from announcements issued by the two congregations:
Shaarey Zedek
Effective Wednesday, March 16, Shaarey Zedek will reopen for in-person Social-Cultural Programs, Adult Education, Life Cycle Events, Private Functions, and Services with some limitations and exceptions:
• Immunization Card and Government-Issued Photo ID must be presented by adults entering the building. We will accept parental confirmation of immunization for teens and children that do not have Immunization Cards since these are not widely available for younger demographic.
• Masks must be worn, even when seated, until further notice.
• Room capacity limits are in affect to ensure appropriate physical distancing for those who wish to do so.
• Morning Kiddush Breakfast and Shabbat Morning Kiddush Luncheon will not be offered until Manitoba COVID-19 test positivity rate drops below 10% consistently, with the exception that kiddush for simchas and meals of consolation will continue to be offered.
• Shabbat Morning In-Person Services will be launched to the general public on April 2. Saturday morning services in March are pre-booked for B'nai Mitzvahs and their guests which take up seating capacity (Max 180).
Upcoming opportunities to join us in-person beginning Wednesday, March 16 include:
 
• Daily Minyan – In-person services in the Chapel twice daily with our clergy team. Check-in will begin 15-minutes before the service and will end 15-minutes after the service has started. Registration is NOT required to attend. Capacity limit of 20 people. (Check the website for service times.)
• Kabbalat Shabbat Service – each Friday at 5:30 PM with Rabbi Anibal Mass, and the first Friday of each Month with Leslie Emery on Guitar. Check-in begins at 5:15 PM and ends at 5:45 PM. Registration is NOT required to attend. Capacity limit of 20 people.
Etz Chayim
• Shabbat Morning Services
• Beginning March 19, 2022 we are pleased to announce that we will be returning to in-person Shabbat morning services.  Capacity will be limited to 100 people – by registration only – with full vaccination required for all those eligible to be vaccinated (age 5 and older). ON-LINE Shabbat morning services will be available for those who are not comfortable to attend in person just yet.  Visit our SERVICES page on our website for livestreaming information.
• Daily Minyan
• Daily services for morning and evening will remain online at this time.  Upon resumption of in-person daily services there will be a 15 person maximum.  
• Kiddush
• Once the test positivity rate in Manitoba reaches 10% or less we will begin to allow for public in-person Kiddush on Shabbat and possibly breakfast once daily minyanim resume.
 
• B'nai Mitzvah
• Due to capacity limits, B'nai Mitzvah will include invited guests only.  We will permit 100 guests in the sanctuary and up to 20 more in our small chapel to allow us to maintain social distancing between households.  Kiddush will be permitted with a served buffet with a limit to the number of guests seated at each table.  Food is to be consumed at tables only and guests are required to wear masks when not eating.  
• Funerals
• In-person funerals will be permitted to a maximum of 50 people with proof of vaccination and masks to be worn. The lesser limit is due to the nature of this type of lifecycle event along with the challenge of requiring pre-registration.
 
• Programming
• We will be permitting 100 people for in-person programming in the synagogue auditorium.  Pre-registration will be required and social distancing will be maintained in coordination with any event.  On-line Beit Chayim programming will continue as scheduled.