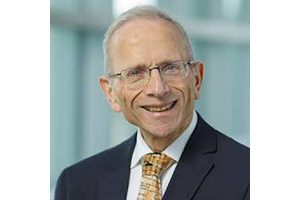 (Ed. note: Limmud will be offered online this year, beginning March 7. As is our custom, we will be presenting previews of various Limmud speakers, beginning with this piece. Check this website for more previews in the weeks to come.)
By MARTIN ZEILIG
An 1873 epidemic claimed the lives of 2,000 residents in Memphis, Tennessee, "a number which constituted at the time the most yellow fever victims in an inland city" according to Wikipedia.
Jonathan Sarna calls that epidemic a very Jewish story.
Dr. Sarna, the Joseph H. and Belle R. Braun Professor of American Jewish History in the department of Near Eastern and Judaic Studies at Brandeis University in Waltham, Massachusetts, will deliver a virtual lecture entitled Yellow Fever, Covid and the Jews: Lessons from Two Great Plagues, at the 11th annual Limmud Winnipeg on March 7.
This will be the first ever Limmud festival to take place on Zoom, notes Florencia Katz, Winnipeg Limmud Inc. Coordinator.
"This year presents some particular opportunities to expose international Jewish teachers and thinkers to the Winnipeg audience and engage participants from across the continent in Winnipeg's Limmud," she said in an email to The Jewish Post & News.
There was a significant Jewish population in Memphis in the 1870s, Prof Sarna observed.
"But, even more so, it so happened that the best record maintained was by a Memphis Jew and a rabbi in Memphis which played a very significant role in abating the plague," he said during a telephone interview on January 28.
Yellow fever is a disease caused by a virus that is spread through mosquito bites. Symptoms take 3–6 days to develop and include fever, chills, headache, backache, and muscle aches, notes information found online. About 15 percent of people who get yellow fever develop serious illness that can lead to bleeding, shock, organ failure, and sometimes death.
"One of the things I want people to see is how many parallels there are," said Prof Sarna, who is also director of the Hornstein Jewish Professional Leadership Program at Brandeis, as well as the Chief Historian of the National Museum of American Jewish History in Philadelphia, Pennsylvania.
"The City Fathers in Memphis wanted to cover up the plague and then insisted on playing it down and it's bad for business to talk about plague. Religious leaders, therefore, had a roadside role in the community because they were the ones who took it seriously, who visited the sick and buried the dead and so forth."
He maintains there are other aspects of the plague that contain lessons for our day.
"I'm also going to pivot and talk about some of the early lessons that we've seen in COVID and some of its implications," Prof Sarna, whose 2004 book, "American Judaism: A History", received the National Jewish Book Award and appeared as Publishers Weekly's Best Religion Book.
"For example, in many communities people have fallen back on the Jewish community for help. In well organized Jewish communities, they maintained ties and opened up Zoom and made sure that Jews were able to make Passover, and that they checked in on you.
"That's likely to have an impact down the road. There's value in being part of a Jewish community. Similarly, there's a lot of talk within the Jewish community about a future where people are connected through Zoom or related media and what that really means."
He pointed out that Zoom existed before COVID.
"But, most people had not used it and were not adapted to using it," he said.
"Now, pretty much everybody has got adapted to using it, certainly everybody at Limmud. I want to talk about that; and, what it will mean that Zoom will remain a norm. It will actually strengthen the Jewish community, especially Jewish education in significant ways. It overcomes various structural problems that existed. But, I think there is a sense that there will be a future where we'll be getting together both in person and also virtually.
"I want people to come away with a sense that just as the plague in Memphis and other past plagues transformed communities, it is quite likely that COVID will have a big impact on Jewish life. My hope is that people will begin thinking about that."
For further information on Limmud, visit the website: www.limmudwinnipeg.org or contact the Limmud Coordinator at coordinator@limmudwinnipeg.org or 204-557-6260