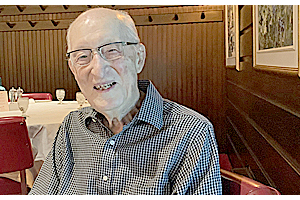 We received two interesting emails from readers Lou Billinkoff and Martin Buchwald that harken back to a much earlier time in the existence of the Winnipeg Jewish community: the 1930s. Click on "read more" to see those emails – and some fascinating pictures that are over 85 years old.
Here's the email we received from Lou Billinkoff:
Hi Bernie
I think this might interest your readers.
When I started Peretz School on Aberdeen near Salter, we lived on Aberdeen near Parr. 5 years old , I walked to school all by myself.
My parents must have figured out that it was not good so a year or two later we moved to a house immediately across the street from the school.
As I remember, the education was excellent in both English and Yiddish. When I moved into grade 6 at Machray School ( Peretz day school only went to grade 5),
I found I was ahead of the other students. That was the only year when I was first in class.
I attended Peretz day school from 1928 t0 1934 and thereafter evening classes for "haichere coursen " (higher courses).
The attached photos of my classes were taken probably 1933 and 1934. Many will recognize teachers Zolf and Cantor.
Some of these students became prominent in the Jewish community. I will not undertake to name them.
Most of them have departed from this world but I would like to hear from anyone who is still around.

And here's the email from Martin Buchwald:
Hi Bernie,
This would be an interesting picture for the paper. Of course it's before our time but there will, I'm sure be family memories. Someone posted it on line but I don't know who.
Martin Buchwald