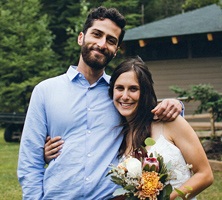 By BERNIE BELLAN
For the first time ever, B'nai Brith Camp on Town Island in Lake of the Woods will be under the direction of a husband and wife team: Jacob Brodovsky and Lexie Yurman. The decision announcing their hiring was made in the fall. As of January 1st, Jacob and Lexie succeeded Jerrod Henoch, who was executive director for two years following the retirement of Brenda Tessler-Donen. (Unfortunately, this past summer, as was the case with sleepover camps everywhere, there was no camp.)
Not being allowed to operate this past summer would have come as a bitter disappointment, not only to regular sleep-over campers, of whom there were close to 300 in the summer of 2019, but also hundreds of day campers (who would arrive by boat from Kenora each morning), along with about 1,000 students who participate in spring programs during the school year.
Both Jacob and Lexie bring with them years of experience at BB Camp, both as campers and as staff members – in a variety of different positions.
Jacob says that, as a youngster, he attended Brock Corydon, Grant Park, and University of Winnipeg Collegiate, while Lexie says she went to Ramah "for my first year of junior kindergarten, then Gray Academy opened, and I went all the way through to Grade 12".
"I've been a camper at BB Camp since I was six years old, says Jacob. "I've been working in youth work for about ten years now, including working at BB Camp in the summer", he adds.
"We both started as counselors right out of the gate" (once they finished their experience as campers), Jacob explains. "I was a section head, then a program director, then operations director, finally assistant director. Something just clicked when I was in my 20s, thinking 'It would be so great if I could just do camp as my whole career.' "
Lexie says that her first experience at BB Camp came when she was in preschool and "started going for family weekends". Like Jacob, she was a camper every summer until she was 17.
"I've been working at BB Camp" in a variety of roles, "for 11 years now", Lexie adds. "Including Ac Outtripper, Health Officer, Wilderness Director, and eventually co-Assistant director for the last three seasons."
Similar to Jacob, when she wasn't working at BB Camp, Lexie says she was also involved in youth work.
In between working at BB Camp, however, both Jacob and Lexie spent years attending university following graduation from high school.
"We both lived in Toronto for about five years," Jacob notes.
At this point in our conversation (which was conducted over Zoom), I was obliged to ask the question that immediately came to mind once Jacob explained that he and Lexie both lived in Toronto for five years. I had thought it was intrusive to ask at the outset, but at that point, I asked: "Are you a couple?"
The answer – from Jacob, was: "Yes, we met (in 2010) at camp, got engaged at camp, and got married at camp."
"We got married in a teeny-tiny Covid wedding this past summer at camp," Lexie adds.
Although the camp was closed this past summer, Lexie and Jacob say that they were both busy "doing a number of projects at the camp – repairing and cleaning up".
"We've done a ton up upgrades to the camp," Jacob explains.
"All our cabins were renovated. They got new roofs, new electrical. We have a brand new olam gadol, katan. We've added accessible bathrooms to our dining hall and upgraded ventilation.
"So, when our campers come back to camp this summer – hopefully, it will look like a brand new camp."
As far as what the coming summer holds, naturally, it's totally unknowable at this point what's in store for sleepover camps. Still, Jacob and Lexie have been operating under the assumption that they will be given the go-ahead to reopen the camp come summer.
"We've hired about 25 staff already," says Lexie (all of whom will be returning staff from 2019). (She adds that the usual staff complement numbers around 85.)
"All indications so far are that the (Ontario) government intends to allow us to run," notes Jacob. "If we're mandated to close again like last summer, we hope to be able to offer individual cabin rentals to families and alumni."
Lexie adds: "Our goal for the summer is to meet or exceed every guideline so the community can safely spend time at BB Camp."
Registration for summer 2021 opened on Friday February 5th at www.BBCamp.ca" "