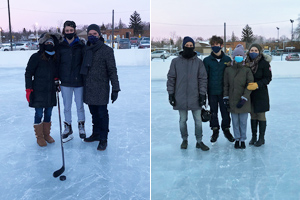 Submitted by Gray Academy
The Winnipeg Board of Jewish Education (WBJE) is thrilled to announce an exciting new addition to Gray Academy of Jewish Education this winter, one that will bring tremendous benefits to students and the entire community. With the generous support of donors, we have recently unveiled a brand-new outdoor ice-skating rink.
Children benefit enormously from spending time outside, so we were inspired to take on a project that would enhance their outdoor experience at school. Over the years, we have often contemplated the idea of an ice rink. This year especially, with students being encouraged to spend more time outdoors and demonstrating such amazing resilience in the face of a pandemic, we were motivated to bring this idea to life for them.
The 100-by-60-foot Gray Academy-Tough Duck Community Ice Rink is situated in the northeast corner of the Asper Jewish Community Campus Danzker Field. We thank the Asper Jewish Community Campus for supporting our drive to make this happen. Students of all ages will be able to use the ice for Phys Ed and other supervised outdoor activities. Outside school hours, it will be available for special school programs and for use by the Rady JCC and other community organizations.
Three substantial contributions made it possible for the school to proceed with the project, funded 100 per cent by donor support. It all started with an inspired idea and a community conversation that blossomed more quickly than we had ever imagined into this exciting new venture.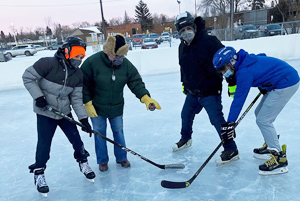 We are grateful to the Jewish Foundation of Manitoba (JFM) for sharing our idea with a donor who was looking for a special project and loved the school's vision for this significant enhancement benefiting students and the community. The ice rink is named for the Lead Donor of the initiative, Tough Duck. This fitting name also reflects the resiliency that our children and families, staff and community have exhibited throughout the pandemic.
At the same time, Gray Academy parents Marla and Adam Levene were seeking a way to show their deep appreciation for the school and the hard work of our staff throughout the pandemic. They wanted to support a significant project that would inspire the school community and show their children, Ethan (Grade 10) and Annie (Grade 7), the importance of expressing gratitude by making a lasting impact. The ice rink proved a perfect fit for the Levenes to come on board as a Founding Donor.
Mira and Matthew Narvey had also been looking for some time to lend their support to a project that would express their passion for providing children with opportunities to have fun and be active before, during and after school. They were pleased to get behind the development of the rink as a Founding Donor, helping to make this dream a reality.
We have now completed Phase I of the project, including the ice surface with boards, a skate-change shelter, benches and basic equipment, including skates, hockey and curling equipment. Next winter, Phase II will see the addition of lighting to facilitate nighttime use.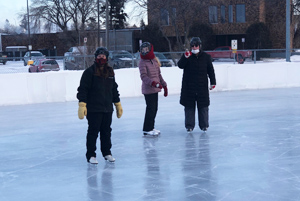 Gray Academy conducted a formal ribbon-cutting in mid-January. Most important, the school is enthusiastic about the many hours of joy this new asset will bring to Gray Academy students, families and the community – now and for many years to come.
At left: Joyce and Tracy – Gray Academy principals Joyce Kerr and Tracy White take a spin, with Tracy's daughter, Cassidy White.