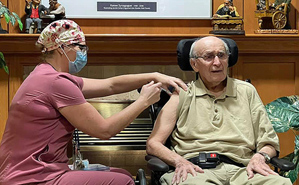 By BERNIE BELLAN
The problem with writing about Covid is that the situation is so fluid that a report one day can quickly be superceded by a contradictory report the next day. What follows is a report we published in the Feb. 3 issue of The Jewish Post & News, with an addendum taken from the Simkin Centre website that somewhat contradicts what we reported in the print newspaper. We also want to apologize for a mistake we made in identifying a Simkin Centre resident wrongly.
The Simkin Centre had not reported a case of Covid among residents since Dec. 14 (although one resident who had earlier been treated for Covid, but did recover, subsequently passed away on January 8).
On January 26, however, the Simkin Centre reported on its website that "today we were notified that a newly admitted Resident had tested positive for Covid 19…
"Visitation will be temporarily suspended pending further investigation of the situation."
However, two days later, the Simkin Centre reported that the test had actually proved to be a "false positive". As a result, the Centre reported, "we do not have a current positive Covid-19 case and we are not in an outbreak situation.
"Effective immediately, visiting may resume for 2 identified designated care givers…"
After our paper has been sent to the printer on Monday, however, the Simkin Centre reported that a resident had indeed tested positive for Covid. Visitations were once again suspended.
Then, on Tuesday, February 2, the Simkin Centre had this posted on its website:
"Our most recent situation has revealed uncertain results. Out of an abundance of caution, our Resident will remain in our Covid Isolation unit and will be released from the unit at the end of this week, as per our established protocol. We have been advised by Public Health that this will not be considered an outbreak situation.
The two Designated Care Givers may resume visits as of Wednesday, February 3, 2001 at 11:00 am in accordance with previous correspondence distributed on January 15, 2021.
Here are the pictures of Simkin residents where we identified resident Anton Bosch as Dr. Earl Hershfield. We wish to apologize to both Mr. Bosch and Dr. Hershfield.

 Anton Bosch (left), who was incorrectly identified as Dr. Earl Hershfield, seen at right