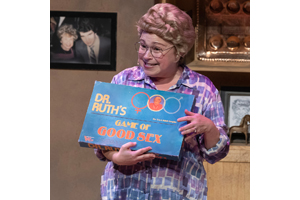 Winnipeg Jewish Theatre (WJT) presents Mark St. Germain's Becoming Dr. Ruth from February 8 to 14. With a twist. The show will be streamed. Featuring Mariam Bernstein in her Evie award-winning performance, a holocaust survivor becomes a legendary sex therapist in this warm and funny play. Watch a clip from the play here: https://www.youtube.com/watch?v=D9rqDuI_L6Y&feature=youtu.be
Karola Seigel fled Germany on the Kindertransport, joined the Haganah as a sniper in Israel, survived as a single mother in New York City, and eventually became North America's most iconic sex therapist: Dr. Ruth Westheimer.
"Dr. Ruth is a legend. Her life story is an epic testament to the resilience of the human spirit," says WJT Artistic Director Ari Weinberg. "This play is filled to the brim with humanity and humour all delivered in a tour-de-force performance by Mariam Bernstein. Our original production was a sold-out hit and I am so thrilled to bring Dr. Ruth's life-affirming worldview into audience member's homes."
 If you thought you knew Dr. Ruth, this play will surprise you. The New Yorker wrote: "Who knew that the world-famous sex therapist was sent to Switzerland with a group of German-Jewish children in 1938, when she was ten years old, and was treated like a servant there? Or that her entire family was killed by the Nazis? Or that she moved to Palestine as a teen-ager and became a sniper in the Haganah? Who knew that her success as a radio-show host was due to a vow she made to herself to "repair the world" because she survived the Nazis, when more than a million Jewish children didn't?"
 Tickets are $15 (plus fee) for Becoming Dr. Ruth and can be purchased at wjt.ca or by calling (204) 477-7478.
WJT's season sponsor is The Asper Foundation and the Production Sponsor is Gail Asper Family Foundation.