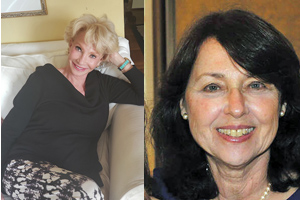 On Feb. 16 the Shaarey Zedek will be offering a Zoom session featuring former Winnipegger Beatty Cohan, a renowned sex therapist, teaching how to "Never Make a Mistake in Love Again!"
On Feb. 21, former Winnipegger Sandy Shefrin Rabin will be holding a Zoom launch of her book, "Prairie Sonata". Read more to find out about both Zoom sessions.
Never Make a Mistake in Love Again! With Psychotherapist and Sex Therapist  (and former Winnipegger) Beatty Cohan
Hosted by Dr. Rena Secter Elbaze and Rabbi Anibal Mass
This is a FREE event and no registration is required. The event will stream live at 7:00 PM CST
on Tuesday, February 16 on:
Facebook: www.facebook.com/shaareyzedekwinnipeg
YouTube: www.youtube.com/szwinnipeg
Website: www.szwinnipeg.ca/live
Part I: Overview and presentation
Part II: Questions & Answers with guests from JCFS and SZ Sisterhood
Audience participation through the online chat
1. The divorce rate for first marriages is 48%.
2. 68% of second marriages end in divorce.
3. 73% of couples marrying for the 3rd time find themselves in front of a judge in a divorce court.
4. 4 women are murdered every DAY by their 'intimate partner'.
5. 1 in 10 girls are victims of dating abuse.
Lecture/Guest Speaker Beatty Cohan is a nationally recognized licensed psychotherapist, sex therapist, co-author of For Better for Worse Forever: Discover the Path to Lasting Love, columnist, national speaker, national radio and television expert guest and host of THE ASK BEATTY SHOW on the Progressive Radio Network. She has a private practice in New York City and East Hampton.
Beatty is the daughter of the late Edith and Maurice Sair. She attended the Talmud Torah in Winnipeg, where her mother was a teacher. She received her Bachelor's of Arts degree from the University of Manitoba and her Master's of Clinical Social Work degree (MSW) from McGill University in Montreal. She has post-graduate specialization in marriage and family therapy and sexual dysfunction and has been in private practice for almost 40 years.
Beatty Cohen: "Despite the high divorce rate and domestic violence and dating abuse statistics, I have discovered through my research, book, "For Better for Worse Forever: Discover the Path to Lasting Love" and to over 40 years of clinical experience the 3 things that we all need to DO to find and maintain a happy and healthy relationship.
Zoom book launch of "Prairie Sonata"
Together in conversation with Yiddish scholar and writer, Sheva Zucker, Sandy Shefrin Rabin will be Zoom launching her debut novel, "Prairie Sonata" on Sunday, February 21,
at 3 pm  (Wpg time).
 For the link to the Zoom session, either, email Sandy at  SandyShefrinRabin@gmail.com 
or copy this link into your browser: https://us02web.zoom.us/j/84622492037?pwd=Tys1MEJqZ0o4a0pkWGoyK29oZ0Uwdz09
Passcode 265467
For more information about the book, go to www.PrairieSonata.com. 
To read an earlier story on this website about Sandy and "Prairie Sonata", go to http://jewishpostandnews.ca/8-features/637-astonishingly-good-debut-novel-by-former-winnipegger-sandy-shefrin-rabin