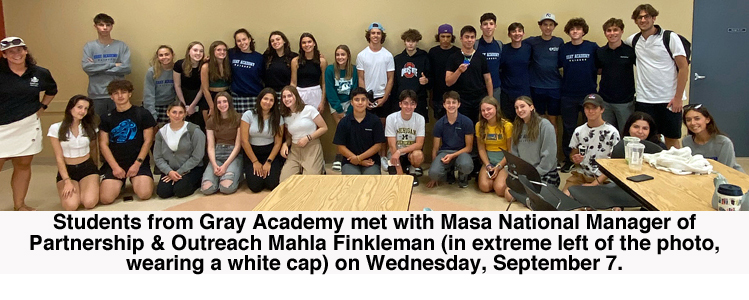 While the skies were closed for the first waves of the pandemic, with many organizations canceling their Israel trips, Masa Israel Journey saw an increase of almost 40% of North American students and young professionals traveling to Israel to partake in immersive four-to-10-month programs.
Since its establishment in 2004 by the Jewish Agency and the government of Israel, Masa has served more than 180,000 Jewish students and young professionals ages 16 to 35, from more than 60 countries.
Offering experiences in gap, academic and career segments, Masa provides an unmediated and challenging journey into Israeli society, culture, politics and history, as well as access for global Jewry to Israeli businesses, social enterprises and academic institutions. Masa strengthens the Jewish leadership pipeline through the Impact and Leadership Centre, based in Jerusalem. When fellows return from Israel, they are ready to engage as active members in their community and many take on leadership roles.
Masa has regained a strong presence in Canada, with a new Canadian national manager of partnership and outreach, Mahla Finkleman, who sits within the Federation of Greater Toronto, and visits communities across the country. Since Finkleman started just over one year ago, Masa has sent more Canadians than ever before to Israel on programs!
Finkleman first visited Winnipeg last spring, and has come back this September to meet with students of all ages. On September 7th she partnered with Jacob Posen and BBYO and led a fun virtual reality game with some 40 high school students who affiliate with the BBYO youth movement. On the 8th she partnered with Stand With Us and provided information and a bagel lunch to university students about Academic and Career opportunities. A partner meeting with Jewish community leadership provided up to date information on programs, Masa Canada, and eligibility around Masa grants and scholarships.
This past summer, Finkleman partnered with the Community Kollel for a Shabbat dinner for Tu b'Av. Some 60 to 70 young professionals, including many Birthright alumni, gathered to learn about Masa opportunities and ways to get back to Israel for a meaningful experience, living like a local.
Over the course of the summer, Finkleman hosted three successful Shalom U'Lhitrot events in Toronto, Montreal and Vancouver, welcoming back Masa alumni and sending off new fellows.
A new condensed version of MITF is available now. MITF is an option for 21-to-35-year olds who have a bachelor's or associate degree and whose mother tongue is English. Applications are due Nov. 1, with three city options to choose from: Rishon LeZion, Bat Yam and Ramle. For the unbeatable price of $725USD, this program runs in 2023 from Jan. 5 to July 2, and is an exclusive partnership with Israel Experience.
Each city offers its own unique charm. In Bat Yam, you can take surf lessons and deep dive into the Israeli-Russian community. Rishon is Israel's fourth largest city, with malls, parks, beaches and a zoo. And, in Ramle, an ancient city with mixed cultures and a rich history, the Pool of Arches is a top attraction, as is the Ramle market, additional perks are the spacious homes and a pool pass.
For more information, visit masaisrael.org/canada or the North American site, masaisrael.org Anyone who has questions can also email Finkleman directly at mfinkleman@ujafed.org.This Rosh Hashanah, look out for Masa alumni postcards on the seats of your local Winnipeg shul.