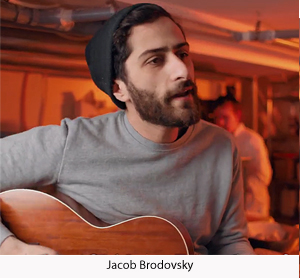 By MYRON LOVE For B'nai Brith Camp co-executive directors Jacob Brodovsky and his wife, Lexie Yurman, and their staff, it has been a satisfying summer at the Lake of the Woods campsite.
"We are happy to be able to report that we had full registration this year," says Brodovsky whose relationship with BB Camp as camper, counsellor and executive director (since January 1, 2021) goes back 20 years. "Our numbers were back to 2017 and 2018 levels."
Now that summer is over, the son of Billy Brodovsky and Libby Yager was looking forward to the release of his second solo LP (on September 16). "I Love You and I'm Sorry", he notes, captures the feeling disappointing people you care about . A comment from his publicist, Mavis Harris, describes the LP as a "pop-infused, quirky, neo-folk LP".
Brodovsky recalls that he began playing guitar at the age of 6 and started writing songs when he was 12. "I grew up listening to Neil Young and the Rolling Stones, Bob Dylan and Joni Mitchell, who were all influences in my songwriting," observes the singer-songwriter whose schooling included the Brock Corydon Hebrew Bilingual program, Grant Park High School and the University of Winnipeg Collegiate. After high school, he moved to Toronto, graduating from the University of Toronto.
He moved back to Winnipeg in 2015. "Toronto wasn't for me," he says.
Throughout his teen years, Brodovsky was part of several different bands, most recently folk rock band Kakagi, an all Jewish band (which this writer profiled in The Jewish Post & News five years ago) which included his brother, Max, on drums, Jonathan Corobow on bas,s and Jesse Popeski, also playing guitar.
Jacob went solo in 2019 with the release of his first EP, "Sixteen Years".
On his new album,he notes that he was backed up by local musicians Madeleine Roger, Liam Duncan, Julie Penner, Bill Western and Jason Tait. The album consists of ten songs.
Brodovsky is thrilled to say that he was lucky enough to work with one of his biggest musical heroes on this record. "John K Samson and I spent months going through the lyrics with a fine tooth comb," he notes.
As well as pursuing his musical career and serving as BB Camp co-executive director, the singer/songwriter hosts a weekly radio show, "Lets Play DJ", broadcast on CKUW 95.9 FM, the University of Winnipeg station, Fridays at 4:00 P.M. On the show, Brodovsky interviews other local musicians.
"I play their favourite songs and we talk about why they like those songs," he explains.
Coming up, Brodovsky is looking forward to playing at different festivals and his second tour of Germany and Austria in March.
"I Love You and I'm Sorry", he reports, will be available at various record stores, on Spotify and various streaming platforms when it comes out on September 16, as well as his own website: jacobbrodovsky.com/.