Michael Eskin, Ava Kobrinsky among newest inductees into Order of Manitoba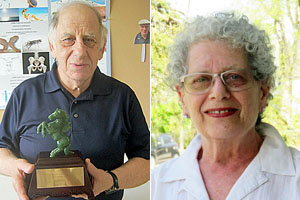 By MYRON LOVE Somewhere in the back of my mind, I dimly recall the maxim that it is preferable to be one who honours chase rather than he – or she – who chases after honours. The former is an apt description of both Michael Eskin and Ava Kobrinsky, two of the 2021 class of inductees into the Order of Manitoba.
Although Kobrinsky and Eskin hail from two quite different fields of endeavour – Eskin being a man of science (although he is also a long time chazan and musician with several CDs to his credit) and Kobrinsky's contributions are in the field of performing arts, both share a sense of humility and thankfulness.
"I am pretty amazed to be so honoured," says Kobrinsky of the Order of Manitoba induction. "I saw the list of the other folks appointed to the Order of Manitoba and each one has an impressive record."
Earlier this year, Kobrinsky was also recognized at the annual Canadian Folk Music Awards with the Slaight Music Unsung Hero Award for her lifelong behind-the-scenes involvement in Canadian folk music and the careers of Canadian folk music artists.
Kobrinsky's career in the promotion of Canadian folk music began through her relationship with the late Mitch Podolak, whom she married at the relatively young age of 22. Where Podolak was considered the "father" of Winnipeg's folk music scene, Kobrinsky has to be considered the mother.
As she recalls, in the mid-1960s Podolak was working for CBC Radio. Podolak proposed the creation of what was to become the annual Winnipeg Folk Festival (which has had to go on hiatus for the second year in a row due to Covid) as a Manitoba Centennial project.
"Through his connections at CBC, Kobrinsky recalls, Podolak was able to gain the support of the broadcaster, and the Folk Festival was one of the few Centennial project that lived on after 1970.
At university, Kobrinsky says, she studied literature, poetry and theatre. Working with Podolak, she found herself becoming a bookkeeper, fundraiser, financial manager and writer of grant applications.
"I learned as I went along," she says. "I just seemed to go from one project to another, all of them related to the performing arts."
Among the organizations to which she has contributed her expertise have been the Winnipeg Jewish Theatre and Winnipeg Contemporary Dancers. Her most recent and current enterprise is "Home Routes/Chemin Chez Nous" which brings individual musicians into people's homes. She and Podolak founded "Home Routes" in 2007.
"We were inspired by the example of Pete Seeger," she recalls. "When he was not able to book formal concerts because of his Communist beliefs, he turned to giving private performances.
"We started in Manitoba, Saskatchewan and Alberta," she recalls. "We were able to recruit volunteers in 12 communities that were in the same region to open their homes to concerts by travelling artists."
Today, "Home Routes", which is now led by Ava and Mitch's son, Leonard, operates across Canada with almost 200 volunteer who each host six shows a year in houses and small halls in their communities.
Due to Covid, Kobrinsky notes, "Home Routes" pivoted to performances being streamed online. Some of the performances are free to sign onto, she points out, while for others, you will need to buy tickets.
Kobrinsky says that despite her many years doing what she has been doing, she is still learning new skills – most recently to do with online production.
"I am not sure if I will ever retire," she says.
She is looking forward to post-Covid when normal activities can resume – as are we all.
Michael Eskin, who is nearing his 80th birthday, is still going strong.
The press release from the Lieutenat-Governor's office announcing the new group of Order of Manitoba inductees noted that Eskin is "a global leader in canola research and one of the world's leading food science writers. He earned the Order of Canada in 2016 for his work on the physicochemical and functional properties of canola oil that is key to the success of the Canadian canola oil industry. His work changed the agricultural landscape in Manitoba and Canada, making canola oil the third-largest major oilseed crop in the world."
"It is quite an honour," Eskin says of being named to the Order of Canada.
In recent years, Eskin has also been recognized with industry awards such as the AOCS (American Oil Chemists Society) Timothy L. Mounts Award (2007), AOCS Alton Bailey Award (2013) and AOCS Herbert J. Dutton Award (2017).
The much-honoured professor in the faculty of Food and Human Nutritional Sciences at the University of Manitoba Department- and a beloved chazan in our community – continues to teach online classes with over 200 students, write and compose and record songs and videos related to Torah and his academic research. Most recently, he wrote a song honoring the 100th Anniversary of the discovery of insulin in Canada, which was recorded and edited by the American Oil Chemists`Society and which was included in their Virtual Annual Meeting held in May.
"As it happens, when I received the call about the Order of Manitoba, from (the honourable) Janice Filmon, she also asked me whether I had done any new raps," he notes. "She had worked with me on the 100th Anniversary of the Faculty of Human Ecology and was very familiar with my videos.
"I sent her the video on the discovery of insulin."
The video has already received many positive responses, he adds. (You can watch it at https://youtu.be/4lwyW4WA6C8. 
It was also broadcast on CBC at the following link:
https://www.cbc.ca/listen/live-radio/1-29-information-radio-mb/clip/15841830-if-hum-it…you-remember-it-an-80-year-old-u 
Congregation Etz Chayim says good bye to 123 Matheson Ave.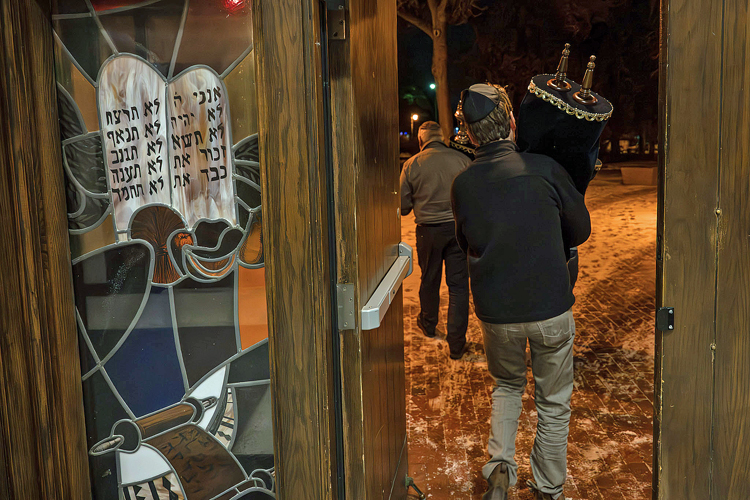 By BERNIE BELLAN After 71 years of serving as the home for first the Rosh Pina Synagogue, then for the past 21 years as the home for what was the merger of three different congregations – Rosh Pina's, along with the Bnay Abraham and Beth Israel, the Etz Chayim Congregation held its final service on Wednesday, November 29.
You can read the story by CJN writer John Longhurst elsewhere on this site (https://jewishpostandnews.ca/rss/congregation-etz-chayim-in-winnipeg-says-a-bittersweet-farewell-to-their-old-building-as-they-prepare-to-move/) along with our earlier story about the sale of the building to an Eritrean Church (https://jewishpostandnews.ca/faqs/rokmicronews-fp-1/former-congregation-etz-chayim-synagogue-building-to-become-eritrean-orthodox-church/), but here are some pictures from the final service.
(Photos courtesy of Keith Levit)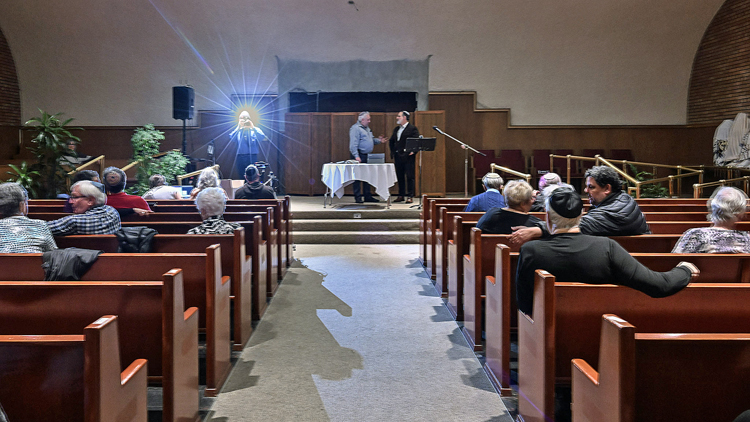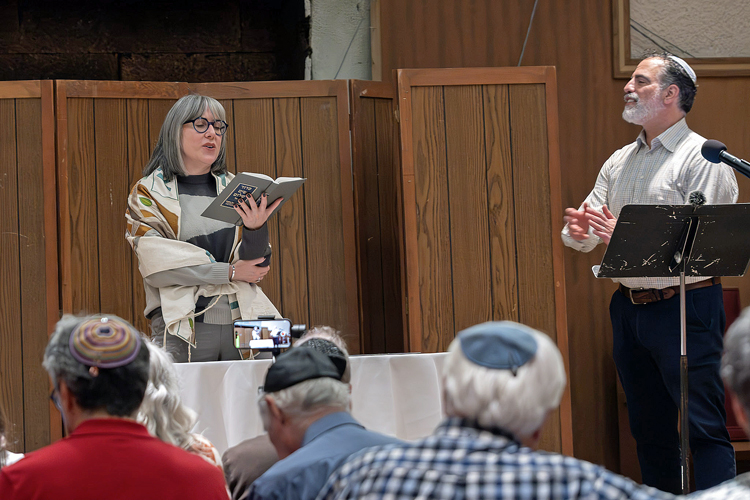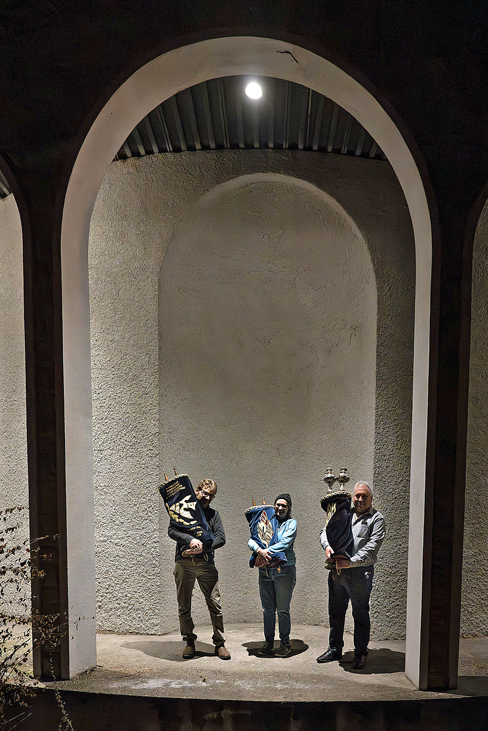 Israel report by former Winnipegger Bruce Brown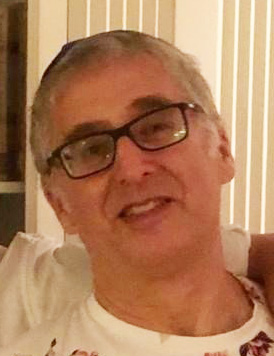 By BRUCE BROWN (posted Nov. 28/23) Was driving home from work the other day.  Pre-ceasefire.  Left the office early to reduce driving time in the evening hours.  Hamas likes their 6PM missile barrage and I'm honing my missile-avoidance routine.
 
Was listening to talk-radio… but kind of had enough of the news.  Too much war talk and its getting a bit overwhelming.  So switched to Spotify and up popped Supertramp – the Logical Song.  For sure how 'wonderful, beautiful, magical' life once felt.  Before Oct 7th.  Before Hamas. 
 
Then, as if on cue.  I gaze towards the sky.  And saw missiles flying overhead.  At first it didn't really click. And then.  Yikes!  I quickly switched back to the news.  Where, in a very calming voice, they were announcing areas under missile attack.  Which is another reason to listen to the radio while driving during war – real-time information.  Lesson learned.
 
Suddenly my smartphone's flashlight started flashing.  Which was pretty darn cool!  And there I was, on Star Trek.  Standing on the bridge.  Even recalled the vessel number – NCC-1701. There I was with Captain Kirk.  No!  I was Captain Kirk.  Dr. McCoy by my side.  Sulu and Chekov at the controls.  The Klingons were attacking.  And Mr. Spock -standing to the side- was calmy advising the attack coordinates.  No Wait!  That was the radio announcer.  Seriously.  This all took place within a split second in my over-active imagination.
 
The flashing continued.  Then I realized my cellphone was communicating with me.  Warning of danger.  I have the Home Front Command application which sounds an amazingly loud alarm during a missile attack in my area.  But changing between the radio and Spotify prevented the siren from going off.  So instead, the phone activated my flashlight.  Sending out an S.O.S.  Now how neat is that!  In a geeky sort of way.  Like for someone who imagines himself on Star Trek during a real-life missile attack.
 
Then.  Reality set in.  There were Home Front Command instructions to follow.  Momentary-panic set in.  Where was my wife.  To tell me what to do.  Like she always does…but that's another story.  This time I wanted her there, instructing me. 
 
All these thoughts racing through my mind in milliseconds.  As I calmly slowed the car and veered to the shoulder.  Like other cars around me.  I put on the blinkers.  More flashing lights but the bridge of the U.S.S. Enterprise now a distant thought.  Looking both ways I left the car and hopped over the road- barrier.  Moving away from the car.  Although probably not far enough.  Because there was a steep decline just below.  It was getting dark and, suffering from poor night vision, I didn't want to trip and hurt myself.  I heard my son laughing at me. "Nerd!" he called out.  But that was just my imagination.
 
I should have laid flat.  Prostrating myself for maximum protection.  But it rained earlier that day, the ground was wet and I didn't want to get muddy.  '"Nerd!"  This time it was my daughter in my mind's eye.  "Okay," I said to no one in particular.  "I'll squat."  Good enough…but not really.
 
The family in the car ahead were huddling together but too close to their vehicle.  I shouted for them to move further away.  But they didn't react.  Probably didn't understand me, especially given my still heavily accented Canadian Hebrew.  This time I heard both my kids.  Teasing me – thirty years and still talk like an immigrant!  "Hey, they just don't hear me."  I said to the darkness.  Otherwise it was very moving seeing the father crouching down on top of his brood, in a protective sort of way.  "Isn't that touching." I said to my wife.  "For sure." She said somewhat sarcastically in the back of my mind, "I know you'd do the same."  
 
Then it was over.  The sky went quiet.  People returned to their cars.  The nestled family broke apart and entered theirs.  We should have stayed in place several more minutes.  Ten minutes is the recommended time.  But it was dark.  Getting late.  Also a bit cold.  I just wanted to get home.  Back to the real chiding of my kids and to my wife… somehow longing for her ordering me about.
 
A few minutes later my wife called.  Making sure I was safe.  And then routine set in.  "Don't forget to pick up some milk and bread from the corner store."  She instructed me.
 
Um Israel Chai
 
Bruce Brown.  A Canadian. And an Israeli.  Bruce made Aliyah…a long time ago.  He works in Israel's hi-tech sector by day and, in spurts, is a somewhat inspired writer by night.  Bruce is the winner of the 2019 American Jewish Press Association Simon Rockower Award for excellence in writing.  And wrote the 1998 satire, An Israeli is….  Bruce's reflects on life in Israel – political, social, economic and personal.  With lots of biting, contrarian, sardonic and irreverent insight.
 
Jewish community holds solidarity rally November 25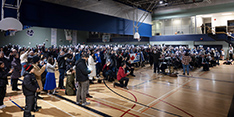 The Jewish Federation of Winnipeg held a rally in support of Israel on Saturday evening, November 25.
A number of speakers addressed the crowd of 800, including Rabbi Yosef Benarroch of Adas Yeshurun-Herzlia Congregation; Members of Parliament Ben Carr & Marty Morantz; Yolanda Papini-Pollock of Winnipeg Friends of Israel; Paula McPherson, former Brock Corydon teacher; and Gustavo Zentner, President of the Jewish Federation.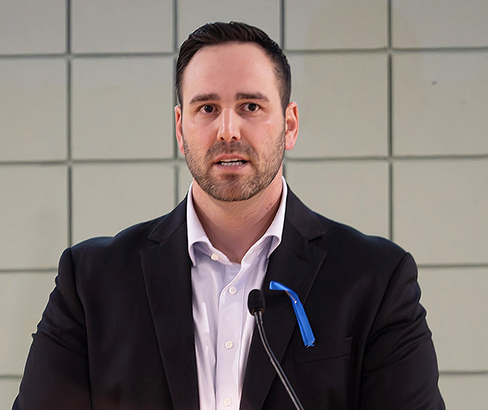 Click here to watch Ben Carr's remarks: https://www.youtube.com/watch?v=crfREGNRKfg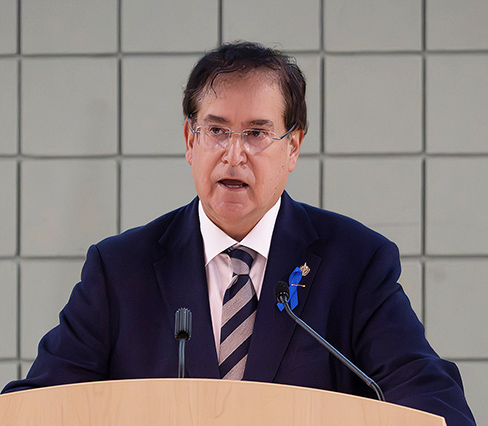 Click here to watch a video of Marty Morantz's remarks: https://studio.youtube.com/video/zHzC-iaqivg/ed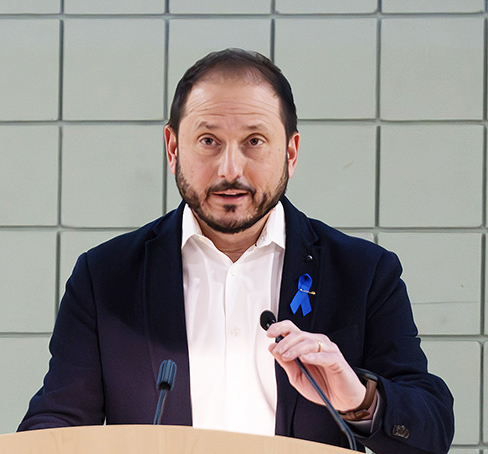 Click here to watch a video of Gustavo Zentner's remarks: https://www.youtube.com/watch?v=L3M_cCYuLgs