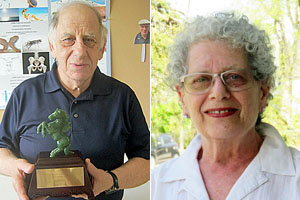 By MYRON LOVE Somewhere in the back of my mind, I dimly recall the maxim that it is preferable to be one who honours chase rather than he – or she – who chases after honours. The former is an apt description of both Michael Eskin and Ava Kobrinsky, two of the 2021 class of inductees into the Order of Manitoba.
Although Kobrinsky and Eskin hail from two quite different fields of endeavour – Eskin being a man of science (although he is also a long time chazan and musician with several CDs to his credit) and Kobrinsky's contributions are in the field of performing arts, both share a sense of humility and thankfulness.
"I am pretty amazed to be so honoured," says Kobrinsky of the Order of Manitoba induction. "I saw the list of the other folks appointed to the Order of Manitoba and each one has an impressive record."
Earlier this year, Kobrinsky was also recognized at the annual Canadian Folk Music Awards with the Slaight Music Unsung Hero Award for her lifelong behind-the-scenes involvement in Canadian folk music and the careers of Canadian folk music artists.
Kobrinsky's career in the promotion of Canadian folk music began through her relationship with the late Mitch Podolak, whom she married at the relatively young age of 22. Where Podolak was considered the "father" of Winnipeg's folk music scene, Kobrinsky has to be considered the mother.
As she recalls, in the mid-1960s Podolak was working for CBC Radio. Podolak proposed the creation of what was to become the annual Winnipeg Folk Festival (which has had to go on hiatus for the second year in a row due to Covid) as a Manitoba Centennial project.
"Through his connections at CBC, Kobrinsky recalls, Podolak was able to gain the support of the broadcaster, and the Folk Festival was one of the few Centennial project that lived on after 1970.
At university, Kobrinsky says, she studied literature, poetry and theatre. Working with Podolak, she found herself becoming a bookkeeper, fundraiser, financial manager and writer of grant applications.
"I learned as I went along," she says. "I just seemed to go from one project to another, all of them related to the performing arts."
Among the organizations to which she has contributed her expertise have been the Winnipeg Jewish Theatre and Winnipeg Contemporary Dancers. Her most recent and current enterprise is "Home Routes/Chemin Chez Nous" which brings individual musicians into people's homes. She and Podolak founded "Home Routes" in 2007.
"We were inspired by the example of Pete Seeger," she recalls. "When he was not able to book formal concerts because of his Communist beliefs, he turned to giving private performances.
"We started in Manitoba, Saskatchewan and Alberta," she recalls. "We were able to recruit volunteers in 12 communities that were in the same region to open their homes to concerts by travelling artists."
Today, "Home Routes", which is now led by Ava and Mitch's son, Leonard, operates across Canada with almost 200 volunteer who each host six shows a year in houses and small halls in their communities.
Due to Covid, Kobrinsky notes, "Home Routes" pivoted to performances being streamed online. Some of the performances are free to sign onto, she points out, while for others, you will need to buy tickets.
Kobrinsky says that despite her many years doing what she has been doing, she is still learning new skills – most recently to do with online production.
"I am not sure if I will ever retire," she says.
She is looking forward to post-Covid when normal activities can resume – as are we all.
Michael Eskin, who is nearing his 80th birthday, is still going strong.
The press release from the Lieutenat-Governor's office announcing the new group of Order of Manitoba inductees noted that Eskin is "a global leader in canola research and one of the world's leading food science writers. He earned the Order of Canada in 2016 for his work on the physicochemical and functional properties of canola oil that is key to the success of the Canadian canola oil industry. His work changed the agricultural landscape in Manitoba and Canada, making canola oil the third-largest major oilseed crop in the world."
"It is quite an honour," Eskin says of being named to the Order of Canada.
In recent years, Eskin has also been recognized with industry awards such as the AOCS (American Oil Chemists Society) Timothy L. Mounts Award (2007), AOCS Alton Bailey Award (2013) and AOCS Herbert J. Dutton Award (2017).
The much-honoured professor in the faculty of Food and Human Nutritional Sciences at the University of Manitoba Department- and a beloved chazan in our community – continues to teach online classes with over 200 students, write and compose and record songs and videos related to Torah and his academic research. Most recently, he wrote a song honoring the 100th Anniversary of the discovery of insulin in Canada, which was recorded and edited by the American Oil Chemists`Society and which was included in their Virtual Annual Meeting held in May.
"As it happens, when I received the call about the Order of Manitoba, from (the honourable) Janice Filmon, she also asked me whether I had done any new raps," he notes. "She had worked with me on the 100th Anniversary of the Faculty of Human Ecology and was very familiar with my videos.
"I sent her the video on the discovery of insulin."
The video has already received many positive responses, he adds. (You can watch it at https://youtu.be/4lwyW4WA6C8. 
It was also broadcast on CBC at the following link:
https://www.cbc.ca/listen/live-radio/1-29-information-radio-mb/clip/15841830-if-hum-it…you-remember-it-an-80-year-old-u