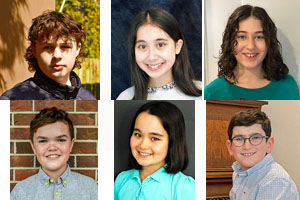 By MYRON LOVE It was an exceptionally good Winnipeg Music Festival this year for Winnipeg voice teacher Kelly Robinson (of the Jewish Robinsons). Not only did many of her students stand out – as usual – but also her 11-year-old daughter, Juliet Eskin, had a successful debut in her first appearance in the annual competition.
The young violinist – for whom music runs in the family (her father, Josh, is a musician and music teacher, and her zaida, Michael Eskin, is a well known chazan) – stood out with performances in the Grade 5 level with violin solos in both the Baroque and Canadian Composers categories.
The Brock Corydon Hebrew Bilingual program student has been taking violin lessons for four years, has twice opened for the Manitoba Chamber Orchestra and once for the Symphony.
"I like making music," she says.
Juliet's mother (who teaches singing and voice both privately and on staff at Ravenscourt and Canadian Mennonite University) is equally proud of Yale Rayburn-Vander Hout, Hannah Schaeffer and Gregory Hyman, three of her Jewish voice students who also stood out at the Music Festival.
At 12, Gregory Hyman is a four-year veteran of the annual Music Festival, in which he has excelled, both in voice and classical guitar. The son of Hartley and Rishona Hyman has been studying guitar since he was five and has been taking voice lessons for the past five years. And this year, he authored gold level performances in both categories – one being Vocal Solo, Folk Song, Boys, Changed Voice, 12 years and under – the other being a classical guitar solo at the Grade 4 level.
Last year, he finished first in class, performing a duet with Rachel Kraut.
The Ravenscourt student doesn't restrict his music making just to the yearly festival. Last spring, Bernie Bellan wrote a report on the teen's budding recording career. Last May, he released his first album – "Basement" – on all streaming platforms. He reports that over the past few months, he has been busy writing songs for his second album, which will soon be released. The songs, he says, can already be heard on his website. He also has a podcast – "Talk and Rock with Gregory Hyman" – now in its second season – in which he interviews various people in the business across Canada.
"I have several dedicated listeners," he reports. "I have had strong support from my friends. I am still building my audience though."
Hannah Schaeffer is also a multi-year festival winner. This is the third year that the older daughter of Marc Schaeffer and Kai Sasake has participated. Last year, she sang in a trio with sister students Eva Gould and Alessandra Pellegrino in the Vocal Trio, Musical Theatre, 16 years and under category at the Festival. The threesome finished second.
The year before, she won gold in the Vocal Solo, TV and movie musicals in the Girls 12 and under category and scored a first place finish as part of a trio in the Musical Theatre Grade B level. That year, she was also the recipient of a Winnipeg Music Festival scholarship.
This year, the Grade 8 Grant Park Student finished first in the Vocal Solo, Musical Theatre, Ballad, Girls, 14 and under and was recommended for the provincial competition. Hannah has been taking singing lessons for five years and participates in her school's musicals.
Hannah wasn't the only one in her family who did well in this year's festival. Younger sister, Alexandra, who attends Brock Corydon rated a Gold performance in her first appearance in the competition in the Piano Solo, Beginner, category.
Yale Rayburn-Vander Hout has been studying voice with Kelly Robinson for five years and was scheduled to appear – with his teacher – in Rainbow Stage's production of "the Wizard of Oz" last summer (which was cancelled due to Covid). The 14-year-old son of Samantha and Peter was runner-up this year in two categories – Vocal Solo, Musical Theatre, Up Tempo and Ballad, for males, 16 and under. The Grade 9 Gray Academy student has also taken part in his school's musical productions.
Leaving aside vocalists for the moment, 10-year-old Noah Kravetsky earned gold ranking in three piano categories. The son of Dr. Azriel Kravetsky and Dr. Carrie Palatnick excelled in piano solos in the Sonata, Classical Composers and Own Choice categories at the Grade 3 level. The Gray Academy student – who has been studying piano for five years, also received a scholarship which can be used to enter next year's music festival.
Our final honourable mention goes to Emma Shibou-Savoie. Unlike the other winners above, who are in various levels of elementary and high school, Emma is in her third year in Arts at the University of Manitoba. Emma is a long-time student of Brenda Gorlick, who is Associate Artistic Director of Winnipeg StudioTheatre.
Emma notes that she has participated many times in the annual music festival but, in the past, has always participated as part of a choral group. "I have always enjoyed being in the music festival," she says. "So this year, because there were no choral groups (because of Covid), I entered as part of a duet with my friend and fellow singer, Jacob Szmon. "
The duo finished second in the Vocal Duet, Musical Theatre category. While Emma says that she enjoys musical theatre, she does not see herself pursuing a career on stage or screen. For the fall, she is applying to Red River College.