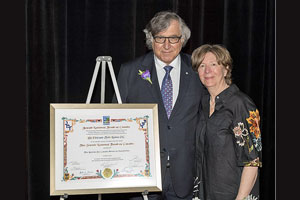 By BERNIE BELLAN
It was more than two years in the making, but after the most prolonged break in the history of Negev Galas (and Dinners – which preceded the more recent Negev Galas), the Jewish National Fund was finally able to pull off what turned out to be a very successful event on Monday, May 31, albeit one that was held online.
Gala honouree Ted Lyons, who now has the distinction of being the only Winnipeg Negev Gala honouree to be honoured two consecutive years (he was originally to be honoured in 2020, but last year's Gala was canceled entirely due to Covid ) was the recipient of numerous accolades during the event – from friends, dignitaries, and family members.
In a gesture that couldn't have been more appropriate, the project for which this year's gala was raising funds is known as "Bervin Canada House", to be located in Sderot. The choice of Sderot is particularly timely, given what that community has just finished enduring – for the umpteenth time, as rockets began to pour down from Gaza beginning on May 10.
Here is how the project was described in an article which I wrote earlier about the Negev Gala: "The Bervin JNF Canada House of Excellence is to be built in Sderot, which is the community that has always been the most immediate target of missiles launched over the years from the Gaza Strip. This particular facility is intended to serve as an after-school education, empowerment, and enrichment centre for high school students from Sderot and its surroundings, who will be provided with the necessary tools and skills for personal and scholastic success'."
The choice of Sderot as the location for this year's project for JNF Canada (and, by the way, for the first time ever, all Negev Galas held across Canada in 2021 have earmarked funds for the Bervin project – hoping to raise $4 million altogether), was made long before Sderot found itself coming under incessant fire just a few weeks ago. (Incidentally, of that $4 million to be raised across Canada, over $1. 3 million has already been raised from Winnipeg donors, including $100,000 from Ted and Harriet Lyons themselves. If there were any more proof needed how much Winnipeg Jews punch above their weight, this is it.)
As for how the gala itself unfolded, there was the usual combination of speeches and entertainment, this year provided by famed Israeli singer David Broza, in conjunction with the Winnipeg Symphony Orchestra.
The fact that everything to do with the gala had been taped well in advance might have left anyone watching wondering why there was almost no reference at all to the recent war between Israel and Gaza, save for some remarks by David Greaves, Executive Director, JNF Manitoba-Saskatchewan, who referenced the recent fighting at the very end of the event.
In my report of the gala which follows, I took the liberty of changing the order of some of the remarks which were delivered by various individuals. Normally, the honouree is the last person (or persons) to be heard from at events of this sort, but in this case, I thought it fitting to begin with Ted Lyons' explanation of why he and Harriet found the Bervin project to be so appealing.
Ted began with a story: "Twenty years ago I was lecturing in Korea and I was at the airport with a young Korean associate. Making small talk, I asked him about his family.
"He said he was married and had two children. I asked him, 'Do they go to school? and he said 'yes, they actually go to two schools. They go to a regular school Monday to Friday and they actually go to a second school two evenings and one weekend day a week'.'
"I said, 'Why would you do that?' and he said, 'Well, there's a lot of competition out there and I want to give my kids an extra advantage.' I thought that made a lot of sense and wondered why we don't do that in Canada."
Ted said that in December 2019 he and Harriet were visiting Israel for their granddaughter's bat mitzvah. They arrived two days early and JNF hosted them on a visit to the Upper Galilee and Sderot. In the Upper Galilee (in a place called Nof HaGalil) they visited an after hours school for 14-18 year-olds. Some of the students were finishing high school and were preparing to go into the army.
"We learned how the young people were being given extra training – in math, in physics, computers, and English. " Ted explained. "These subjects are critical to be successful in industry, particularly in Israel, a 'start-up nation'.
"The thinking is that urban children have access to extra education, but rural children do not. This school was an opportunity to give students additional training, to help them get into elite units in the army – and into university. In order to get those placements you need high marks. It made me think of my Korean colleague.
"In Sderot, a rural settlement, the JNF is going to build a facility like the one we saw in the Upper Galilee. Money is being raised for this project through all the Canadian JNF Galas.
"Out of necessity this new facility will also act as a bomb shelter – given the almost daily rocket attacks.
"We hope that everyone will give generously to make this worthwhile project a reality."
Ted went on to say that "Harriet and I have had the opportunity to serve the community for many years. Harriet has taught tallis-weaving at the Shaarey Zedek for over 30 years and has helped many people – at home and in Israel, celebrate b'nai mitzvah, with a hand made tallis.
"She has helped the Humane Society for many years as one of the main photographers to help in the adoption process. She is also an established potter who has designed and crafted porcelain mezzuzot for rooms in the Simkin Centre and at Gray Academy.
"She is a staunch supporter of the Cancercare Challenge for Life, walking the 20 k every year since its inception 14 years ago.
Her group, 'Nancy's Nightingales', has raised well over $100,000.
"Finally, she's always been there for our children and our five grandchildren.
"I've had the honour to serve our synagogue, Jewish and radiology communities over the years. It's been a real thrill to serve as president of many of the local and national organizations, and to have been honoured by Governor General Michaelle Jean as an Officer of the Order of Canada (in 2007).
"I served as Shaarey Zedek President 30 years after my late father, Reuven. It was a real honour and an opportunity I cherished.
"Israel is the gold standard in technology and innovation and has been an example to the rest of the world in handling the Covid crisis and vaccinating the population in the most efficient manner.
"Being the JNF honouree for the past two years has been a real treat for Harriet and me."
The MC for the evening was Rabbi Matthew Leibl, who was gracious in speaking about Ted and, as is always the case when Rabbi Leibl hosts an event of this sort, occasionally quite funny.
He began by explaining how he first met Ted Lyon: "I first met Ted at my bar mitzvah – just a few years ago, on the bimah of the Shaarey Zedek. Ted was there in his capacity as a member of the board and the executive, and he was tasked with presenting me gifts. There I was, sweating in the first suit I ever wore.
"I remember standing there looking up at this tall, dark goateed figure who had both a calm and booming voice, telling me what a remarkable job I had done – one of the best he had seen, how I was an asset to the community and how I had a bright future.
"It seemed like it was a big morning – for him and for me. Years later we were sitting together on that bimah; I had started my work as a Torah reader and a bar mitzvah teacher, and Ted was again there in his capacity as a past president probably – and I said to him: 'Ted, we were here together not that long ago for my bar mitzvah and you said such amazing, inspirational things. Do you remember that?'
"And he looked at me with that same calm, yet booming voice and said: 'Matt, I did a lot of those.' (Now, if you needed to be reminded that Ted Lyons has met an awful lot of different people during his life, Rabbi Leibl added one more amusing anecdote. He said that whenever he would meet Ted at the synagogue, Ted would greet him as "Matityahu". Rabbi Leibl explained, however, that his Hebrew name is actually "Mordecai", but every time they would run into each other, Ted would still greet him as "Matityahu".)
Following Rabbi Leibl's remarks were some from Michael Nozick, who's been a lifelong friend of Ted Lyons, also a co-sponsor of the evening. Nozick said: "I've known Teddy for more than 70 years. We've always been besties. We grew up together. We went to grade school together. We were classmates.
"To me he's always been Teddy – and he'll never be Ted.
"Teddy will tell you that we 'served time' together in Cheder – and it's true because we went to Hebrew night school together when we were 10 and 11. One day, on our way to night school, we got off the bus and we were confronted by two big guys – probably teenagers, brandishing big knives, and they demanded we turn over all our bus tickets and our money.
"Two of us took off like jackrabbits across the Crescent to the Shaarey Zedek – where night school was – and Teddy stayed. When he got back to us at class time, I asked him why he stayed and he said, 'Well, robbery's wrong and I wanted to explain to them that what they were doing was wrong, and I thought I could talk them out of it'.
"In the end Teddy gave them all his bus tickets and all his money – but it was the precursor of Teddy's resolution –oriented leadership. Even then he was looking to make peace.
"Teddy's curiosity is insatiable. Gadgets have always fascinated him. But, he's not to be tinkered with. His dog once bit him – and he bit the dog back.
"With the computers and technology though, it was a new world for Teddy and it ultimately led him to the field of ultrasound, where he is a world leader.
"He's a people person and a people lover, with incredible interpersonal skills which, together with his peaceful, quiet nature and curiosity about new frontiers make him a natural leader.
"He inherits his calm demeanour and comfort with leadership from his father (Reuven) – himself a doctor and a true mensch.
"Teddy's contributions to the world are so great – and have been achieved with such humility, he will never be able to be truly measured.
"Teddy has not only led major organizations – in both our Jewish community and the general community, but has co-authored books and has written an almost uncountable number of articles, and even given many lectures at conferences all over the world. I have no idea where he finds the time.
"Teddy and Harriet have a profound love for Israel. They have led missions and returned often. Teddy has said to me: 'This year's Bervin Canada House project is special'."
This year also saw a special presentation made to Winnipegger Patrick Elazar, who has been one of those unsung volunteers who has given so much of himself to so many different Jewish organizations since having arrived in Winnipeg in 1988 with his wife, Sherry Elazar Wolfe, and his family.
JNF Manitoba Saskatch-ewan President Nola Lazar said: "The Bernard M. Bloomfield Award is presented annually to a deserving volunteer for JNF. This year's award is being given to Patrick Elazar. Patrick served in the IDF and helped establish Kibbutz Elazar. He has degrees in Middle East Economics and Agricultural Studies. Together with his family Patrick came to Winnipeg in 1988.
"Patrick is passionate about Israel. He volunteers regularly at Shalom Square, Limmud Winnipeg, and JNF Winnipeg."
Longtime Winnipeg philanthropist and community leader Marjorie Blankstein added a personal memory of a young Teddy Lyons, saying: "You will always be Teddy to me. I remember you as the swimming instructor at a Gimli summer camp – always in your swim suit. You have made an invaluable contribution to your profession, also to the community."
Manitoba Governor General Janice Filmon also spoke fondly of "Teddy" Lyons whom, she noted, she's known since "grade school": "Tonight's honouree, Dr. Ted Lyons, has dedicated his career to the lives of others. As a pioneer in the field of ultrasound technology – through his own work or through the work of others he has taught, he has saved countless lives."
As I noted in my earlier article about Ted Lyons, his being honoured as the Negev Gala Honouree for 2020-21 marks the first time that a physician has received that accolade. With all the other honours Ted has received over the years, however, he remains ever so humble and personable. It was two years in the making, but in the end, this year's Negev Gala will go down as having had to overcome more obstacles than anyone could ever have imagined, yet proved to be one of the most successful ever.