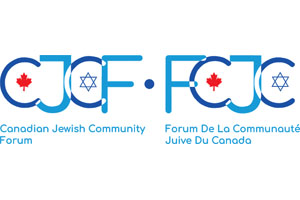 By RON CSILAG May 27, 2021 (CJN) Remember the Canadian Jewish Congress? Enough of its former senior leaders do, and fondly- to the point that they have founded a new organization "in the spirit" of CJC.
It was 10 years ago this summer that Congress, then 92 years old and the self-described "Parliament of Canadian Jewry," was subsumed into a new superagency, the Centre for Israel and Jewish Affairs (CIJA).
Now, say hello to the Canadian Jewish Community Forum (CJCF).
"It is the prime objective of the CJCF to take lessons from the past and use them to inform communal policy in the present and future, to promote Jewish values of chesed, diversity, anti-racism and embrace harmony within a Canadian context," says a media release issued May 26.
"In the spirit of the former CJC, it wishes to create a forum for the greater Jewish community to provide input and determine what the current urgent issues are that our own community and society are facing and witnessing here in Canada and globally."
The group's origins are somewhat nostalgic: Interest in creating a new Jewish organization, or maybe resurrecting an old one, arose when stalwarts of the old CJC, including several young people, came together in 2019 to mark the 100th anniversary of Congress's founding, recalled Les Scheininger, spokesperson for CJCF's steering committee and president of CJC from 1989 to 1992.
The CJCF, Scheininger told The CJN, will address a need for consultation with the grassroots of Canadian Jewry, much like Congress did.
"The original CJC came together as a result of a number of individuals and organizations feeling that there should be a grassroots organization representative of the Jewish community and the sense was there should be consultations with the grassroots and (that) people should have input in discussions," he said.
Scheininger gently sidestepped a question of whether the new group will challenge CIJA's turf.
"It's not a competition," he said. The CJCF is "a different forum for discussion and debate. There are a variety of opinions and political affiliations in the Jewish community."
The organization, volunteer-driven for now, is federally incorporated, has a logo, a statement of purpose, and a steering committee comprised of a long list of former CJC officials from across the country.
Indeed, the CJCF says it hopes to engage the former leadership of CJC, as well as new young leaders, "to honour, learn and draw from the legacy of Congress, a body that worked and fought for social justice in Canada. The CJC understood that making Canada a peaceful, inclusive and just society is good for all of its peoples."
The actual work of the CJCF will be up to those who respond to surveys in the coming weeks and months, Scheininger said.
"The shape and format will be determined as result of consultations and discussions."
In its words, the organization will "promote participation in, engagement with, and a sense of ownership of the Jewish agenda in Canada by all members of the Canadian Jewish community by the establishment of active, democratic, local grassroots community advocacy groups across the country."
The CJCF promises that regional representation will be stressed.
Its founding documents recall CJC's decades of defending civil and human rights, and championing inclusiveness and dialogue among all groups in Canada—perhaps pointing the way toward an agenda that leans to domestic issues of fairness.
But Israel is not ignored. "The safety and welfare of Israel are central and hold a place of supreme importance to us as a Jewish people," the group says, and it's also important "that we communicate with the people and government of Israel with respect to our common interests from the Canadian perspective."
CJC's legacy of focusing on domestic affairs and its "democratic tradition" will contribute to making CJCF attractive to younger people, believes Henry Paikin, a 27-year-old advisor to Sen. Frances Lankin and a member of the new organization's steering committee.
"For too long, young Jews in this country have fled community institutions due to their obsession with Israel-Palestine," Paikin wrote in an email to The CJN. "Bringing democracy back into the mix will correct the out-of-touch narratives perpetuated by existing leadership, and allow us to re-focus our attention on making Canadian society more just."
Post script from Bernie Bellan:
I was somewhat surprised to see that there is now an effort underway to reestablish the Canadian Jewish Congress, albeit under a new name. I wondered to what extent this new activity might not only add to the actual number of existing Jewish national organizations whose ostensible purposes are to serve the entire Canadian Jewish community, it might actually confuse Canadian Jews.
So, I contacted Martin Sampson, who is a spokesperson for CIJA, to ask him what he thought of this new group. Here is what I wrote to Martin on May 28:
Hi Martin,
I received an email from Israel Ludwig, whom I've known for a long time. In his email, Israel said that there are a number of individuals across Canada who are working to recreate the Canadian Jewish Congress.
In my response to Israel, I asked him whether the members of this group are dissatisfied with CIJA. Israel responded that "to answer your question this is not an issue of whether or not we are unhappy with CIJA. We miss what CJC was able to provide for the community. We hope to seek community input on what are the important issues of the day. We hope to establish lines of communication and support to other communities in Canada that experience difficulties as we do such as racism. We would like to sponsor lectures on topics that are of interest not only to our community members but other communities as well. We plan to organize groups of interested persons from our communities in centers across the country. Eventually that will lead to establishing formal regions that will elect members to serve nationally as was done with CJC."
Frankly, I'm confused by all this Martin. I was under the impression that CIJA had supplanted the CJC.
Would anyone at CIJA care to comment on this initiative to recreate the CJC?
Regards,
Bernie
Martin Sampson responded later that day:
Hi Bernie,
Hope you are well during these persistently challenging times.
Having not been involved in the discussions that preceded the launch of this new group, we do not know very much about it beyond what you articulated below. As you know, the Jewish community is diverse. Lots of community members have passionate opinions about a range of important subjects. People have every right to organize themselves to advance ideas about which they care. Indeed, if I understand Jewish values at all, many Jews see it as their duty to get involved. Incidentally, this is one of the many reasons I personally love the Jewish community. Judging by the description below, they will be duplicating much of what CIJA does, but it's not a bad thing to have more people paying attention to these issues. – Martin
One of the members of the former Canadian Jewish Congress was Winnipeg lawyer Israel Ludwig. Subsequently, I spoke with Israel Ludwig to try to find out more about what this effort to reconstitute the Canadian Jewish Congress, albeit under a new name, was all about.
Ludwig said: "We knew there was a service the Canadian Jewish Congress delivered right across the country – and we don't see that happening now.
"The organized community was not responding as quickly as it should."
I asked Ludwig if there were some specific examples to which he could point that might better explain how CIJA has not been responding to the needs of the community as well as it should?
He said: "The CJC played a very important role in educating the local public about antisemitsm.
"The JCC used to reach out to different communities that have also suffered", such as the Indigenous and Black communities, Ludwig said, and was able to forge effective common bonds.
I said to Ludwig that there has always been a certain amount of tension though between the Jewish community and some minority groups, including minority groups of colour, so I wondered how the CJC would be able to improve upon what other Jewish organizations have been able to do to improve relations between those groups and the Jewish community?
Ludwig admitted "that animosity was always there, but the CJC helped to dissipate it to a certain extent."
I wondered, too, about the extent to which this new organization might also be overlapping the work that B'nai Brith Canada is doing, particularly when it comes to combating anti-Semitism?
Ludwig said that "B'nai Brith's handicap is that it only represents its members. It cannot say that it represents the entire Jewish community."
I asked what the next steps are likely to be for the Canadian Jewish Community Forum?
Ludwig said that the first step will be "trying to find people locally to join (the CJCF) – young people especially. We're going to establish Chairs in different parts of the country."
Finally , Ludwig noted, "We've also got to fundraise."